Sufix Performance Braided Line Lo-Vis Green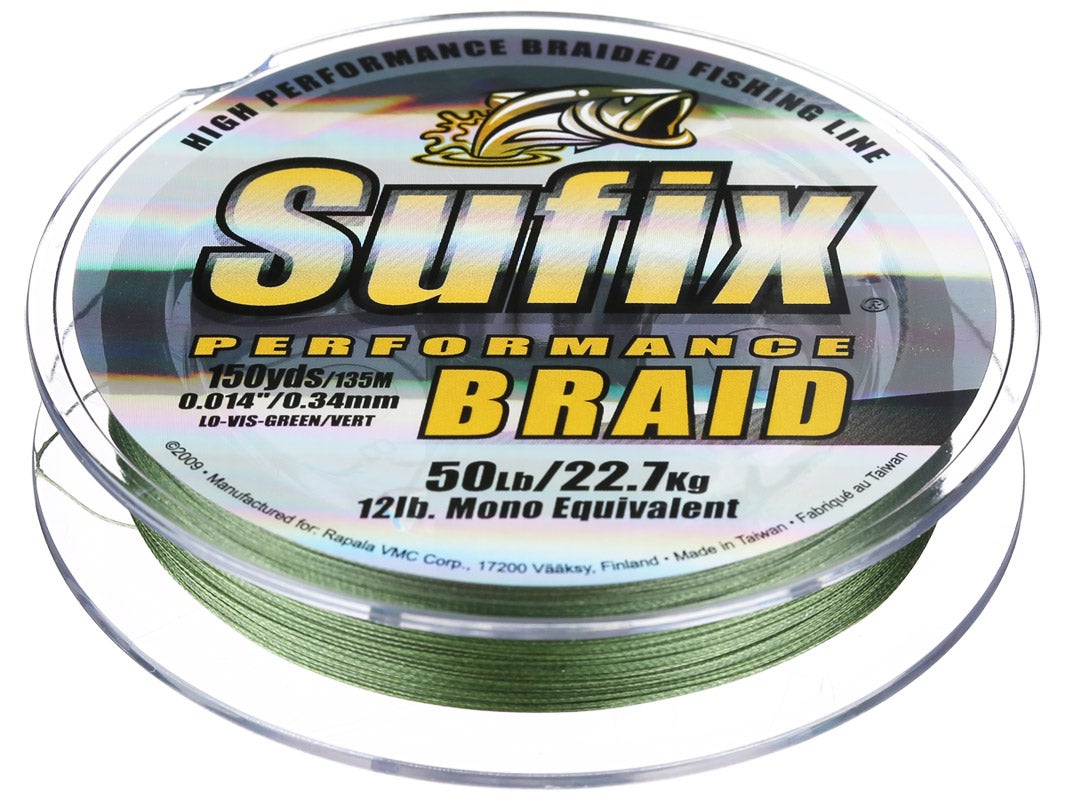 In the realm of extreme fishing, Larry Dahlberg stands head and shoulders above the rest. Nobody, but nobody puts fishing line to the test like this animated star of the Hunt for Big Fish TV series. So what braid does Larry have on his reels? "I've tried more than a dozen different labels, and Sufix Performance Braid wins hands down. It's round, smooth, thin, and tough. Handles beautifully, casts effortlessly and keeps a tight line over a hooked fish. Ya'know, it wouldn't make sense for me to travel six thousand miles to throw a second rate line to one of these creatures, Sufix Performance Braid is the best braid I've ever fished and that's why it's the feature braid on my 'round the world Hunt for the Big Fish!"
| | | | | | | |
| --- | --- | --- | --- | --- | --- | --- |
| Line Diameter | 20lb | 30lb | 40lb | 50lb | 65lb | 80lb |
| Inches | .009 | .011 | .013 | .014 | .016 | .018 |
| Milimeters | .23 | .29 | .33 | .35 | .41 | .46 |
| Equiv. Mono Dia. | 6lb | 8lb | 10lb | 12lb | 17lb | 20lb |
Place Your Order
More From Sufix Fishing Line
Customer Reviews
Comments: Good braid for the price, but lost all color in less than 2 months of fishing. Also started to fray easy at the end of the line.
From: Jack: MN 8/8/16

Comments: I have 30 lb moss green on a baitcasting reel and I can tell you that the problems I have with this braid are no different from any other braid on a baitcaster. The line digs into itself on the spool, it frays terribly when you try to cut the tag end of a knot, and the color fades real quick. When the line isn't dug into itself, it casts a mile, and the line is strong and very sensitive, but as always when line digs into itself the casts are rough and weak, and casting it harder just results in backlash. Considering I fish Texas rigs 80% of the time, I probably should have stuck with my 14 lb Berkley Vanish fluoro.
From: Tommy: FL 11/30/15

Comments: Used this braid for a few days now and I must say I'm not at all impressed by it ,actually gonna replace it with Power Pro. The suffix digs into the spool bad ! It's very rough coming off the spool, and I really think I wasted my money on this, quite a disappointment .
From: Peter: San Diego, CA 6/11/14

Comments: This was my first braided line. Its a strong line. I used 50lb for jigs. It is tough and will not break. You'll probably end up cutting the line or pulling the whole tree in if you snag up. The only downsides are the line is rough while coming off the spool and through the guides. It also turns to a pale green/white color very quickly. It does not retain color well.
From: Doug: Poland, OH 4/10/14
Comments: Picked this up as my first braided line. So far, the 20lb braid casts and retrieves nicely. It's a bit rough coming off the spool, but I can expect that as it hasn't really been broken in yet. The dozen or so 3 pounders and decent sized log that I've landed with it so far haven't tested its strength much, but it shows no sign of breaking or fraying. My only issue with it so far is that it tangles around a treble if you breathe wrong...but that's probably part of the learning curve. Great line for the price so far!

From: Marty: Willow Spring, NC, USA

Comments: The color fades if you look at it the wrong way.

From: Tyler: VA

Comments: great line, but loses color quickly. has good knot strength. cant be beat for the price.

From: David: Austin, TX

Comments: Absolutely love this line!! I use it for my flipping rods and froggin rods. I love froggin with the 65lb test, I spooled it up on my 151 smoke 7.3:1 reel and my 13 Fishing 7'3" heavy and holy crap i can cast a mile. This line is dependable. I like it just as much as the FX2 by sunline, it might not look as cool but it puts fish in the boat and thats all that matters to me. Plus you can't beat the price!

From: Matt: Minneapolis, MN

Comments: I might try this line. Suffix '832' or whatever it's called was complete garbage for me. I get a kick out of peeps saying they broke the hook or the pole or Both LOL. We aren't fishin for whales lol. Let's all get some steel cable and pull up all the structure in the lake and launch the bass 50 feet in the air on hookset. ROFL

From: Pat: San Jose, CA

Comments: Just found my new line. Spooled a couple of my baitcast reels with 30lb and it is smooth. Made a couple of casts and the line "loosened" up some and made it real easy to use and cast further. Great line for fishing the Mississippi River grass for bass. Great price too for such good stuff and my fingers aren't green.

From: Kirk: Roscoe, IL

Comments: Great braid line.Easy to use, it doesn't dig into your spool.Very smooth and durable.

From: Fred: Japan

Comments: Best Braid I have used for an all round purpose! I Broke a Gama hook the first time using this! super strong and holds up! Leaks its color after a couple uses, but doesnt leak has fast has PP, And it doesnt stain your reel nor does it bring in gunk! Break the line in and you will be pretty good.

From: WI
Comments: This is very nice line I like how tough and how sensitive it is. good job Sufix!!!!

From: Jordan: WA

Comments: i have this line in 65 pound test and it is great line have had no problems but i use spinning gear and have trouble casting far. its cast great but not as far as i want it to. any one no if the 20 pound test cast a bit farther then the heavier pound test?

From: Matt: IL

Comments: i just started trying braid and i absolutley love this stuff caught a 6 pound bass out of a trout pond the other day in the weeds pulled him right out with no problem.Highly recomend suffix braid

From: Josh: Westerly, RI

Comments: I only use braided line on all my combos. I started with spider wire, then fireline, moved to power pro, and tried a few others before using this. I was so impressed with Sufix mono I tried this. This is THE BEST braid on the market. Smoother, limper, strong and quiet. I use 20 and 6 pound test and have ZERO problems with this line. If I put on a new spool I will let 70 percent of the line out behind the boat and spray line conditioner on it as I wind back on the spool. This gets most of the dye off the line that is going to come off and softens it some. No break in period with this line it's ready to go. I have found my line and have no desire to venture elsewhere

From: Mark: Spokane, WA

Comments: i use 65 lb for frogging in very thick mats and i can boat flip a 4 pounder in the boat with ease..great line!!!!!!!

From: Ryan: Illinois, USA
Comments: One word, Excellent!

From: Julio: Kota Kinabalu, Sabah, Malaysia
Comments: Very smooth, but this just doesn't hold up for me though on rock bottoms and tough structure, where I think power pro is more abrasion resistant and dependable. Seems to be the best casting braid out there though, would work well for cranks if you wanted to use braid for fast moving lures.

From: Brant: San Diego, CA
Comments: It is the beast braid i have used in a while. i used to get spider wire braid but it always broke so i started using sufix and i haven't broke a fish off yet.

From: Justin: Montgomery, AL
Comments:One of the best braids out there. Tough and smooth. Sufix makes a superior product. Worth the extra money over similar braids.
From:Big J: Houston, TX
Comments:Performance wise, this braid is tops, hands down. The color does wear off eventually, but that happens to all the braid that I've tried. But unlike PP, it won't leave gunk on your reel. It handles better than PP or Spiderwire. The line remains rounded and smooth even when wet. It's strong and sensitive. Best performance braid I've used so far.
From:Pete: Land of 10,000 Lakes, MN
Comments: Best Braid I've ever used by far, spectacular casts and unmatched strength, with the lighter coating they put on it it won't dig down into the spool like some competitors (Bass Pro Excel, PowerPro).
From:Zach: Michigan, USA
Comments:I bought this line and it might be round,and tough but this stuff is like throwing velcro. It does not come off your reel smoothly. What a waste of $17.I went back to using Rapala Titanium Core it is the smoothest and for only $7. Will I make this mistake again? YES!
From:Joe: Waupaca, WI
Comments:Sufix line is bar none the best line I've ever used, especially the braid. Sufix braid doesn't absorb any water and stays bone dry on your spool. The only con I've had with this line is the green dye runs out of it fast making it a pale green/white. Other than that it's perfection in braid form.
From:Ryan: Willard, MO