Sufix Siege Clear Monofilament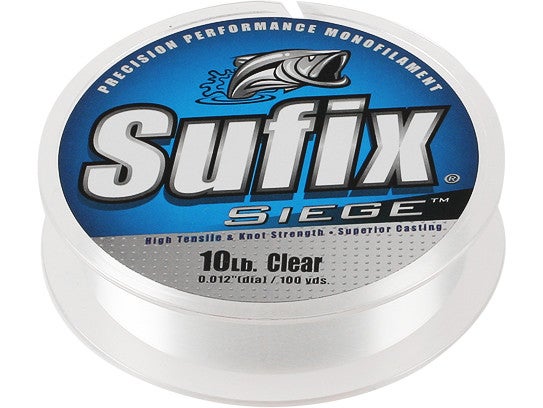 Sufix has started a revolution in fishing line technology with their new Siege fishing line. Patented XV2 Technology allows Sufix to produce a line with an unmatched strength to diameter ratio. This tough line still offers smooth handling characteristics for long casts and accuracy. The exclusive NanoTech Process produces a line that is up to fifteen times more abrasion resistant than many lines you may be using. If you're fishing rough, line cutting cover, try the tough stuff - Sufix Siege.
| | | | | | | | | |
| --- | --- | --- | --- | --- | --- | --- | --- | --- |
| Line Diameter | 6lb | 8lb | 10lb | 12lb | 14lb | 17lb | 20lb | 25lb |
| Inches | .010 | .011 | .012 | .014 | .015 | .016 | .018 | .020 |
| Millimeter | .254 | .279 | .305 | .356 | .381 | .406 | .457 | .508 |
Place Your Order
More From Sufix Fishing Line
Customer Reviews
Comments: pros: great castability, i love how it is wound on the spool, easy to find. cons: extremely poor knot strength that i have found on all suffix line. thats just my experience though.
From: Jack: Cape Girardeau, MO 7/17/15

Comments: I have 17# on one of my baitcasters, just wanted to try mono for a change and love suffix's braid. The line casts great and there's not a whole lot of memory after a few casts. I use this for spinnerbaits and swim jigs. I have set the hook on a flipping jig with good results. The stretch is minimal, most likely due to the 17# size. I like it so much I may buy some 12 or 14 for my other baitcaster.
From: Adam: Lincoln, NE 5/16/15

Comments: I have been using this line for about 5 years now, and I love it. Casts really well and has great abrasion resistance. TW needs to get the smoke green color.

From: Rich: Toms River NJ

Comments: This is a good mono for mono applications. This is my go to mono its strong,durable and no to visible. The handling is not the best though. It has some memory but once you use it for a while it will settle down. But I just use line conditioner on it the stuffs great. But this is good line. If you want a great handling mono get the suffix elite but the bad thing about that is it is not as strong.

Comments: STRONG LINE!!! and CAST LIKE BUTTER!

From: AJ: CA

Comments: Casts Great. I had no idea of the impact of specific types of line on my cast with the exception of rediculously cheap line. Well even with the expensive stuff out there a lot of it is pretty bad when it looks so good and juicy in the box. Sufix lives up to being true quality fishing line. Siege is smooth casting no need to put a lot of effort into the cast to get the same distance this stuff is slick and the Elite version is even better. I find that lower grade lines tend to do more of the following.. backlash, wrap around the tip of the rod, bind into itself or dig down into the spool causing the short jerk cast after catching a fish and driving the line into the spool and most of all not holding a not and durability. Sufix has it all here not a bad line considering I can get three spools out of 330 yards on a smoke 100 reel. No more struggling to throw hard and cast this stuff is the real deal.

Comments: Definitely strong line but I did have problems bird nesting off a spinning rod so the memory holds to the reel maybe 8lb would be a little better don't know but I guess you get what you pay for.

From: Eric: MA

Comments: I bought this line for my spinnerbait, topwater, jerkbait, tube and all purpose rod. This is a great line, very strong and affordable. This line will not break very often. However, it will break after a year-two years. I recommend this line over the Sufix Elite. It is much stronger.

From: Patrick: Ontario, Canada
Comments: I used sufix siege clear for A year now it has been vary strong for lake Eire. drop shotting & caralina rig the line will stand up to zebra mussels

From: Steve: Ont