Sunline FC Sniper BMS (Japan) -
$26.88 to $34.88
Exclusively Available At Tackle Warehouse!
Featuring sharper delineation between marker colors thanks to new dyeing colors, Sunline FC Sniper BMS - Biter Marker System - Fluorocarbon (Japan) allows you to see even the slightest bite and also helps you measure water depth in shallow areas. Alternating pink and orange sections provide greatly increased line visibility for the angler, while still maintaining invisibility to the fish.
Sunline FC Sniper BMS Fluorocarbon (Japan) also offers greatly improved performance thanks to a new manufacturing process utilizing a newly developed high molecular weight fluorocarbon. This provides it with a higher tensile and knot strength over the original FC Sniper BMS, as well as, dramatically higher abrasion resistance. A Triple Resin Processing with new, specialized resins also help it resist dirt and debris, so it doesn't get dirty even in muddy water, and parallel spooling keeps the line from flattening. New and improved, Sunline FC Sniper BMS Fluorocarbon (Japan) even features even features an exclusive test specific line texture design: Strength is paramount for 2-6lb, while lay on the reel and castability are the priorities for 7-12lb. For 13lb and over, sensitivity and abrasion-resistance are emphasized for flipping, pitching and fishing around snaggy cover.
-100% fluorocarbon
-Triple resin coating for softer supple handling
-Excellent abrasion resistance
-Low memory
-Allows for longer usage
-Uniform line diameter
| | | | | | | | | | | | |
| --- | --- | --- | --- | --- | --- | --- | --- | --- | --- | --- | --- |
| Line Diameter | 5lb | 6lb | 7lb | 8lb | 10lb | 12lb | 14lb | 16lb | 20lb | 25lb | 30lb |
| Inches | .0075 | .0081 | .0086 | .0093 | .0102 | .0112 | .0122 | .0130 | .0146 | .0159 | .0171 |
| Millimeters | .190 | .205 | .219 | .235 | .260 | .285 | .310 | .330 | .370 | .405 | .435 |
Comments: best line, I ever used. Because of the marker,it's a lot easier to see the line! and it's unique color that other lines don't have + it's sunline, no doubt.

From: Ki: MI

***Note: If you have questions about this product or need assistance with an order please email your questions to info@tacklewarehouse.com
View Large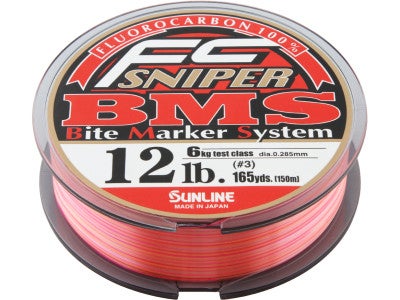 Place Your Order
More Sunline Fishing Line
More Tackle Warehouse Exclusive Fishing Line