Sunline Super FC Sniper Fluorocarbon - $20.99 to $119.99
Sunline is a new Japanese line company that has been generating lots of attention at the top levels of professional bass fishing. Top money anglers know that the only thing between them and the money fish is a thin strand of line and it had better be good.
FC Sniper Fluorocarbon line is 100% fluorocarbon that offers anglers the latest generation of fluorocarbon line available today. The low pound-test lines excel for all light line techniques like dropshotting. The stronger lines are great for fishing worms, jigs, or Senko-style baits, and for any time you DON'T want bass to see your line. You cannot buy better fluorocarbon line than Sunline's FC Sniper. This is professional level fishing line for anyone that wants the best.
| | | | | | | | | | | |
| --- | --- | --- | --- | --- | --- | --- | --- | --- | --- | --- |
| Line Dia. | 4lb | 5lb | 6lb | 7lb | 8lb | 10lb | 12lb | 14lb | 16lb | 20lb |
| Inches | .0065 | .0075 | .0081 | .0086 | .0093 | .0102 | .0112 | .0122 | .013 | .0146 |
| Millimeter | .17 | .19 | .21 | .22 | .24 | .26 | .29 | .31 | .33 | .37 |
Comments: Test the line before you buy if possible. Used the 10lb to crank and the 16lb for 3/4 oz football head jigs and loved them both. Then ordered the 12lb for 3/8 jigs and worms, line snapped with every hookset, usually just a foot or two from the rod tip. The tag end that was left looked like a piece of broken rope that had unraveled. Checked the line guides and reel, no problems. Turns out I recieved a bad spool, either from the factory or was exposed to heat during storage. Either way I was extremely disappointed for line in that price range, a bad spool should never reach the consumer. I've had a couple of friends that had the same problem but they won't get on here to write a review. Back to Invizx.

From: Kirby: Clarksville, TN.

Comments: I've used this fishing line to punch grass mats and lily pads with an ounce and half weight and it did about as good as braid except for the fact I found myself going in after the fish more often than with braid but that was because I didn't want to try horsing it through the slop and risk breaking off. Now I know I am no longer limited to what I can use this line for. Best fluoro on the market.

From: Jordan: South Georgia

Comments: great line. Virtually no stretch, has super sensitivity, doesn't kink. Casts pretty smooth. Diameter is thin too. Took me a while to get used to the no stretch. 12# test for some Cali striper fishing and your all set. Pricey but wait the the sale and pick up a few spools. You'll be amazed

From: striper team: flezzno

Comments: this line is great as it gets. Super sensitive wether your throwing a jerkbait or a jigging on the bottom. Great for any application. It doesn't tangle or get easily damaged. Easy to manage and maintain. Overall great fluorocarbon line. Give it a try. For sure you'll buy another spool:)

From: striper team: flezzno

Comments: This is by far the best fluorcarbon I have ever used. I have tried a bunch of different fluorocarbons, expense being no issue. This stuff takes the cake, you can't hardly brake the stuff with your teeth on a small 14lb test knot. I was in a tournament and backlashed my braid and was throwing an Alabama rig on a railroad trussel and my thickest line left was this stuff in 15lb. I threw it the rest of the day around columns and never once had to retie the rig.

From: David: Moore, SC

Comments: I really need to order some more of this stuff, I've been procrastinating too long. I usually leave this line on my spools for about 2 1/2 to 3 months and MAYBE 4 if I'm feeling extra confident, and then I'll usually replace it...not out of line frays or poor knot strength just out of my personal concern with how the elements are acting on that thin strand of line after so many months. No other line has ever put a smile on my face when spooling onto a reel, but with all the great memories and tournament standings I've had because of this line it's hard not to. Bottom line...this stuff is worth every single penny.

Comments: Well it took me a long time to get away from Berkley 100% Flourocarbon. It finally switched to this line after years. This line cast so smooth and my casting distance has improved. It has a smaller diameter than Berkley yet as strong. I love this line.

Comments: These line sizes are incorrect. I made the mistake of getting 12 lb in hopes of cranking with it but realized (based on the line diameter) that it is smaller than I thought. I will be replacing this with 14# or 16#
Comments: I got this product at the Bass Pro Shop and I have used it only one time. I got a new rod and reel for X-Mas, Abu Garcia Revo reel and a G-Loomis rod and I spent more time fixing my line then fishing. I'm going to take some line off and I hope that it will work better but if there is no improvement then don't waste your money. This line is way over priced and like I said the performance really was bad.

From: Jerry: Richmond, VA

Comments: Just bought a spool of 14#. Not gonna use it just yet, waiting for the first reel that needs re-spooling. Although, the line feels really nice, strong, soft and thin. I'm a loyal InvizX fisher but i've read and heard good things so, we'll see. Btw, I think most of the price is to cover the box this line comes in, really nice packaging haha.

From: RippinLipz: SoGa

Comments: I use the 14lb for all my plastics,excellent line,strong,low memory.you get what you pay for,sunline and toray make the best flouro period.

From: Jeff: IL

Comments: I used to use Sunline 'dairiki' about 25 years ago when i was living in Japan. That was my favorite so I knew Sunline made good line. I recently purchased 5lbs - was 2 for 1 deal - and used it right away. It's pretty tough and pretty flexible. Jumps off the spool? Too curly? It didn't happen to me. You just have to rig right, so your plastics don't spin when you reel in, especially if you are drop shotting. Any line curls if your rig spins, you know. Great line!!

Comments: Sorry, but for 200 yds of line, Gamma is about $20.00 more expensive. Check out the TW pricing which is usually pretty good.

From: Jeff: MD

Comments: i cant believe i miss the sale, im so pissed at myself

From: Nick: Clovis, CA

Comments: this flurocarbon is extremely good but Honestly i think Gamma is a little better for a little less money too. I have tryed about many other flurcarbons out there and this by far blows them away it has minimal memory and very little stertch. it is a little pricey but the performance of the line defitnetly reflects on the price. If your planning on trying trilene 100% dont it has the most memory and if your reel sits for maybe a week without being used that memory really really shows. for the price trilene is at it should be much better. Stren is probably the worst fluro. Seaguar tatsu not a bad fluro either but is also pricey. Moral of this story is to get Gamma Edge Fluorocarbon Line if you want one of the bests flurocarbonsvor this FC Sunline flurocarbon, but give gamma fluro a try to I your looking for something new

Comments: I've used the 14lb and the 20lb and love them. Its the best fluro ive used so far. At buy one get one free I'll be buying a few more spools.

From: Jason: Boynton Beach, FL

Comments: something is seriously wrong with you if you have a problem with this line. I dont use it on spinning gear but its on all of my other rods besides the ones for topwater and frogging. You know what I use for those. Take care of this line and you can get 2-4 months out of it. Seriously. So stop cryin about price, it's worth it. Bam.

From: meatwad: spooling by the poolin

Comments: i have the 14 lb test on a baitcaster and 7 lb test on a spinning reel. the 14 is fine...very easy casting and smooth. the 7 lb is absolutely horrible though..it jumps off the reel and has the WORST line twist of any flourocarbon i have used, which is quite a few brands. i have used line conditioner and have spooled it the correct way. This is 3 spools now like this. INCREDIBLE strength, but just not worth it with the line twist and stiffness issues. will be going back to invisx

Comments: I have written one review already for this stuff when I started to put 12# and 14# on a few of my baitcasters. I loved it then and I love it MORE now, and I had to write a review again! I finally bought some 7# for my Stradic Ci4 2500 in an attempt to loosen the grip InvisX has on my spinning gear. I was floored!! I had read that this line can be a little too stiff when you use it for spinning gear, hence my hesitation to switch. However, I found this was extremely manageable and I used it the first day I got it in the mail without putting any KVD line conditioner on it at all. I walked the one block to the river near my house and started hammering smallmouth! Near my house there is a shallow flat in a bend in the river that is covered with large boulders and trees, and certain times of year that flat is covered with smallmouth. This line held up GREAT around all that cover. I had NO knicks, cuts, scratches, and it man handled a number a smallmouth with the largest being about 4lbs. This is really a great line. I use Sunline almost exclusively anymore and they never seem to disappoint.

From: Keegan: Iowa

Comments: i have 20 lb on my jig rod it handles like 14 lb sufix floro(what i used to use) so far the best floro i have used and i have tried several brands

From: Issac: ME

Comments: 7 pound test: Tried using it on my spinning reel. It didn't work. Too much line managing for my taste. This line literally jumps of the spool when you open the bail. Maybe it would work better on a 3000 reel? It seems to hold up pretty well. And I have not had issues with it holding knots like I do with Reaction FC.

From: Nathan: Pasco, WA

Comments: This line is not worth the $$ in my opinion. Its not bad line I just really don't think the 6# holds up very well. At this price point, it is more manageable than Trilene 100% but not even close to as durable. I went through 2 200 yard spools in three days fishing because of abrasion scars and breakage. It also seems to have more memory than I am used to in Fluoro. I guess I just have better experiences with Seagar Invizex and Stren Fluorocast at about half the price. I don't even think Aaron Martins uses this stuff. I have some 7# spooled now I will give a try but it does seem a little bouncy. I agree with Chris from Milwaukee though, Vanish is an abomination and one of the worst products in Berkley history, and they will admit it too. I had no problem throwing about 500 yards of Vanish in the trash after trying it in a few different # tests.

Comments: I think Mark from WA meant that he bought a "spool" not a "reel" of 7lb test. And I'm not sure how you install line, but whatever. Comparing Vanish to Sniper is grounds for mutiny. Sniper is one of the more managable fluoros you can get. Great all-around fluoro with slightly more stretch than Shooter.

From: Christopher: Milwaukee, WI

Comments: I can't agree with the other reviewers. I bought a reel of the 7lb and installed it a couple of weeks ago. I used it drop shotting for the first time today. I've never seen a line that had more curls in it. It would have embarrassed the Sunbeam Bread girl. This line was totally unmanageable. I've also been using Vanish, which is also cheaper, and have had some on all season with no problem. I won't be spending the extra cash on Sunline again.

From: Mark: Washougal, WA

Comments: i used the 6lb for drop shot and have broken hooks and have had fish on and they whent in the lily pads and i was cuting pads i love this line

From: Travis: WA

Comments: Caught my first double digit LMB - 12.5LB - using 8# FC Sniper on spinning gear. Never a problem.

From: TR: CA

Comments: GREAT LINE! I have been using InvizX on my spinning reels, but wanted to try this on one of my baitcasters and I will be buying more! It's much stiffer than InvizX, but it still handles well compared to other Fluoros. It's VERY sensitive, casts a miles, and so far has been very durable. I've been fishing rocky banks of a local river and this line has been perfect for so far. I will be converting some of my other baitcasters to this line. DO NOT hesitate to buy it!

From: Keegan: Iowa

Comments: Bought two spools of 12# and one of 10 #. Liked it so much bought 660 yard spool from Tackle Warehouse. Fluorocarbon does take some practice but this is the best I have found. I prefer Sunline to all other Fluorocarbon and I have tried all the Seaguar products. Tatsu takes such a set as to make it unfishable. The Seaguar Red handles and casts better but not like FC Sniper or Super for that matter. Try the FC Sniper. You will not be disappointed.

From: Clayton: Austin, TX

Comments: I have used two spools of 12 lb test FC Sniper. It's great line. It has better knot strength, and shock resistance than Seaguar Abrazx...it's also the same diameter as Seaguar, however it isn't quite as supple on spinning gear. It compares very favorably to my much more expensive Toray Superhard Upgrade...if you're looking for a top notch fluoro that truly delivers, this is it. And most importantly I haven't noticed any of those phantom hook set breaks that I experienced with Seaguar and just about every other fluoro out there....Great stuff! Decent price. I will buy more for sure.

From: Sam: Auburn, KS

Comments: I spooled up one of my baitcasters with this today. I got the 14lb along with the 60lb fx2 braid when they were buy one get one. This is the smoothest fluorocarbon I have ever used. Had to re tweak my reel because I had just gotten done cleaning and lubing them for this season. But once i got it set back to normal I was very impressed. Just casting a 3/8oz practice plug around the yard. I dont have to put much effort into what i am doing with this line. It comes off the reel very easily and doesnt backlash. I will definitely be back to buy more Sunline products in the future. Probably the only line I will ever buy again.

From: Kyle: Hutchinson, Kansas

Comments: With the hot summers in the south, this is the only flourocarbon that I don't have to change after one use. The sunline braid is even better, it's lasted for months on my cranking rods.

From: Greg: AL

Comments: Very low stretch according to Tackletour, much less than Seaguar. I have been using 14lb fishing rock ledges and the line is very durable. Caught a 3lb and then a 5lb bass the other day fishing a hula grub around chunk rock, and the line didn't even need to be retied. Great line.

From: Mike: Hermitage, TN

Comments: I've been using this line in 14lb test on a casting rod throwing finesse jigs around rocks and docks. It is extremely limp, soft, and manageable. I haven't had it on for long enough to review the longevity, but it seems good. But, I broke off on 3 fish today fishing the same stuff as I was with 15lb Seaguar InvisX. Same lake, docks, jigs and knot. I rarely break off, but 3 fish broke me off today, they were big, but it wasn't just that. If you throw a backlash (which you will in 15-20+ mph winds skipping docks), the line cuts into itself and nearly breaks it with barely any tension. Then will you have to set the hook or pull on it, it snaps. Not nearly as strong as Seaguar InvisZ, but it is more limp. The tiny improvement in the soft qualities of this line is not worth compromising strength when it counts. Luckily it wasn't a tournament.

From: John: Birmingham, AL

Comments: I have used this line in the 12 or 14# line size on every reel I own for about 2 yrs. now. Main use for me is on 1500R-Custom spinning reels on 7' rods. In that time fishing the Calif. Delta I have 10 fish between 11# and 15# and yet to have a
break off on this line other than when snagged/hung up. Best line by far I have ever used!

From: Bob: Modesto, CA

Comments: I got some of the 8 pound line for my spinning reel becouse of the reviews and it had a smaller diameter then most floros. Looked good on the reels so I decided to buy more for my baitcasters. The first time I went to the lake found out the line wa stiffer then I expceted and has so much memory i back lashed my baitcaster. I put on some vicious pro line no memory and cast alot farther and no back lash. works great on spinning and casting reels.

From: Daniel: Bridgewater, VA

Comments: awsome line, super super strong tough as nails and you can detect the slightest bites i will be buying more!!!

Comments: I have been fishing with several different brands of flourocarbon trying to find a brand of line that casts smooth, sensitive and is extremely tough. I finally found a line that handles everything I have been looking for. For you guys out there that fish with Seaguar or any other fluorcarbon once you fish with this line you will throw it in the trash! This line is amazing! I know it is more expensive than the other brands out on the market, but once you fish with this stuff you will see what I am talking about. It casts so much easier and the sensitivity is unreal plus it is extremely strong and abrasion resistant! I know it costs more than the other brands out there, but it is definitely worth the money in the long run. Try it and you will be wondering why it took you so long to fish with the right fluorocarbon!

From: Skeeter Jim: Muskogee, OK

Comments: Best line period. The best casting and toughest line ive ever used.

From: Mike: Virginia, USA
Comments: This line cast's very smoothly and is the softest line I have ever used. Draw back is it does not handle Large Bass very well. If this line touches a bass's teeth it will break ! Used the 7 lb test on a G-loomis/Shamano shaky head setup. Cost my Son and I a 1st place finish in a local tournament

From: Paul: Alabama, USA
Comments: Best 100% floro in the game. I love the 7# for shakey head and shallow d shot fishing. This line amazes me with how tough it is around docks and pilings which we have tons of here and where our fish live mostly. Have yet to break a fish off with this line. Excellent feel and manageability. Does need to be stretched now and again and also kept lubed with KVD line conditioner for maximum performance. Good stuff.

From: Chuck: Lake Norman, NC
Comments: Absolute favorite for any jig/soft plastic presentations in heavy wood or rocks. The 10lb FC on 10 braid fishing in 45 ft of water with a 1/4oz standup jig is nothing short of perfection on the right rod. The 12lb FC allows me to get a 5/16oz jig or 12" worm down to 30-50ft & still feel what my bait is doing. It takes the punishment like a champ.

From: V: Phoenix, AZ
Comments:This is a nice alternative for people looking to save a little money on fluorocarbon. It works well after it has been used and stretched a little. Does tend to loop slightly. I used 7lb test on a Shimano Symetre 2500 and johnny morris signature series spinning reels and did not use any sort of line treatment.
From:Matt: Westminster, CO
***Note: If you have questions about this product or need assistance with an order please email your questions to info@tacklewarehouse.com
View Large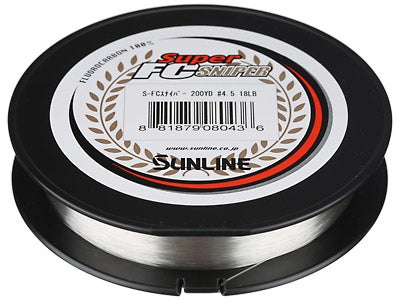 Place Your Order
More Sunline Fishing Line