Sunline Super Natural Monofilament 330 yd - $9.99
Sunline is a Japanese line company that has been generating lots of attention at the top levels of professional bass fishing. Top money anglers know that the only thing between them and the money fish is a thin strand of line and it better be good.
Sunline Super Natural is a a world-class monofilament line, designed to give the high performance required in a wide range of situations. Sunline Super Natural is supple and easy to handle for maximum castability. Super Natural is offered in two colors, "Natural Clear" for exceptional transparency and "Jungle Green" for excellent camouflage.
| | | | | | | | | | |
| --- | --- | --- | --- | --- | --- | --- | --- | --- | --- |
| Line Dia. | 4lb | 6lb | 8lb | 10lb | 12lb | 14lb | 16lb | 20lb | 25lb |
| Inches | .006 | .008 | .009 | .010 | .011 | .012 | .013 | .015 | .016 |
| Millimeters | .165 | .205 | .235 | .260 | .285 | .310 | .330 | .370 | .405 |
Comments: I prefer this mono over all the other brands. The smaller line diameter to pound test is great. I just wish tacklewarehouse would carry 30, 35 and 40 pound test.

From: Jeff: Toccoa, GA

Comments: Just bought 8 spools of this stuff, but paid for only 4!!! Heck of a deal! Cant wait to try it!!!

From: Ricky: Los Angeles, CA

Comments: This line is the real deal. Tried the 16lb for topwater, it casts like a dream, no twisting, and greater distance. The only mono I will use from now on!

From: Frank: PA

Comments: One word amazing. Better than any other mono I have used. Usually would run a 10lb line on my finesse baitcaster but got this is 14lb due to its thin diameter and wow it casts great knots great and is super strong with no backlashes. Will be getting more of this for sure!!

From: Ross: MA

Comments: I was using this line and in mid cast it snapped, and i didnt really cast it hard. ever since then i've been scared to cast it again. And i know my knot to my lure didnt fail because i retrieved it on somebodies dock and it was still tied and a good 4 inches on it. I am going to replace it but not sure what with. i give it 2.5/5 stars. sorry. But it has no memory so thats good.

From: Nick: Tampa, FL

Comments: Line very soft & thin diameter cast like dream but 10lb line snap like thread .I had few broke off once at hook setting than snapped while i was reeling the fish in , so gong back to spiderwire .

From: Fishkiller01: NYC, NY

Comments: Great Line, small diameter, very easy to cast, but my line snapped after hook setting at least a 4lb bass that was jumping out of the water with my expensive swim jig in it's mouth still

From: Chingy: Milwaukee, WI

Comments: I didn't like it. I spooled it up on a brand new Curado baitcaster and had quite a few backlashes. Re-spooled and tried it again and same thing. My final cast I threw a crankbait and for no reason the line just snapped off...MID-CAST.

From: Rick: Wilkes-Barre, PA

Comments: bought the 20 pound for my topwater rod, and this line is thinner than some of the 14 pound mono out there, and way thinner than my 17 pound trilene xl was, and way less memory any stretch to the trilene and it coiled up, and it would kink very easily. This stuff has yet to kink up on me, and it does stretch every mono does, but it recovers from the stretch, and I've heard the abrasion resistance with this line isn't good well guess what it is, i fished it around dock pilings, and rocky banks and this stuff has no wear on it from abrasion.

From: Ben
Comments: Great over all, and for the price..... Got 16lb so thin could have gone to 20lb.... Im sold, SunLine is my new Line.....!

From: Tim: CA Delta

Comments: Soft, Supple, Strong for Finesse applications, Low Memory, and thin diameter. Although this is a great line I do not recommend it for abrasive conditions (i.e. flipping to weed and working structure). I had many break offs already when fishing abrasive conditions.

From: Bat Area, CA

Comments: I bought some 14 lb. sunline mono several months ago from TW and I find it to be very strong,supple,and it has a very small diameter.GREAT LINE! casts very well also.

From: Banks: Kimberly, AL

Comments: Awesome mono. The lb test to line diameter ratio is incredible. I don't know how they do it. The knot strength is impressive and I don't even notice any line memory. I bought the 12 lb for jerkbait fishing and it is perfect.

From: Scott: Minnesota

Comments: The best mono I have ever used and I have tried a lot of them. Small diameter, low memory and very strong. I use 10# and 12# on my spinning reels and 14#, 16# and 20# on my baitcasters.

From: Larry: Toano, VA

Comments: Best line I have used in a long time , never knotted , never looped , always limp and the strongest line going , got stuck with the 8 lb test and was pulling the boat trying to break it , blended very well also , wish it was available in the blue here.

From: Walter: Danbury, CT

Comments: This is an exceptionally strong line in a small diameter for the test rating. I'm running 14 lb test Sunline on a 2000 series Daiwa spinning reel with absolutely no problems with line management. It has the approximate diameter of a standard 10 lb test line. Line is very smooth and soft yet extremely strong and minimal stretch. It lays on the reel spool nicely without blowing off in coils like a spring. I haven't used a standard mono this good in years. Makes other mono lines seem like straw. Good stuff! This line now comes in a Blue color. Again, great mono for a spinning reel.

From: Ray: Carmel, NY

Comments: The best mono i've ever used. Great casting, thin diameter and no memory.

From: Michael: Baton Rouge, LA
Comments:Very good line for the price, casts great in a baitcaster or spinning gear. I was quite impressed with it, best Mono i've used in it's price range.
From:Zach: Port Huron, MI
***Note: If you have questions about this product or need assistance with an order please email your questions to info@tacklewarehouse.com
View Large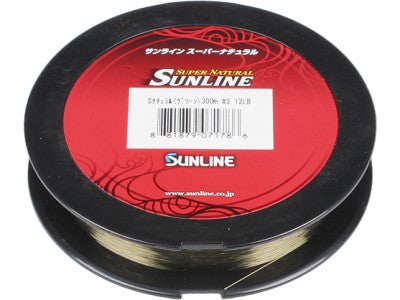 Place Your Order
More Sunline Fishing Line