Sunline Super Natural Monofilament 330yd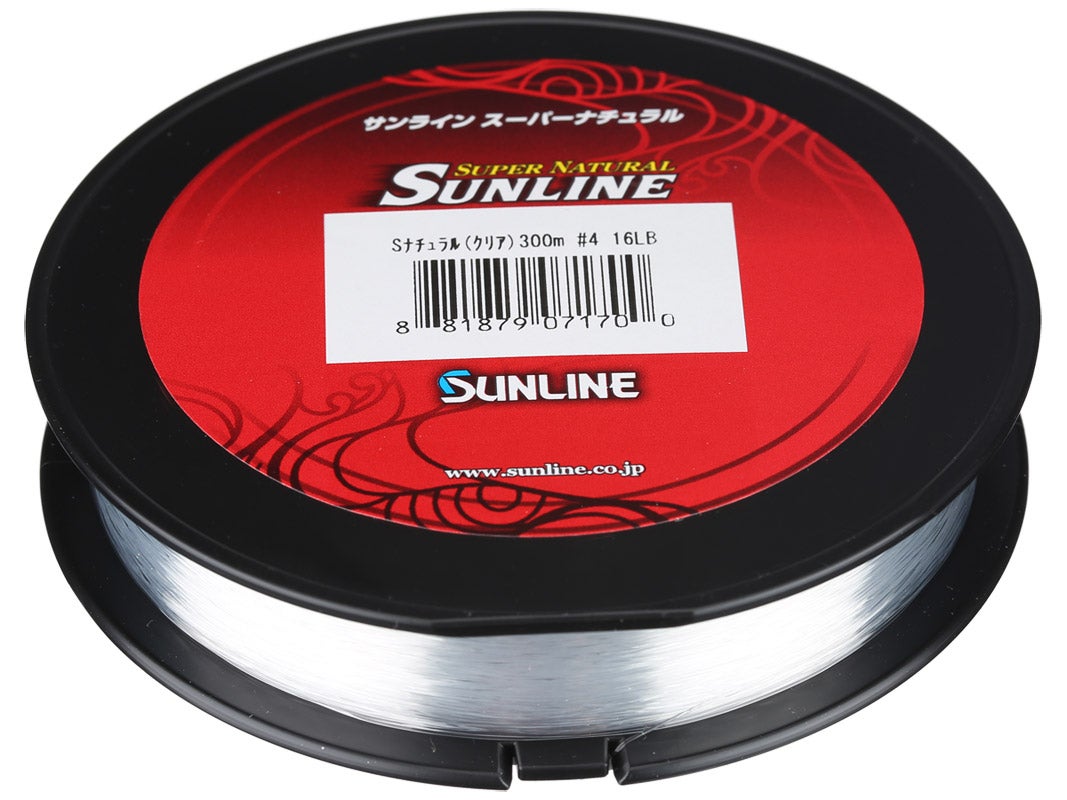 Sunline is a Japanese line company that has been generating lots of attention at the top levels of professional bass fishing. Top money anglers know that the only thing between them and the money fish is a thin strand of line and it better be good.
Sunline Super Natural is a a world-class monofilament line, designed to give the high performance required in a wide range of situations. Sunline Super Natural is supple and easy to handle for maximum castability. Super Natural is offered in two colors, "Natural Clear" for exceptional transparency and "Jungle Green" for excellent camouflage.
| | | | | | | | | | |
| --- | --- | --- | --- | --- | --- | --- | --- | --- | --- |
| Line Dia. | 4lb | 6lb | 8lb | 10lb | 12lb | 14lb | 16lb | 20lb | 25lb |
| Inches | .006 | .008 | .009 | .010 | .011 | .012 | .013 | .015 | .016 |
| Millimeters | .165 | .205 | .235 | .260 | .285 | .310 | .330 | .370 | .405 |
2 Colors
More From Sunline Fishing Line
Customer Reviews
Comments: This is GREAT line and affordable. It casts like a dream, knot strength is excellent, and I have not lost a fish because of this line. I have actually used this line to replace fluorocarbon on almost all of my "moving baits."These bad reviews must be from novice fishermen.
From: Coach: Shell Knobb, MO 1/3/17
Comments: Maxima guy here. I bought the Sunline spur of the moment from a shop on the lake that did not have usual My Ultrageen available. Sunline Super Natural was not bad. I had two tangles and one break off mid cast (due to tangle). The major positive is the diameter. This line is super thin. In closing, this is not the best stuff for a spinning outfit, but it is not bad either. I would rate this line a 3.5/5. If I needed to again, I would buy another spool of it.
From: River: Phoenix 11/30/16
Comments: For all future buyers, buy your line by diameter not lb strength. If you normaly use 20 mono with a diameter of .018 buy 30lb of this sunline with a .018 diameter
From: Jack: USA 9/21/16
Comments: I really like the diameter & strength of the 12 lb. Thinnest I can find. I have found it to be as strong as anything I have used in the past.
From: CB: Florence, SC 11/3/15
Comments: Can't believe the amount of negative reviews for this line, I use 12# exclusively for squarebills and all I do is crash nasty cover with it and never lost a fish due to line breakage. This line is soft, strong and a pleasure to cast.
From: Erik: Lake Wylie, SC 3/2/15

Comments: There is a reason you don't see good reviews from us florida fisherman this stuff just simply is not strong enough to fish around our different types of vegetation. I honestly gave it a fair test & I wish it was strong cause it cast a mile & has super low memory but I cannot trust this in a tournament situation. I can assure you I know how to tie every knot out there.
From: Kevin: Plant City, FL 1/25/15

Comments: I began using 8, 12 & 16lb test midway thru the 2013 fishing season the 8 & 12 on spinning tackle and 16 on baitcasting. Initially I was very impressed, very little memory, great castability & the thinnest line I have used in 35 years of bass fishing. However, I also have experienced line breakage & lost all confidence in this line.
From: Jeff: Bridgeton, NJ 7/13/14

Comments: This line isn't good, it will not hold the not. I break of way to muck. I recommend buying something else.
From: Jon: Hoover, AL 7/12/14

Comments: one of the best cheap mono's out there. Don't listen to the reviews about guys losing swimbaits on 25lb line. If you're using 25lb line and you think losing your lure had anything to do with your line then I question your knot tying ability or your ability to pay attention. You could yank a stump out of the ground using this stuff in 25lb test.
From: Rob: Lewistown, PA 7/11/14

Comments: Very disappointed in this line. Generally fish it on top water and light t-rigs, I had multiple break-off's in one outing. I love sunline's flurocarbon products, but would be nice if they had a solid mono as well.
From: Jacob: Winston Salem, NC 6/16/14

Comments: I actually fish these weightless on a 2/0 hook topwater. Smallies love it! They are also very durable! And as said in other reviews the action is great on these!
From: Devin: Las Vegas, NV 6/14/14

Comments: I'm at a loss to why this line has been given terrible reviews because it is some of the best quality mono on the market hands down. I'm not sure if some of these guys know how to tie knots or what cause I have had no problems at all, especially due to line breakage.
From: Zach: Grand Rapids, MI 3/24/14
Comments: I don't know what some of these reviewers are talking about. I've been using Super Natural for my monofilament needs exclusively for the past three years, and have never lost a fish due to line breakage. Best mono on the market, for sure.
From: Daniel: Savannah, GA
Comments: Everything about this line is great except one thing "It breaks a lot" and I have lost 2 BBZ1's because of it. I was using 25lb test and was slow rolling a bbz1 and when a big striper came up and smashed my lure on top. I set the hook, felt the fish for about a second then "snap"....Bye bye swimbait and bye bye fish...The following week I go out and do the same thing trying 30lb test, thinking there is know way I am getting broken off, and the same thing happens....by by swim bait and bye bye fish....If you enjoy loosing lures then go out and buy this line....I am a diehard sunline user (braid/fluoro) and love the stuff....this line is junk...I have changed lines using the same equipment and haven't snapped a fish off since...

From: Kerry: Redondo Beach, CA

Comments: I thought this line was simply amazing. Until I started loosing fish because of it. Three times now, it has snapped upon a hook set. I'm using 14lbs with a medium rod and a shimano curado with drag set well below breaking strength. I throw Keitech 5.8" on this setup and have no lost three what I assume were quality fish. No more confidence in this line.

From: Rob: Mission Viejo, CA

Comments: I though other reviewers were crazy. I had had great success with this line. BUT I am now positive it has now LOST two big fish for me. Twice while throwing 5" Kietechs, it has snapped on the hookset. 14lbs line should not snap when set on a medium action rod. I usually use 10 but due to diameter I thought I could get away with it. In the end, this line is junk. It took 6 spools to realize it was costing me fish. The one I lost yesterday might have been double digits.
II saw a flash like a vw bug and then it went pop! Back to maxima for me.

From: Rob: SoCal

Comments: i am a die hard sunline fluorocarbon fan so it pains me to to do a review like this.First of the line cast beautifully and lay's on the spool like a dream.Holds knots well.But the durability is just not there.I started off using 14 pound for topwater and small cranks like squarebills.I had it break mid cast twice .Ok, So i purchase some 16plb and had the exact same results.Breaking mid cast on relative light weight baits.An i check my line often for nicks or frays.If they Can improve Abrasion Resistance and durability then this line will be hard to beat.As it stand's i just have no confidence in the line

Comments: To all those reviewers who love this stuff for top water, I couldn't agree more. However, if you use this line for cranking in rocks or pitching in any type of cover- beware. This is the absolute worst for abrasion resistance. Use it for a leader so you won't have to re-spool and check it out. You'll be agreeing with me in 10 minutes or less.

From: Mike: Aurora,IL

Comments: I bought 20lb for topwater. Amazingly thin and strong. Super soft, and it doesn't feel like most mono. When the time comes, I will buy this line again

From: Allen: Fort Worth, TX USA

Comments: I prefer this mono over all the other brands. The smaller line diameter to pound test is great. I just wish tacklewarehouse would carry 30, 35 and 40 pound test.

From: Jeff: Toccoa, GA

Comments: Just bought 8 spools of this stuff, but paid for only 4! Heck of a deal! Cant wait to try it!

From: Ricky: Los Angeles, CA

Comments: This line is the real deal. Tried the 16lb for topwater, it casts like a dream, no twisting, & greater distance. The only mono I will use from now on!

From: Frank: PA

Comments: One word amazing. Better than any other mono I have used. Usually would run a 10lb line on my finesse baitcaster but got this is 14lb due to its thin diameter and wow it casts great knots great and is super strong with no backlashes. Will be getting more of this for sure!!

From: Ross: MA

Comments: I was using this line and in mid cast it snapped, and i didnt really cast it hard. ever since then i've been scared to cast it again. And i know my knot to my lure didnt fail because i retrieved it on somebodies dock and it was still tied and a good 4 inches on it. I am going to replace it but not sure what with. i give it 2.5/5 stars. sorry. But it has no memory so thats good.

From: Nick: Tampa, FL

Comments: Line very soft & thin diameter cast like dream but 10lb line snap like thread .I had few broke off once at hook setting than snapped while i was reeling the fish in , so gong back to spiderwire .

From: Fishkiller01: NYC, NY

Comments: Great Line, small diameter, very easy to cast, but my line snapped after hook setting at least a 4lb bass that was jumping out of the water with my expensive swim jig in it's mouth still

From: Chingy: Milwaukee, WI

Comments: I didn't like it. I spooled it up on a brand new Curado baitcaster and had quite a few backlashes. Re-spooled and tried it again and same thing. My final cast I threw a crankbait and for no reason the line just snapped off... MID-CAST.

From: Rick: Wilkes-Barre, PA

Comments: bought the 20 pound for my topwater rod, and this line is thinner than some of the 14 pound mono out there, and way thinner than my 17 pound trilene xl was, and way less memory any stretch to the trilene and it coiled up, and it would kink very easily. This stuff has yet to kink up on me, and it does stretch every mono does, but it recovers from the stretch, and I've heard the abrasion resistance with this line isn't good well guess what it is, i fished it around dock pilings, and rocky banks and this stuff has no wear on it from abrasion.

From: Ben
Comments: Great over all, and for the price..... Got 16lb so thin could have gone to 20lb.... Im sold, SunLine is my new Line.....!

From: Tim: CA Delta

Comments: Soft, Supple, Strong for Finesse applications, Low Memory, and thin diameter. Although this is a great line I do not recommend it for abrasive conditions (i.e. flipping to weed and working structure). I had many break offs already when fishing abrasive conditions.

From: Bat Area, CA

Comments: I bought some 14 lb. sunline mono several months ago from TW and I find it to be very strong,supple,and it has a very small diameter.GREAT LINE! casts very well also.

From: Banks: Kimberly, AL

Comments: Awesome mono. The lb test to line diameter ratio is incredible. I don't know how they do it. The knot strength is impressive and I don't even notice any line memory. I bought the 12 lb for jerkbait fishing and it is perfect.

From: Scott: Minnesota

Comments: The best mono I have ever used and I have tried a lot of them. Small diameter, low memory and very strong. I use 10# and 12# on my spinning reels and 14#, 16# and 20# on my baitcasters.

From: Larry: Toano, VA

Comments: Best line I have used in a long time , never knotted , never looped , always limp and the strongest line going , got stuck with the 8 lb test and was pulling the boat trying to break it , blended very well also , wish it was available in the blue here.

From: Walter: Danbury, CT

Comments: This is an exceptionally strong line in a small diameter for the test rating. I'm running 14 lb test Sunline on a 2000 series Daiwa spinning reel with absolutely no problems with line management. It has the approximate diameter of a standard 10 lb test line. Line is very smooth and soft yet extremely strong and minimal stretch. It lays on the reel spool nicely without blowing off in coils like a spring. I haven't used a standard mono this good in years. Makes other mono lines seem like straw. Good stuff! This line now comes in a Blue color. Again, great mono for a spinning reel.

From: Ray: Carmel, NY

Comments: The best mono i've ever used. Great casting, thin diameter and no memory.

From: Michael: Baton Rouge, LA
Comments:Very good line for the price, casts great in a baitcaster or spinning gear. I was quite impressed with it, best Mono i've used in it's price range.
From:Zach: Port Huron, MI