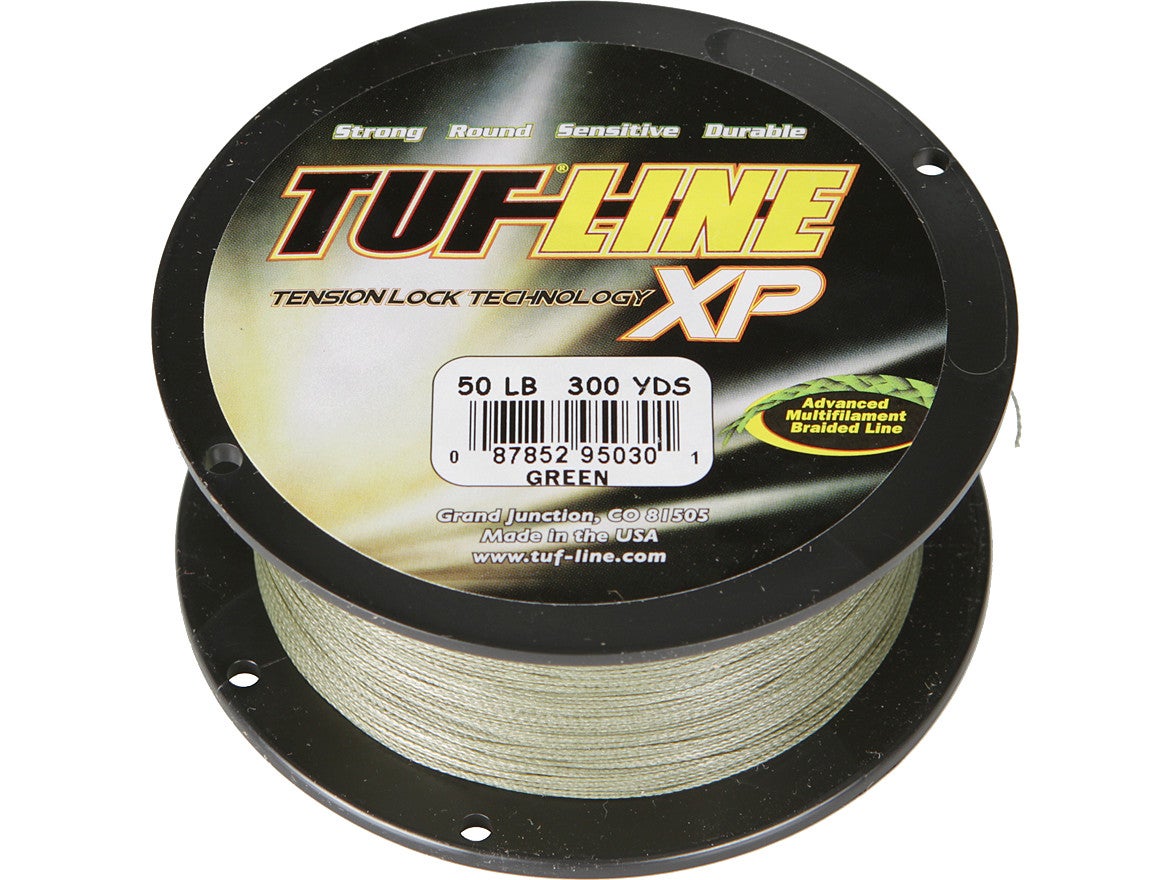 Official line of the Mann's Slick Lures Alabama Rig!
TUF-Line XP Braided Line is more compact, smaller in diameter, packs better on reels, offers better knot performance, casts longer, reduces rod tip wraps, and boasts higher abrasion resistance than other competitive lines.
Produced with Aerospace technology, TUF-Line XP Braided Line utilizes Tension Lock Technology. It is braided under high tension, creating more compaction of the fibers during the finishing process and a rounder profile. TUF-Line XP Braided Line's state-of-the-art coating also remains permanently bonded to the fibers, offering an incredibly long service life with zero shedding.
"I tried almost every brand of braided line while I was developing the Alabama Rig and found that TUF-Line XP was hands down the best. It casts better and handles the extreme abrasion that the weight of the rig puts on your line. It is also made in the U.S.A. and that is very important to me." - Andy Poss, inventor of the original Alabama Rig.
| | | | | | | | | |
| --- | --- | --- | --- | --- | --- | --- | --- | --- |
| Line Diameter | 10lb | 15lb | 20lb | 25lb | 30lb | 40lb | 50lb | 65lb |
| Inches | .004 | .006 | .008 | .010 | .011 | .012 | .013 | .016 |
| Millemeters | .102 | .153 | .190 | .234 | .280 | .300 | .331 | .407 |
| Equiv. Mono Dia. | 3lb | 4lb | 6lb | 8lb | 8lb | 10lb | 12lb | 15lb |
Place Your Order
More From TUF Line Braided Line
Customer Reviews
Comments: I spooled #30 on my spook rod & it was the worst braid I have ever put on my reels. It becomes flat after minutes of fishing & backlashes very easily. All my brakes were set properly because when I switched back to power pro I have had no problems since.
From: Ethan: VT 8/24/16

Comments: Great, cheap, dependable braid. I have 30 lbs. on my MH baitcaster & it's good for all applications. Casting is smooth, abrasion resistance is MUCH better than Sufix 832 & I've broken branches & flipped rocks when I get hung up. Highly recommend.
4/18/16

Comments: Was looking for a quality braid for a good price, and I found it. Bought 30 lbs. for all-around baitcasting use, and it performs great. Most notably, this line is TUF. Double palomar holds up great, and although this line isn't coated (which also means it's very limp), I've broken branches and lifted rocks with this stuff. Would highly recommend!
From: Evan: Chalfont, PA 3/25/16

Comments: This stuff is TUF! I've been frogging with the 30lb braid and I don't think i could break this line if i tried.It is difficult to cut and very abrasion resistant. It is not as smooth as FX2 and is a little loud running through the guides on my 13 fishing Omen rod but it casts extremely well and is very limp and easy to handle. It digs into itself worse than FX2 but not as bad as power pro.I had 50lb FX2 snap while casting a koppers walking frog. I've never had any issues like that with this line and it pulled a 10+ lb snakehead out of a thick grass mat no problem on 30lb braid.

From: Cameron: VA
Comments: First time I ever used a braided line. I'm using 15lb TUF Line on a spinning set-up and I love it!! I am going to put it on more of my reels,spinning and baitcasting.

From: Rod: Arvada, CO

Comments: I love this braid!!! All my spinning reels are spooled with it as well as my heavy cover rigs. Casts great and holds up.

From: Kelly: Shreveport, La

Comments: I have been using TUF Line XP for saltwater applications for 5yrs now, and yes I do rinse my reels after each use, I have caught fish over 50# on this line and have never changed it thats right the same line for 5yrs with zero failures or issues, can't think of anything to add, strong TUFF and dependable, going into 6th yr and i'm still not going to change it. Nuff said.

From: John: Dracut, MA

Comments: I have test out on others and always go back to Tuf Line. Casting distance and great feel are the primary reason why I go with this line. I plan to spool all of my spinning rods with 15 lbs which is just acts like a 4 lbs line :)

From: Burke: Greebelt, MD

Comments: Tuf-line is the exclusive braided line used by Wayne Olsen's world of fishing guide service. We use 50 lb to 8 lb test line for striper, bass and crappie fishing. It strong enough for throwing Alabama rigs, sensitive enough for the most subtle bass bites and will not spook fish when float fishing for crappie. Smaller diameter than other braids and excellent knot strength when using fluorocarbon leaders.

From: Roy: Bumpass, VA

Comments: Very dependable line. I use 8, 10, and 20# on all my spinning rigs. I fish dingy and stained water so line color has never been a issue.

From: Jesse: Williamstown, WV

Comments: Tuf Line Braid is the best braid on the market. I have spent a lot of money on others and always go back to Tuf Line. Lasts forever, great casting distance, great feel and amazing for knots.

From: Devin: Estes Park, CO

Comments: This braid has worked very well for me. I use the 65lb for frogging, light swimbaits and flipping. Very strong, fades as all braid does, very high quality though. My braid of choice. Comes limper than power pro and does lose as much stiffness as power pro does. If you've bought power pro you know its almost plasticy in feel when you first buy it and it has to be broken in a little. With Tuf-Line there is no break in time.

From: Nathan: Saginaw, MI

Comments: This braid is amazing for the money.. My #1 fav braid is Sunline FX2 Flippin & Froggin This Tuf-Line XP is my #2 go to braid. Cast like a dream. Line management is so nice! Also takes a long time to fade... I do color the line with a green sharpie i do mine the lenght of my rod.. Try this is you are wanting to switch from Powerpro or 832 or even spyder wire or other braids in the same price range!

From: Sonny: East Wareham, MA

Comments: on a scale of 1 to 10 i give this line a 5. if you are going to use a braid, use spiderwire stealth. it is simply the best braid on the market.

From: Wes: Salinas, CA

Comments: I love throwing this line on my frogs and V&M flipin jigs. it does fade fairly fast but so does all braid (quick fix for all braid is to use a sharpie and color it black about 4 feet up the line or use a fluorocarbon leader on jigs) I usually use 50lb test on my frogs and have never had any problems catching 4 and 5lbers all day long and never retying, but i have broke off a lot of fish on 65lb test power pro. I don't know what Tuf-Line does different, but I like it!

From: Sawyer: Long Beach, MS

Comments: Decent line for the price. It's nice, not to limp, and it's tough, holds knots well, and is super sensitive like all braid! It doesn't last quite as long (unravels a bit faster) as say power pro or sufix, but at 23 bucks for 300 yards, it's not that bad to respool if ya need too.. just use a 30ish yard backing (use 4lb or less mono, it helps make a smaller knot). Color fads, but so do all braids. Check it, it's decent stuff!

From: Sam: Shawano, WI

Comments: I have used this line for years and all I have to say is it's a top notch braid at a good price.

From: John: MO

Comments: Terrific line , casts better and durability is much better than power pro. I use 30-65 lb on the baitcasters! Made in USA and also the Tuffline folks take care of their customers

From: Ed: Grayslake, IL

Comments: This is an excellent quality braid from a long established company. I prefer the Spectra fiber over Dyneema at any rate for better durability. I think this line is a hybrid mixing the two. This makes for a very supple line that casts very well with a baitcaster or spinning reel. The dye tends to fade quickly but I really don't consider that an issue as most braids will do the same thing. Does not dig in. Through experience I have found this braid to be very durable and resistant to abrasion. Just caught a nice 12 lb. Striper with a baitcaster and 50/12 Tuf-line that has been on this reel for 3 years. Line handled it with ease.