The Professor Braid Aid Line Conditioner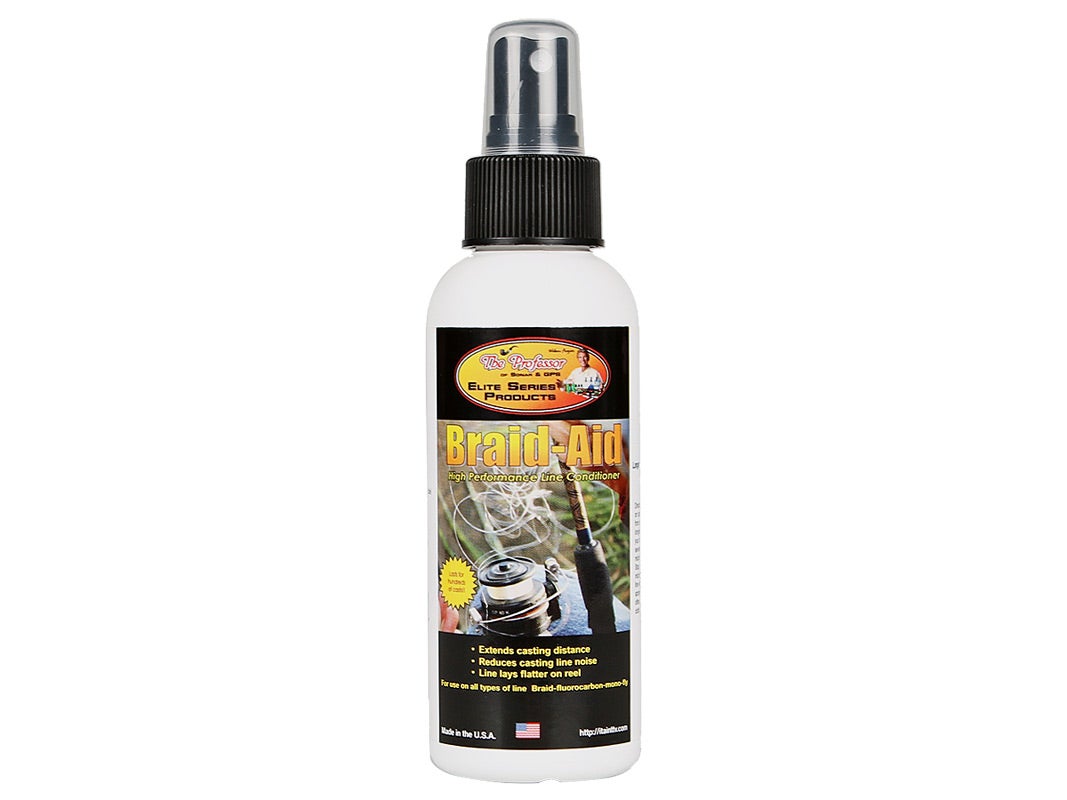 Helping you make longer, smoother casts than you ever thought possible, the Professor Braid Aid Line Conditioner eliminates casting noise and air knots, and also allows line to lay flat on the spool. It eliminates backlashes, and also helps relax line memory as well as buried hooksets.
It even works on all types line - monofilament, fluorocarbon, or flyline - not just braid. Application is the same on all types of line. One application of this product will last for many hundreds of casts.
Absolutely the best line conditioner on the market, over 100 field testers have tried The Professor Braid Aid Line Conditioner, and the reports were ALL positive regarding increased casting distance and having fewer backlashes!
Includes complete instructions.
More From The Professor Elite Series Products
Customer Reviews
Comments: I have used the KVD Lure and Line conditioner and love it & after trying The Professor Braid Aid Line Conditioner, I like it even more than the KVD. With the KVD Line conditioner, I had to spray more often during the day. Typicially, the KVD would last between 1.5-2 hrs before I needed to reapply. With The Professors Braid Aid, I could fish half the day or longer before needing to apply and this is with using the same rod and reel for the whole day. I use rods with silicon carbide guides and usually after a few casts, the line picks up debris, water, and other microscopic film that sticks to the guides & creates friction. Sometimes when fighting fish, there would be line friction which created jerkiness, and this is with the drag set light. This was before I ever used any line conditioner. Now, I don't have that problem anymore. I use this stuff before I spool new line on a reel using a microfiber cloth sprayed with Braid Aid. I spray it on the spool the night before I go fishing. I even apply it on my line guides with a cotton swab to clean them. As far as casting distance, the KVD & Braid Aid both give me about 5-10 yards extra on average. This stuff works great on mono, fluoro & braided lines.
From: Tom: Appleton, WI 7/25/15

Comments: I have tried many line treatments thru my many years of tour fishing and none of them will get You a smoother or longer cast.When treated you will have longer life of line and cast ability without re treatment.Get the best use Braid Aid

From: Brian: Houston Tx USA

Comments: This is the best product for any kind of line. Do not let the name fool you to think it is only for Braided line.... I works better on Floro lines and you will cast a noticeably longer distance and you will be shocked how many less birds-nests your clients will get if you put this on their line first. I have found all The Professors aids helpful and what I personally like the best: 100 % made in Nashville TN!! USA!! Hand Mixed (no machines) and non of his products are diluted with water to increase profit margins.

From: Jake: Nashville