Top Brass Carolina Ready Rigs 1 pk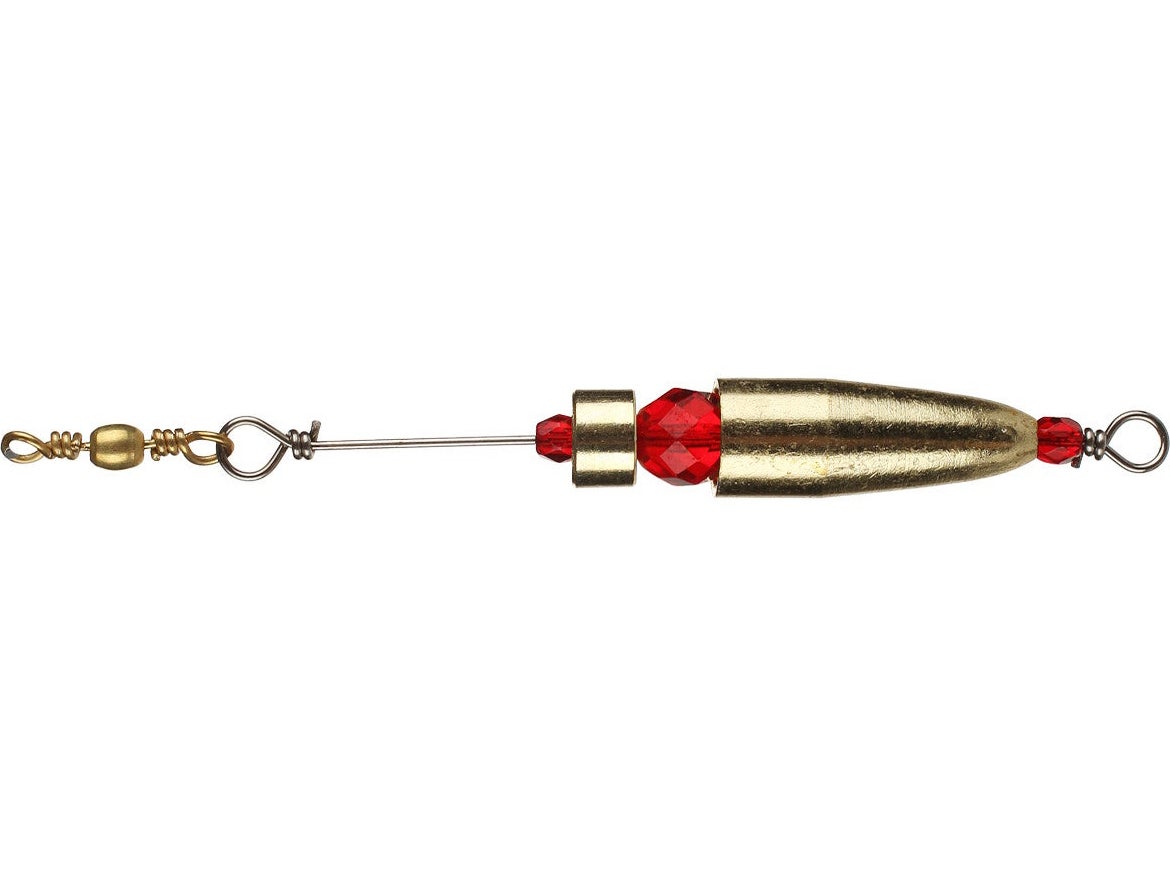 These Top Brass Carolina-rigs are ready to use any time you need them without the time and trouble of tying up your own. They offer a stainless steel wire with a swivel on one end and a ready to use loop on the other, so all you have to do is tie the loop to your line and a leader to the swivel and you are ready to fish. The brass weights slide easily up and down the wire giving maximum clacking noise against the fire-hardened glass bead and the brass ticker without any danger of fraying your line. We offer six different sizes to fit any need you may have for Carolina-rigging.
1/pack
Place Your Order
More From Top Brass Weights
Customer Reviews
Comments: As I wrote the bit below for the Nichols version of these pre rigged "carolina" rigs, I shall post it for this one too as I've only actually used the Top Brass versions...If you don't know this info below already, then it WILL improve your Carolina-Rig fishing a LOT:

Haven't used the Nichols version but a long time ago I bought the top-brass version thinking "WOW! so easy!" but after becoming someone who truly learned the Carolina rig correctly and was taught by a true C-Rig MASTER, I realized how ridiculous, useless, and just plain WRONG these pre-rig c-rigs are. REASON BEING: When dragging a carolina rig it is imperitive that the weight is heavy, and free-floating not pegged or limited to 1-2 inches (like on this rig). Watch a great or even good Carolina rig fisherman When fishing deeeeep offshore points in summer w/ a drift you will see them dis-engaging and re-engaging the spool constantly. That is to control the amount the bait is being dragged and to maintain bottom contact and the biggest thing that's great about C-rigs and why this is RUINED by these rigs is when the Bass (hopefully) takes the bait, it "runs" with it and it should have slack/line to easily "run" with it thru the weight while the weight's in place. W/ these pre-rig-c-rigs, the bait will be picked up and as the fish goes to "run" it will immediately feel the heavy 1/2-1oz of weight, not weightlessness like on a good, hand-tied carolina set up. These just aren't effective and they rly arent even c-rigs...it's basically a Huge/heavy pre-rigged splitshot/mojo rig...it'll probably catch em but a lot will drop it and im not a fan.

From: Tanner: Southeastern, Massachusetts

Comments: I lost a nice bass at Lake El Salto due to swivel coming apart. I replaced them with a quality swivel and had no more problems. Swivel from facory is very cheap and under sized.

From: Carl: USA