Trigger Happy Comfort Casting-Banded Ribbed Grips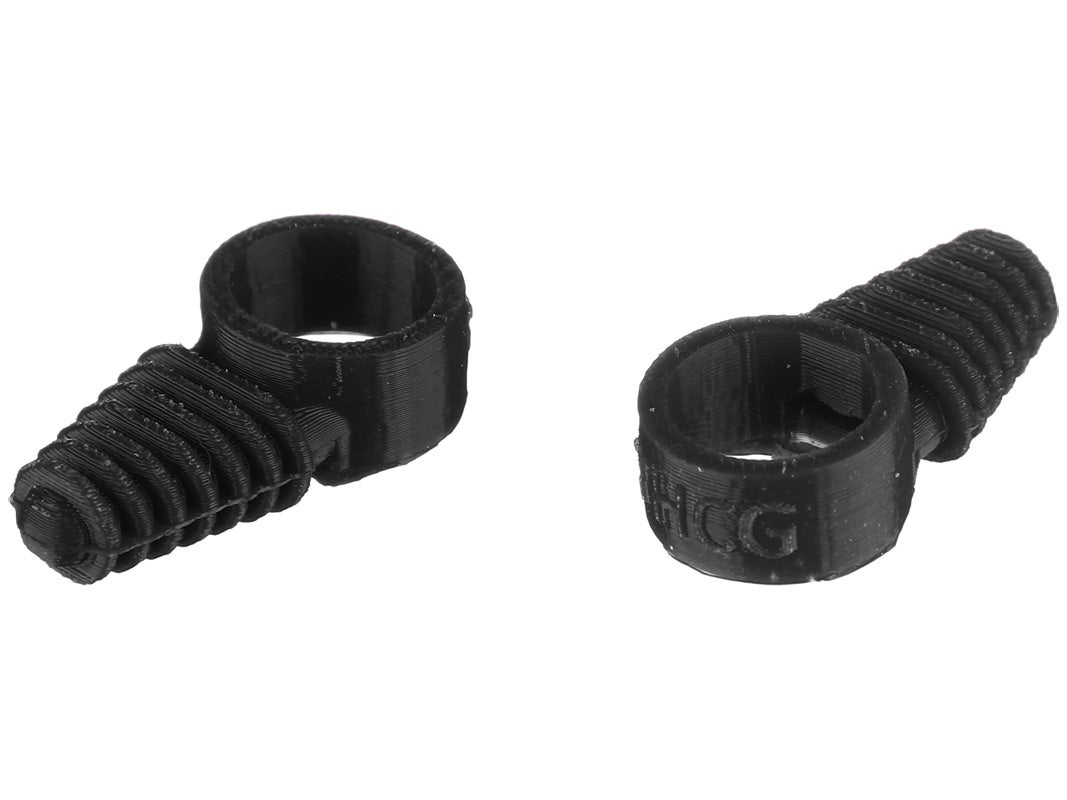 Made specifically for casting rods, the Trigger Happy Comfort Casting-Banded Ribbed Grips deliver increased performance and grip while fishing. Built with a super-comfortable, ergonomic rubber construction, the Trigger Happy Comfort Casting-Banded Ribbed Grips easily slip onto the trigger of your casting rod and are held in place via a circular appendage.

To install the Trigger Happy Comfort Casting-Banded Ribbed Grips, simply slide the round portion around the butt of your rod and slide it up until the grip is close to the trigger. Stretch the grip around trigger, and that's it – you're ready to fish. Offered in a number of colors to best match your rig, the Trigger Happy Comfort Casting Banded Rubber Grips will make fishing more enjoyable than ever before.
7 Colors
More From Trigger Happy Comfort Grips
Customer Reviews
Comments: love these things. bought one set and when I went out fishing I wanted to use the rods with the trigger grips. its so much more comfortable on a long day of cranking. just ordered 2 more pairs!!!!
From: Dustin: Hanford, CA 1/14/17
Comments: Just tried Trigger Happy Comfort Grips for the first time today! I am going to be putting these on every single one of my rods! These feel absolutely great in my hands and give me a break from all of the casting, cranking, flipping, and pitching I do all day long. You need to try these, you will not be disappointing!
From: Anthony: Quakertown, PA 8/12/16

Comments: These Trigger Happy Comfort are awesome.! I got two and put them on my flipping and pitching pole and my big stick punching rod. they feel GREAT, And are also really durable! Make days on the water a lot easier on your hands.! I am going to get them for all my rods! I truly recommend these trigger happy Comforts.!
From: Chad: Riverbank, CA 3/23/15

Comments: They are a must have if you fish tournaments or just a beginner they make the experience a lot more enjoyable incredibly comfortable was introduced to them at my last tournament held by future pro tour and bought enough for all my rods.
From: Jesse: Oakdale, CA 3/21/15

Comments: These are awesome. Every time I go out and fish for a day my fingers will hurt from setting the hook or working my top water bait. I was fishing Bassin Lunker tournament n trigger comfort booth was out there and I got some samples and fish with it and I tell you.Im hook on these. I have one for each of my rods now....loving it!
From: Toua: Sacramento, CA 2/23/15

Comments: There is not a rod in my arsenal that does NOT have these on. Very helpful from hands not hurting after a day of fishing.
From: Icebox: IN 1/31/15

Comments: These products are AMAZING! Im telling u, your fingers will hurt no more. plus loren is a great guy. He hooked me and a friend up with a sample product and now there is no way i will not be buying these for all of my rods. If you have doubts about these products...dont. purchase one of these products you will definitely not regret it.
From: Gavin: San Jose, CA 1/12/15

Comments: they are a no brainer and TONS easier to install than the spinning grips (which are still a great product). I did manage to get one to slip off the trigger on one extremely hard hookset, but a drop or two of crazy glue or a dab of silicone in the trigger hole should fix that problem. Not worried about 'permanently' installing them, as I will never take them off. Can't imagine fishing without them.
From: Mike: Las Vegas, NV 12/12/14

Comments: My arthritic middle finger can't thank the makers of this great little gadget enough. It may not be the most aesthetic add-on, but it sure does the job. Installed the same grip on five different kinds of triggers to test their resistance and it passed with flying colors; no hint of a problem when putting it on or removing it. Just make sure the rod's trigger and the grip's trigger hole are aligned before you try to mate them.
From: Fishingelbow: Quebec, Canada 11/30/14

Comments: Well, they suck. They do not fit up the trigger without tearing/damaging the "trigger hole". Neat idea, but save your money. I'll be returning the ones I just received asap.

From: Dwayne: TX 11/19/14

Comments: I bought a bunch of the spinning grips and newer ribbed casting grips. They are as advertized and as reviewed. Great product. Reasonably easy to install. I did not rip any as some others had indicated. I would give a call to Loren at THCG and check the website. He is happy to speak with you and get your feedback. Interestingly, he likes the older style casting grips for certain applications. I have read reviews, I think at Tackle Tour, where people like the casting grips over the spinning grips, but I don't see it. I like both of them
From: Ed: Astoria, NY 11/6/14