Trik Fish Fluorocarbon Line 200yd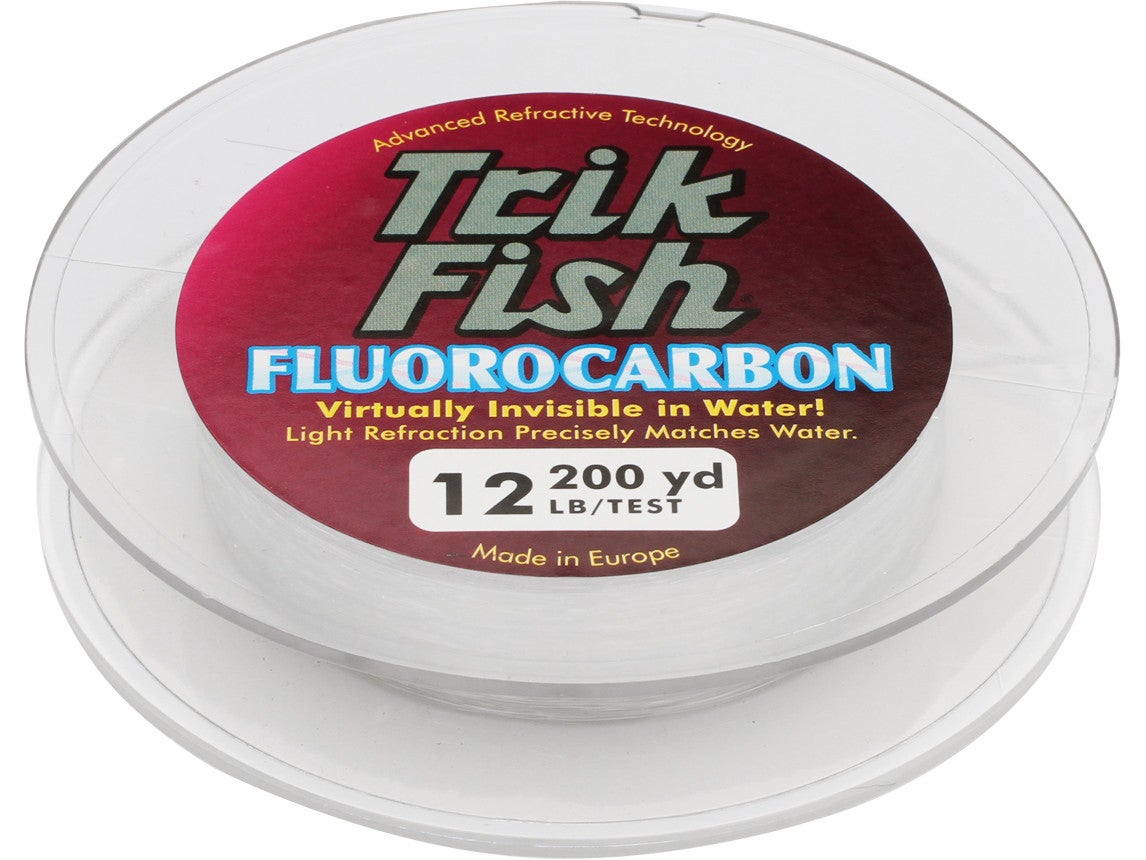 Built with crystal clarity, the Trik Fish Fluorocarbon Line is extremely stealth-like, and eliminates the "milky" appearance that sometimes occurs with clear fluorocarbon. Built with 20% less stretch than monofilament and an incredible resistance to abrasion, the Trik Fish Fluorocarbon is super strong with the durability to handle any environment. Possessing virtually no-memory, the Trik Fish Fluorocarbon Line is perfect for use on both spinning and casting reels. Thanks to fluorocarbon's higher density it also possesses a heavier weight, which is great for extended casting and helping the line sink quickly.
| | | | | | | | | |
| --- | --- | --- | --- | --- | --- | --- | --- | --- |
| Line Dia. | 4lb | 6lb | 8lb | 10lb | 12lb | 15lb | 20lb | 25lb |
| Inches | .006 | .007 | .008 | .010 | .012 | .014 | .016 | .020 |
| Millimeters | .16 | .18 | .20 | .25 | .30 | .35 | .40 | .50 |
Place Your Order
More From Trik Fish Line
Customer Reviews
Comments: This is a great line for the money, just keep in mind that it has one of the smallest diameters in flouro. If you usually fish 12lb, fish 15lb or if you usually use 8lb. use 10lb. etc. Hell I got the 12lb on a 3000 size reel for skipping docks.
From: Rob: Aberdeen, NC 1/21/16

Comments: Why didn't I read these reviews before buyiing this junk? This line doesn't have the abrasion resistance of a newborn's bottom. With all the J-Will heads and SwimFish I lost today, I could have saved money if I'd just ordered the Invizix in the first place instead of cheaping out. This line really isn't fit of the market.

From: Rich: Stevenson, CT USA

Comments: If you are fishing jigs and contacting bottom this is not the fluoro you want. It frays easily, weakens and breaks. I got tired of losing my jigs and took it off.

From: Dennis: PA

Comments: I like their monofilament well enough, but this stuff is junk. The surface of the line literally peels like a banana when confronted with abrasion

From: Hale: TN

Comments: This line is good for the money, good for a few trips, alot better than vanish

From: Ryan: Ocala, FL

Comments: this line is great! this linr is strong and has amazing abrasion resistance. got the 12lb for cranking. great line at a great price

From: Alec: IL

Comments: This line has zero abrasion resistance. I tried the 8 and 12 # line with equal results. Now if you are fishing open water and there is nothing that may come in contact with the line you are ok. It is very limp and strong on a straight pull.

From: Carlos, Texas, USA
Comments: I have been fishing this brands Mono for years, thought I would try the fluorocarbon. Took it to Clear Lake, 10lbs on my spinning rods and 17lbs for throwing swimbaits. Other than it being a little stiff (imagine that, a fluorocarbon that is stiff) it did great and we were dragging Bass out of stick ups. I would and will buy this line again.

From: Bob: Salinas, CA
Comments: If you are looking for a good, cheap fluorocarbon line, well...THIS IS NOT IT. There is no abrasion resistance, and this line is very weak compared to most any other brand I've tried. I bought 3 spools. 8, 10 and 12 lb test to give it a fair shot. Each lasted about a half of a fishing trip, and I ripped it off. This stuff is worse than even original Vicious fluoro. I called the company and was told that I am the first to have such issues...I guess I must be the first to buy this line then. The company really could have cared less to top it off.

From: Cam: Superior, NE