Trik Fish Original Camo Line 1/4lb Spool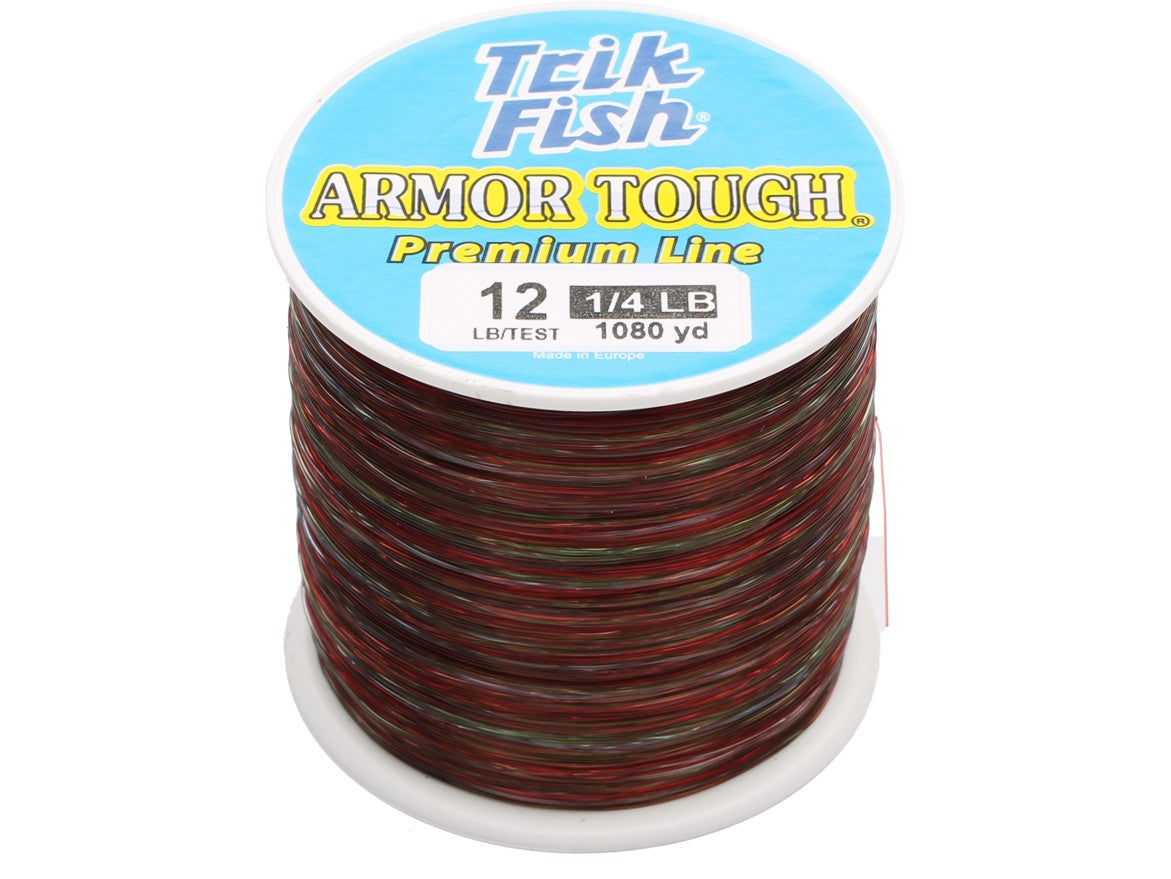 Trik Fish Original Camo Line offers the angler a significant advantage over standard nylon line. Trik Fish Camo line is made from Perlon, a copolymer that maintains its strength even after being stretched almost to the breaking point. Regular nylon fishing line will weaken after severe stretching, causing problems with knot and line strength later. The Camo color will disappear in a fish's natural underwater environment, getting you more bites. The legendary Trik Fish Original Camo is a great all around fishing line.
| | | | | | | | | |
| --- | --- | --- | --- | --- | --- | --- | --- | --- |
| Line Dia. | 6lb | 8lb | 10lb | 12lb | 15lb | 17lb | 20lb | 25lb |
| Inches | .010 | .011 | .012 | .013 | .016 | .017 | .018 | .020 |
| Millimeters | .25 | .27 | .30 | .32 | .40 | .42 | .45 | .50 |
Place Your Order
More From Trik Fish Line
Customer Reviews
Comments: I've been using this line for like forever. I've changed a lot of things over the years while swimbait fishing. This line isn't one of them. Very strong line with less memory & abrasive resistance as you will find.
From: Mike: GA 3/23/16

Comments: This stuff has been around forever. It is AWESOME. Not really made for spinning reels, it's stiff, but a great utility line, think BIG GAME, but a little smoother and cooler looking.

From: Jay6: USA
Comments: This line runs deeper than the braid I've been using and it doesnt break on the cast like flourocarbon tends to do. I've tried a few higher priced monos but surprise the cheapest seems to be the best.

From: Greg: AL

Comments: I have used this line for three years, and love the way it handles. However, on two occasions I have had it break at the end of a long cast. It may have been from past over-runs, and operator error. I still recommend this line in 12# camo, especially for crank baits, and top water.

From: Skip: Guilford, CT
Comments:I use a lot of different mono lines for different applications. This is a go-to mainstay most of the time, especially throwing heavy large baits. I've been pounding this line in tests 8# through to 30# on size 05 Extremes to Abu c5's to Diawa M-Ones for the past five years. On baitcast gear it has perfect stretch, high abrasion resistance and exceptional break-strength. You can get an easy hook-set, yet have the stretch for lure-saving during a heavy hard cast that goes off the rails, and big fish stay on. I've not missed feeling light takes that I'm aware of. The camo colour is perfect through the weeds, cover, dappled shade, evening/morning and bottom-dragging. No leaders req'd. My favourite trolling line too. I've looked at the Suffix camo & think I'll stay with Triple Fish. I suggest no greater than 12# on spinning/spincast reels.
From:Cliff Jumper: Canada