Triton Mike Bucca Bull Herring Swimbait - $54.99
The product of 18 different stages of prototyping, the Triton Mike Bucca Bull Herring Swimbait features a triple jointed construction and an unpolished finish. A great swimbait for herring and non-herring lakes alike, the profile and coloring of the Triton Mike Bucca Bull Herring Swimbait parallels many different species of baitfish. The swimbait mimics some of the favorite snacks of monster bass such as, the Blue Back Herring, Alewife, Hitch, Yellow Perch, Spot Tail, and the juvenile Rainbow Trout. The applications for the Bull Herring Swimbait don't stop at freshwater. Its striking similaritiy to Mullet, Mackerel, and Sardines also allow it to be used for a number of saltwater species like, Calicos, and Speckle Trout.
Designed by angler and professional guide "Triton" Mike Bucca and his realist approach to bait manufacturing, the raw finish and frayed real-hair tail of the Triton Mike Bucca Bull Herring Swimbait create a strong likeness to that of a tattered baitfish. The triple jointed construction generates an alluring movement at any rate of retrieval, from a blistering fast burn to a slow and methodical churn. Built with 3D eyes, high quality resin, and top-notch components, the Triton Mike Bucca Bull Herring Swimbait is a versatile swimbait that's sure to satisfy the pallet of fish everywhere.
| | | |
| --- | --- | --- |
| Triton Mike Bucca | Length | Weight |
| Bull Herring | 6.5 | 1.50oz |
Comments: Someone finally made a bait that looks like a herring for our striper runs. Outstanding bait. Awesome action and very durable and casts like a bullet and most importantly gets LIT UP! I've gotten several stripes in the 20lb range on it.

From: Tom: Mass

Comments: Picked up one of these for a Calico bait. Took it out and stuck fish first trip out. Works well on a fast burn. Has a good slim profile. Going to be a keeper.

From: AC: SoCal

Comments: This bait is junk, junk, junk.. Joints are crooked and the bait looks like a child made it?? Stop the bait while swimming it and it just folds up, which is not natural.. I've made the mistake of purchasing a few of these baits, thinking I just had a defective bait, BAD IDEA! All have been junk

From: John: GA

***Note: If you have questions about this product or need assistance with an order please email your questions to info@tacklewarehouse.com
Color:
Blueback Herring
View Large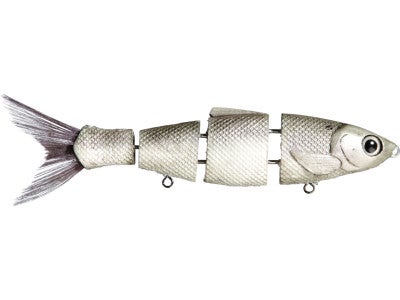 1 Available Colors
More Triton Mike Bucca Swimbaits