Triton Mike Bucca Bull Shad Floating Swimbait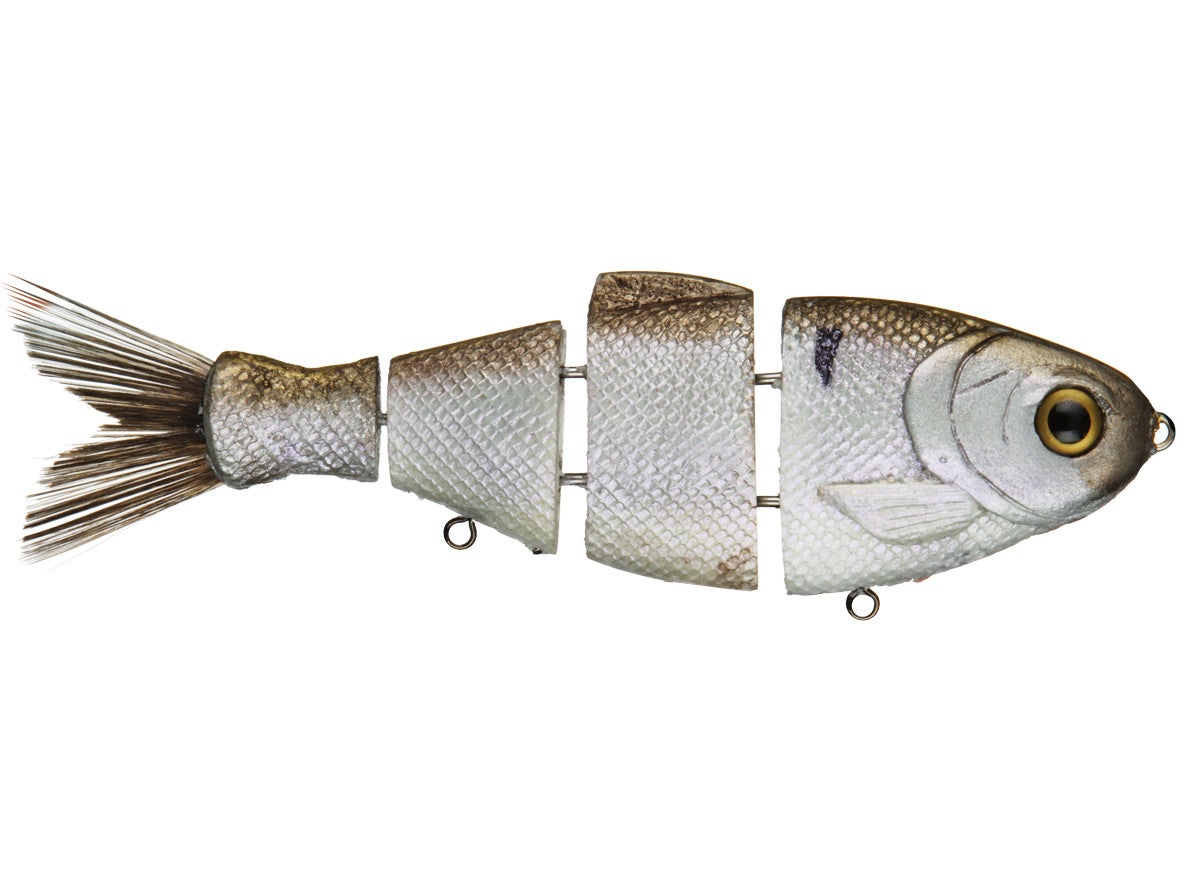 The Triton Mike Bucca Bull Shad Swimbait is a three-jointed swimbait designed to accurately mimic the different varieties of shad and baitfish, which populate fisheries across the United States. There is no denying the big trout-style swimbaits of the West Coast are proven to attract trophy bass, but big shad and their cousins are also a major forage for large bass. That's where the Triton Mike Bucca Bull Shad Swimbait comes in, it accurately imitates the profile and swimming action of several big baitfish varieties, including Threadfin Shad, Blueback Herring, Shiner and Gizzard Shad. "Triton" Mike Bucca, a longtime guide from Georgia specializing in catching trophy Spotted Bass on Lake Allatoona, spent several years and prototypes developing the Bull Shad because he recognized the need for a quality shad-style swim bait.
While it does have a rougher finish than other clear coat, glossy hard-swimbaits on the market, this simply adds to the Bull Shad's natural appeal. Its life-like action and profile are mouth-watering to big hungry bass. The Bull Shad performs well at varied retrieves from slow speed crawls to normal fast retrieves.
The Bull Shad features only top-of-the-line components, including Black Chrome Owner Hooks and Owner Hyper Wire Split Rings. Complete with 3D eyes and premium resins used in the construction process, the Bull Shad also has two built in hook hangers that swivel to prevent cagey trophy bass from twisting free. Each bait is also coated with a special realistic looking purplish/pink hue that changes colors as you tilt the bait - like the coloring of a real shad. Don't let those lunkers get away, the Triton Mike Bucca Bull Shad Swimbaits are certified trophy bass catchers with the premium components and track record to prove it.
| | | |
| --- | --- | --- |
| Triton Mike Bucca | Length | Weight |
| Bull Shad-Floating | 5" | 1.25oz |
| Bull Shad-Floating | 6" | 1.90oz |
2 Colors
More From Triton Mike Bucca Hardbaits
Customer Reviews
Comments: Well like most have said this thing looks like a kid made it & painted it. Nasty & materials from molding all over it , No cleaning up before the painting. looks like a rush job & it does in no way float, Sinks like a rock. I was told its made to float as you crank it lol. I ordered it to be a floating bait for pausing. Not happy for a 50$ bait. its a 10$ to 16$ at best. Cheap made but they say he backs them 100% which at 50$ they should. They have good fish catching reviews so I will try it even though it looks like it was in found in a garbage bend. Mine came with mustad triple grips #4 on the 5" floater not VMC also. Hope it catches fish other wise I got caught in the Hipe for $50 plus :<( Good luck all & beware 1st time buyers it looks like junk but swims like a shad in the pool. I am a painter so if it works I will sand & smooth out the stupid looking over molding and give it a Pro paint job
From: Kevin: KY 5/6/16

Comments: the floater is a deadly bait in both mid to late spring and pretty much all fall here in the west. The overall build quality of the bait is very good and the very ruff finish makes the bait almost perfect. I upgraded the hooks to a slightly larger and heavier hook with the unintended side effect that it went from being a floater to a very very slow sinking wake bait. This actually works better for me because when a fish blows up on the bait and misses I can kill the bait with a very slow ROF and just watch my line for the tug from the fish coming back to claim her prize! I have 2 six inch floaters, one with the stock hooks and another with the upgraded hooks so I can work the bait based on how the fish are feeding. These are a must for any angler fishing a late with a healthy Shad population.
From: Aaron: Mesa, AZ 3/10/15

Comments: Spent a few dedicated hours working the floating version of this bait and it is the real deal. Realistic look, you can burn it, pop it, slow swim it, amazing lure.
From: Fatswarcat: PA 10/16/14

Comments: This bait is AWESOME. Its not the prettiest bait but it by far my favorite. If you want big fish, then this is the bait for you. The action of this bait is like crack to big bass. I always have one tied on my line. I have to politely disagree with John and Ron. If you want it to stay under while burning it through the water, get a fast sink. Best swimbait ive ever owned.
From: James: GA 3/24/14
Comments: I have caught hundreds of striped bass in 1,000-2,000cfs current on my Bull Shads with zero failure. Drag locked down and leaning into 20# river run striped bass to turn their heads is a serious torture test. It isn't made to win beauty contests, it is made to catch big fish. It is the most productive sb I have ever used. Mike also backs hs baits 100% free of charge. There are a few petty people out there who try to have their cronies give negative reviews because the Bull is the top selling sb in the nation.
From: Unknown: USA
Comments: I'm inclined to side with John on this one. I've had no luck with this swim bait. I've even spent extra $$$ to have it painted because I hated the paint job that came on it. Plus, I have a hard time getting mine to stay under the surface when I'm trying to burn it!

From: Ron: GA

Comments: Junk and not worth 2 dollars.. Joints are crooked and the bait will fall apart. Looks like a child made the bait. VERY disappointed..

From: John: GA