Triton Mike Bucca Bull Shad Floating Swimbait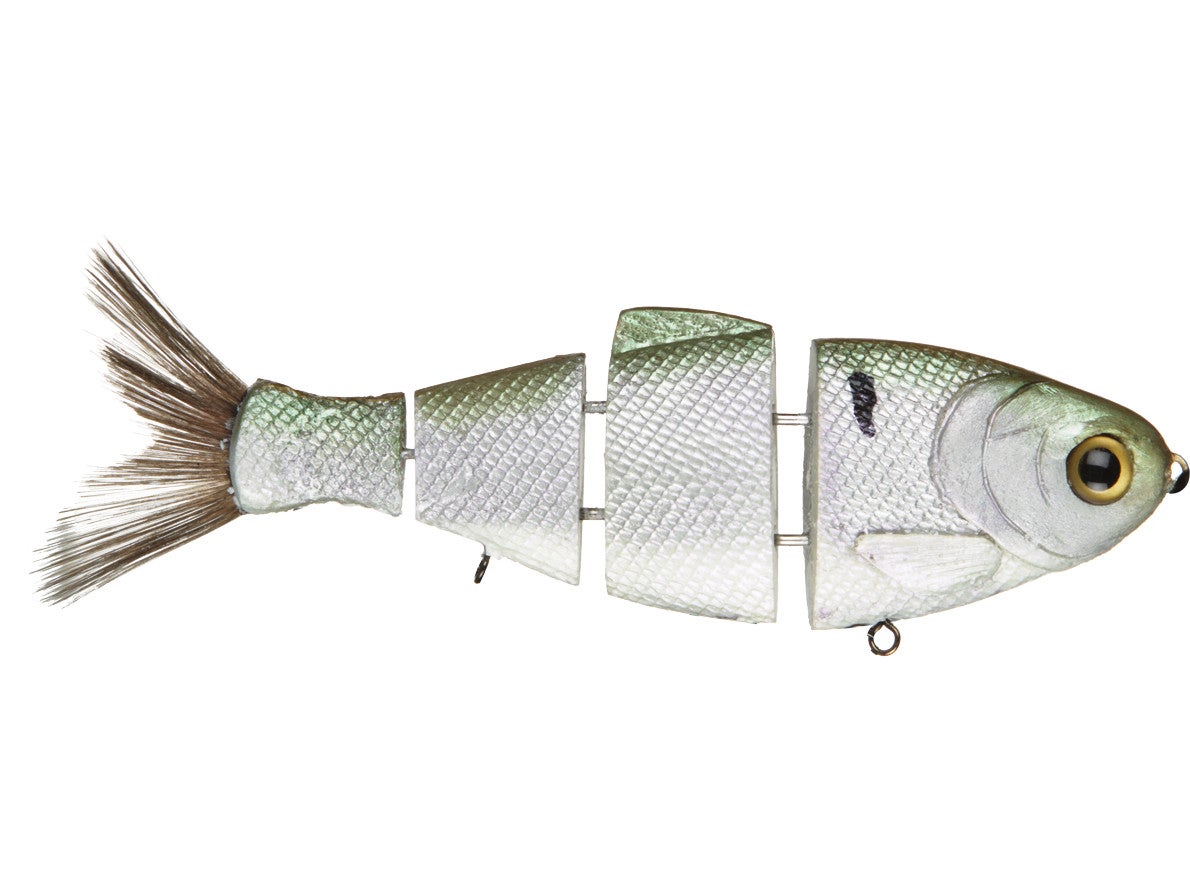 The Triton Mike Bucca Bull Shad Swimbait is a three-jointed swimbait designed to accurately mimic the different varieties of shad and baitfish, which populate fisheries across the United States. There is no denying the big trout-style swimbaits of the West Coast are proven to attract trophy bass, but big shad and their cousins are also a major forage for large bass. That's where the Triton Mike Bucca Bull Shad Swimbait comes in, it accurately imitates the profile and swimming action of several big baitfish varieties, including Threadfin Shad, Blueback Herring, Shiner and Gizzard Shad. "Triton" Mike Bucca, a longtime guide from Georgia specializing in catching trophy Spotted Bass on Lake Allatoona, spent several years and prototypes developing the Bull Shad because he recognized the need for a quality shad-style swim bait.
While it does have a rougher finish than other clear coat, glossy hard-swimbaits on the market, this simply adds to the Bull Shad's natural appeal. Its life-like action and profile are mouth-watering to big hungry bass. The Bull Shad performs well at varied retrieves from slow speed crawls to normal fast retrieves.
The Bull Shad features only top-of-the-line components, including Black Chrome Owner Hooks and Owner Hyper Wire Split Rings. Complete with 3D eyes and premium resins used in the construction process, the Bull Shad also has two built in hook hangers that swivel to prevent cagey trophy bass from twisting free. Each bait is also coated with a special realistic looking purplish/pink hue that changes colors as you tilt the bait - like the coloring of a real shad. Don't let those lunkers get away, the Triton Mike Bucca Bull Shad Swimbaits are certified trophy bass catchers with the premium components and track record to prove it.
| | | |
| --- | --- | --- |
| Triton Mike Bucca | Length | Weight |
| Bull Shad-Floating | 5" | 1.25oz |
| Bull Shad-Floating | 6" | 1.90oz |
2 Colors
More From Triton Mike Bucca Hardbaits
Customer Reviews
Comments: Best swimbait on the market! The action and profile of this bait is what makes it special. The paint job is secondary and most bait fish are tattered and beat up anyway. They're not made to look like a mantle piece, they're made to catch fish. And catch fish they do! If you don't like the paint on it, get it custom painted like I did. You are already paying $50 for it, 10 or 20 bucks for a custom paint job that you select the pattern in isn't much more. Buying from a small company that stands behind their products seems like the best choice anyway. Great job Mike Bucca! Consider making the floater in 7" and 8" and with the knockers for all sizes. I'll definitely buy some with the knocking sound for the 5" and 6" floater. Great baits, unmatched action and design.
From: Austin: Sebring, FL 1/31/17
Comments: Very sad bait, It has no Quality control . Over mold hanging off and the paint is just plain . 20$ bait with a over priced tag of $50 . They swim well and for some catch fish , not me new had a hit yet on it . If they would do some quality control and clean the messy things up and put some nice paint and love in to the baits then the buyers would not have that sad feeling when unpacking it . Its your choice but for fish catching and the value and quality I'd buy a SPRO . Hands down out fishes these bull baits that catch people not fish ! I bought mine from TK Warehouse , Go get one in hand if your going to buy one of these and see for your self .
From: Anthony: KY 12/31/16