Triton Mike Bucca Bull Shad Slow Sinking Swimbait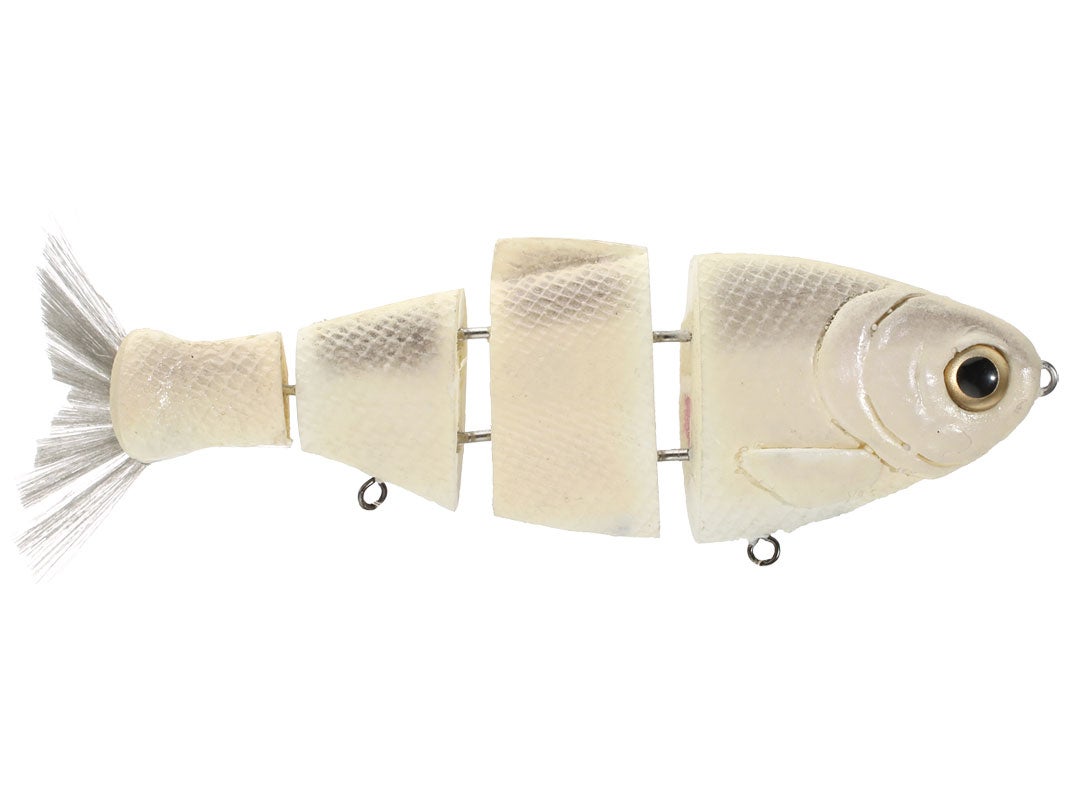 The Triton Mike Bucca Bull Shad Swimbait is a three-jointed swimbait designed to accurately mimic the different varieties of shad and baitfish, which populate fisheries across the United States. There is no denying the big trout-style swimbaits of the West Coast are proven to attract trophy bass, but big shad and their cousins are also a major forage for large bass. That's where the Triton Mike Bucca Bull Shad Swimbait comes in, it accurately imitates the profile and swimming action of several big baitfish varieties, including Threadfin Shad, Blueback Herring, Shiner and Gizzard Shad. "Triton" Mike Bucca, a longtime guide from Georgia specializing in catching trophy Spotted Bass on Lake Allatoona, spent several years and prototypes developing the Bull Shad because he recognized the need for a quality shad-style swim bait.
While it does have a rougher finish than other clear coat, glossy hard-swimbaits on the market, this simply adds to the Bull Shad's natural appeal. Its life-like action and profile are mouth-watering to big hungry bass. The Bull Shad performs well at varied retrieves from slow speed crawls to normal fast retrieves. It also has the ability to standup nose down on the bottom in a captivating feeding pose, allowing it be effectively jigged as well.
The Bull Shad features only top-of-the-line components, including Black Chrome Owner Hooks and Owner Hyper Wire Split Rings. Complete with 3D eyes and premium resins used in the construction process, the Bull Shad also has two built in hook hangers that swivel to prevent cagey trophy bass from twisting free. Each bait is also coated with a special realistic looking purplish/pink hue that changes colors as you tilt the bait - like the coloring of a real shad. Don't let those lunkers get away, the Triton Mike Bucca Bull Shad Swimbaits are certified trophy bass catchers with the premium components and track record to prove it.
| | | |
| --- | --- | --- |
| Triton Mike Bucca | Length | Weight |
| Bull Shad-Slow Sinking | 5" | 1.35oz |
| Bull Shad-Slow Sinking | 6" | 2-oz |
| Bull Shad-Slow Sinking | 9" | 5.5-oz |

Click the logo to view their review.
3 Colors
More From Triton Mike Bucca Hardbaits
Customer Reviews
Comments: This swimbait is incredible. I got the 5" in gizzard shad color & went fishing today. I caught 7 smallmouth in a little over an hour. Don't be afraid to buy this because you think it is too big for bass under 3 lbs. I caught 4 smallmouth under 2lbs with it. Thanks Mike Bucca
From: Chris: KS 6/18/16

Comments: By far the best value in custom swimbaits out there. Great for guys getting started up to elite level anglers. I saw a picture online with KVD having 2 bull shads tied on. If Kevin Van Dam throws it during a tournament it's good enough for me
From: Timothy: TX 4/5/16

Comments: 6 inch slow sink made a believer out of me. First time in the water it got me 6 fish in a pressured body of water. burn it or slow crawl, it preforms well all around. buying more.
From: James: NJ 3/13/16

Comments: I was surprised when I got the bait. I ordered an 8in model which mine is exactly 7in from end-to-end. That really disappointed me for $67.00. The 9in is out of the question. Have yet to fish it, will keep you posted.
From: Will: Powder Springs, GA 2/25/16
Comments: I have used this bait since it first came out & on the Tennessee river system you cant beat it. I have caught bass from 2-7lbs & it is just a phenominal bait. I have about 7 in my box & wouldn't trade them for anything. great job Mike...
From: Bill: Anniston, AL 9/24/15

Comments: I bought my first bull shad about a month ago. Since that time I have broken my personal best 3 times & I have quite an arsenal of swimbaits mostly expensive customs. I have to give credit where credit is due. I've never seen bass crush a bait so hard.
From: Chris: VA 9/8/15

Comments: First thought on this bait was it could use a little more detail in the paint. Definitely not a piece of art work as previously stated. Unless you are fishing in crystal clear water, a bass will not know the difference in this or a real shad. As for the action, phenomenal really sums it up. All 4 joints swim in sync and has awesome movement. Can't wait to take this bait to Lake Fork and catch giants!
From: Ricky: TX 8/11/15

Comments: After Reading the comments about the "crude" look to this bait, i was surprised when i got it to find that this bait is absolutely gorgeous. It is probably the best swimming slow sink hardbait you can find for this price range, and did i mention it catches fish? Slow roll it from the surface on down to 15 feet and hang on, they will knock the rod out of your hands! Great Bait, solidly built, catches fish. The rest is just details.
From: Chris: USA 7/22/15

Comments: As if you really need my review to know this bait kicks ass. First cast i caught a fish, and for the next 45 minutes it was just mayhem. Sadly i didn't not retie my line and the lure broke off with a LM attached. So i am here buying another one and writing a review.
From: Danny: Lincoln, NE 6/18/15

Comments: This bait flat out catches fish not fisherman, durable and lifelike presentation are what count in my book and this lure is hands down the best of both worlds. If you can only buy one, the six inch slow sink is extremely versatile. It comes up to a nice wake and can be crawled along the surface, give a little twitch and she spins and dies. I have caught fish from 1-6 pounds on this so don't worry that it is too big for your water. I was so impressed with this that I am ordering a 6" floater as well as the 8" monster to try and catch a trophy when the bass start schooling in the fall.
From: Aaron: Phoenix, AZ 3/3/15

Comments: This bait killed the tournaments last year for me. We won anglers of the year in our club and I had 2 different friends win the BFL's here on the Tennessee River on the Bull Shad last year. This bait has proven itself to me over and over. 2 thumbs up!!
From: Kelly: Madison, AL 2/18/15

Comments: I fish the TN river gville, pick and KY and this bait is it for those wanting to target the big bass. I do recommend the bigger sizes do not be scared to bet the 8 in. and if your truely looking for trophy bass smallies and largemouth get the 9in. Have caught 3lbers on the 9in. If you do have a problem with the craftsmanship contact TW they did right by me or Mike at his site got back to me the next day.
From: Dustin: Eads, TN 10/1/14

Comments: Got the 6" to fish some heavily pressured water that has lots of big shad, the bass see senkos, trick worms, jigs, flukes, etc almost every day, but fortunately I think I am the only one to throw the bull shad. Waking(basically had to burn it) the slow sink I landed a 2.1, a 2.5, a 3.4, and had a 5 plus come unbuttoned, This bait rocks! Paint is durable too, no hook rash so far, I'm impressed. It can't be crawled at a slow pace, but it is a good swimbait to cover water since it is a higher speed bait.
From: Nolan: VA 9/3/14

Comments: This bait is money. I bought the 5" Slow Sinking Gizzard Shad, but first I wanted to test out the new bait. So I have a couple ponds in my backyard. I went out there and casted by a drain pipe... I was slowly reeling it in and about 5 foot off the bank I see a monster coming out of the weeds and inhales this bait. Set the hook and landed the fish. New PB for me! 9 lbs. 13 oz. and the funny thing is... there isn't any shad in my ponds. Crazy! Thanks Mike Bucca for making an awesome bait! Would definitely recommend this bait.
From: Michael: OH 8/18/14

Comments: This bait is amazing period. I have caught 13 fish over 4 one over 8. Yeah the hooks bend a little when you catch a 6 but great action. Best 55 dollars of my life.
From: Will: GA 6/22/14

Comments: Bought this a month ago didn't even last a day. Lost a DD because the pins pulled out. If I am paying this much for a bait i expect it to be durable and catch the fish. Pissed i lost a possible new pb and pissed i wasted money on it. Called the company to complain wouldn't even take my call.
From: Justin: CA 3/26/14
Comments: What I like best about these baits is how slow I can reel them and the great action they put out. A friend of mine recommended the baits to me after he caught not only a few big ones on them; but numbers as well. These baits catch all sizes of bass, but it's also responsible for my PB. I can't say enough good things about this lure. Plus the tail looks really cool and adds realism to the bait.
From: Jonny: SC
Comments: You can argue craftsmanship all day long but have you seen the toads caught on this thing!! My god.. If you want a mantle piece buy a over rated 3:16 and be happy. If you want to catch fish and tons of them this is the bait to get hands down and I own pretty much every custom hard bait in existence. There has to be a reason why Tackle Warehouse and all the shops here in Georgia are constantly being replenished and that is because this bait flat out gets lit up.

From: Daniel: GA

Comments: Bait will catch fish after you tune it, but over all a VERY cheaply made bait. Price tag should read $10. I'd pay that much for it. Wouldn't recommend spending $55+ on it. Far better baits out there that won't come apart on you so easily.

From: Kenny: GA

Comments: This is a great Swimbait. It is not a work of art by any means but it flat out catches fish and normally it catches big fish. If you want a work of art lure go with another swimbait but if you want a lure that caches high quality bass, then this is the one for you.

From: Mark: NC

Comments: THis bait gets lit up....bass love it. I've caught a lot of fish from 2 lb - 7lb. Haven't caught a monster yet with it but I'm sure its only a matter of time. The finish isn't as good as a roman made, but from what I understand (never caught a shad) is that most shad that get this big in real life are beat up and have some battle scars which is understandable living at the bottom of the food chain. I don't care how a bait looks or is finished as long as it catches fish. I've also thrown this bait on rocks, wood, etc and this bait has held up. You can rip it, twitch it, slow roll it, you name it all methods work. I would recommend this bait to anyone....gonna have to get a floating model now. Can't wait to take this to CA delta to get some stripers.

From: Jaime: Clovis, CA

Comments: not worth the price...not even close..looks very cheaply made..mine was not finished very well at all..the top looked as if it were rushed and had an unfinished area..alsoa bulge of material just above the spot where it looked like a heating rod was laid on it..guess this is the kind of quality they are used to in the south ..but not here on the west coast.may catch fish but I expected much better quality from a $55 swimbait! don't usually do reviews but hadto point this out!..sent it back same day!..And TW made it right 2 days later! GREAT customer service!

From: Jake
Comments: not strong in the craftmanship department...but when moving thru the water @ 2 feet a second...i don't think it matters much. The sheen is realistic and the eye. Yes it could be "cleaner" for sure and i agree it could be a bit cheaper too. But it catches em. The problem is it's a "swimbait" and a lot of swimbait people are highly 'sold' by the 'look' of the bait and finish and the artistic qualities...This isn't that bait. It's just to put fish in the boat. I'm happy there's a true herring/shad bait for us Northeast guys and Southern guys. Trout baits are fine but most lakes out here that hold bass don't even have trout (yes there's some great exceptions) for the most-part and they're stocked trout. So the big-bass factories out here are indeed the stocked ponds but also the herring-run fed lakes...huge sea-run alewive herring run from the oceans into the streams into the lakes to spawn...big herring too...5"-10" and the bass gorge on them...so a bait like this outside a herring run during a feeding frenzy is TOP NOTCH/UNBELIEVABLE!!!

From: Tanner: Westport, MASSACHUSETTS

Comments: This bait has caught fish for me just about everywhere I've thrown it. Does it have the "best" finish? Maybe not to people, but the fish love it. A real shad isn't all perfect. I've noticed over the years, that the more beat up the bait is; the better it catches fish. I have new baits, but I always reach for the most thrashed one in my box. Many times, that's the Bull Shad. It does what a bait's suppose to do best. Catch fish!

From: Charles: America

Comments: I have a box full of Bullshads, new and old models. Durable baits, life like action, this bait has won alot of money for me!! By far my favorite hard bait, as I have thrown several other hard baits and they do not compare!!

From: Randall: Douglasville, GA

Comments: best swimbait .......... Works like a charm on lake lanier spotted bass, large mouth, stripers everyone of them had bite it.

From: Jorge: Dawsonville, GA

Comments: I have fished my 6" to a pulp with no problems with Oauchita stripers up to 25lbs and I know of a 53lb striper caught on one of the bigger sizes. By far my favorite shad swimbait. I won my last two bass tournaments on this bait. Great bait..

From: Steven: AR

Comments: The bait is alright, good action but could have better components. Like others have said, the back half of the bait could have been better, like 3:16 more. :)

From: Mike
Comments: Decent bait. If you can't get a 3:16 Freestyle, this is a reasonable substitute. On a scale of 1-10, with the Freestyle as a 10 and the CL8 baits as an 8, this is a solid 7. Not as quite well made as the others (had the eye fall out while casting it) and not quite as realistic but close.

From: David: Austin, TX

Comments: I've used all the pricey "west coast" swimbaits, and the Bull Shad is a hands down favorite!!! Excellent movement in the water and it's lifelike finish fools even the most finicky of bass!

From: Rex: Smith Lake, AL

Comments: night train 5th cast out last night landed 4lbr

From: cali the goon

Comments: I personally now mike and have for years now. Have had the pleasure of going on a guide trip and have had many detailed conversations about this bait with him discussing his motives behind it. Their are few "legitimate" jointed gizzard shad imitations out there for the hardcore swimbait fisherman. If your in the market for a big fish bait that appeals to deep south fish, nothing against trout baits, but this is where you need to put your money. Dobyns 795, revo toro, 20 lb mono, and go to work! Tight lines!

From: Get The Net!: Rockmart, GA

Comments: This bait looks like it was made by 9 year old for a school project. Had to spend a few minutes with an exacto knife to remove excess slag from the hook swi els and eyelet before it could used. That being said, it does have a nice action, landed a few nice fish witth it.
Also the price point should be more in line with other baits of its class.

From: Garry: SoCal

Comments: Despite all the talk of this bait being a "rip off" or the other rumors, it catches fish like crazy. I have used these a few times with other people and loved them. I plan to get a few of mine soon. I'm also going to get it custom painted by Daniel Truit in a Blueback Herring color.

From: Will: Alpharetta, GA

Comments: Hands down, this is the best swimbait for fishing lakes with shad. It is especially deadly on schooling fish as it is a dead ringer for a live shad. You are not guaranteed a giant just by tying one on, but your average fish size will be considerably higher. By far my most productive swimbait, you won't regret this purchase.

From: Evan: Marietta, GA

Comments: It will get hit. Unfortunately, if it's hit by a big fish, there's a decent chance he's going to run off with the back half of the bait. There are better-built alternatives available.

From: David: Austin, TX

Comments: One of the top hard swimbaits on the market. I have more confidence in this bait than any other swimbait. I've done great while just running the banks for spots, chasing schooling hybrids, and also surf fishing for sea trout. Might be pricey but you get what you pay for. In the rare case that something goes wrong T-Mike has always made it right.

From: Grant: Dahlonega, GA

Comments: these look pretty life like...BUT,for the price and the way this bait feels i feel like i got ripped,it has a cheap feeling to it,hardware and hinges look like they wont last if a monster comes at this thing,they are pretty much just like a trutungston swimbait.nothing special,id rather go with a tylure or matts.

From: Steveo: USA

Comments: Unbelievable action in the water. I was able to compare the gizzard shad colored BS with actual live gizzard shads of similar size and the resemblance was uncanny. From the color to the movement in the water, the BS is the BEST imitation of a gizzard shad that you can buy. Although expensive, this bait will bring in the finicky fish...especially the bigger, wiser fish. Highly recommended. Make sure to use heavy braid...don't want to lose it if you can help it!

From: Turkey: GA