VMC Ike Approved Heavy Duty Flippin Hook 4pk - $3.59
Made for heavy duty flippin', punchin', and pitchin', the VMC "Ike Approved" Heavy Duty Flippin' Hook combines 200 years of hook making experience with decades of tournament experience. Michael "Ike" Iaconelli, 2003 Bassmaster Classic Champion and 2006 Angler of the Year, integrated several of the tricks and tweaks that tournament pros have used for years to put winning fish in the boat, and applied them to the new and improved VMC Heavy Duty Flippin' Hook. Featuring a super strong construction that is designed for fishing braid and heavy fluorocarbon lines in thick cover, the VMC "Ike Approved" Heavy Duty Flippin' Hook also comes equipped with the hook eye sealed shut with smooth epoxy resin to prevent your line from slipping through or getting damaged. An injected bait holder with double spikes also secures any soft plastic in place, and the VMC "Ike Approved" Heavy Duty Flippin' Hook was even designed to have the optimum space between the eye and the injected bait holder to allow either snelled or standard rigging.
Comments: Fantastic hooks, points don't roll like the do on Trokars, and the keeper stays put, unlike Gamakatsu. PLUS they are super strong, sharp as razors, and AFFORDABLE. VMC is changing the game on quality vs. value in the bass hook world.

From: Basswipe: Meatwads pond

Comments: Ive caught muiltiple big fish with these hooks.Punching,flipping and pitching. ive had one point roll but its still sharp and continuesto catch fish. GREAT HOOKS!

From: Mike: Riverview, FL

Comments: Not sure I'd call them heavy duty. When you put the hammer down these hooks flex and bend like a mother. Just thought I got a bad pack, gave them the benefit of a doubt and tried them again, nope! Same thing! Hackney's flippin hook is beast mode!

Comments: Super sharp hook, but the tips roll.

From: KVW: Charleston, SC

***Note: If you have questions about this product or need assistance with an order please email your questions to info@tacklewarehouse.com
View Large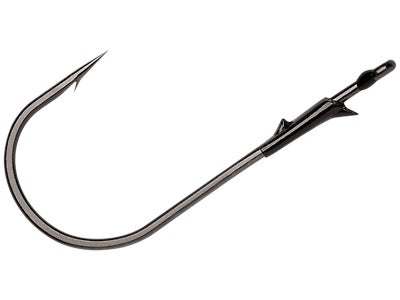 Place Your Order
More VMC Worm Hooks