VMC Ike Approved Weedless Wacky Hooks - $3.69
Perfect for pitching wacky rigged soft plastics into heavy cover, the VMC "Ike Approved" Weedless Wacky Hooks are the product of 200 years of hook making experience, combined with decades of tournament experience. Designed with the help of 2003 Bassmaster Classic Champion and 2006 Angler of the Year, Michael "Ike" Iaconelli, they come equipped with a wire weedguard that conveniently locks into place on the barb or the hook to protect from snags, then releases easily on hooksets. Featuring an extra wide gap and rounder shape that allows you to easily wacky rig your favorite soft plastics, it also has a wider bite for a better hook up ratio. Ike shared several of the tricks and tweaks that tournament pros have used for years to put winning fish in the boat, and applied them to this hook, like the smooth epoxy resin that seals the hook eye to prevent line from slipping through or sustaining unnecessary damage. Available in a range of sizes, the VMC "Ike Approved" Weedless Wacky Hooks have all the features Ike needs to compete at the highest levels of competitive bass fishing.
Comments: Forget about em. the metal weedguard protests you from weeds and fish. you can't set a hook withrout either losing a fish or breaking your line.

From: Matt: Santee, CA, US

Comments: Pure trash. Used this hook in some fairly heavy grass and it seemed to deflect the grass well enough but you cant hook a fish to save your soul. Caught one small fish on this hook and lost 5. Wont use them again.

Comments: All I can say is I am very disappointed in these hooks. I've tried these hooks a couple of trips now. The hookup ratio is probably less than 10-15%. You miss far more fish than you will ever catch. I even tried opening the hook up a little and twisting the point. I don't know if it is the weedguard or the fact th hook point is curved towards the shank. Now I am stuck with 10 packs of this junk.

From: Shawn: salisbury, md

Comments: Absolute piece of junk wacky hooks! I missed a good 2-3 lb fish at one of my tournaments because the weedguard is way too stiff due to the fact that it's a metal guard. Later on afterwards I went fishing at my buddy's house and I missed even more fish there all because the weedguard wouldn't open up. Don't waste your time or money on these hooks cause right now I'm regreting every bit of it. Don't get me wrong I love VMC products but this was just an absolutely terrible product.

From: Justin: Lakeland, FL

***Note: If you have questions about this product or need assistance with an order please email your questions to info@tacklewarehouse.com
View Large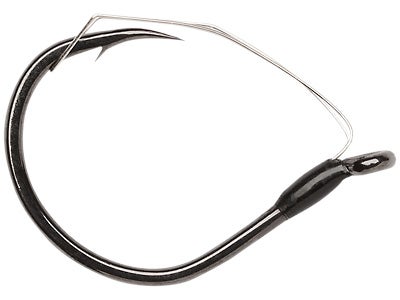 Place Your Order
More VMC Drop Shot Hooks
More VMC Worm Hooks