VMC Ike Approved Weedless Wacky Hooks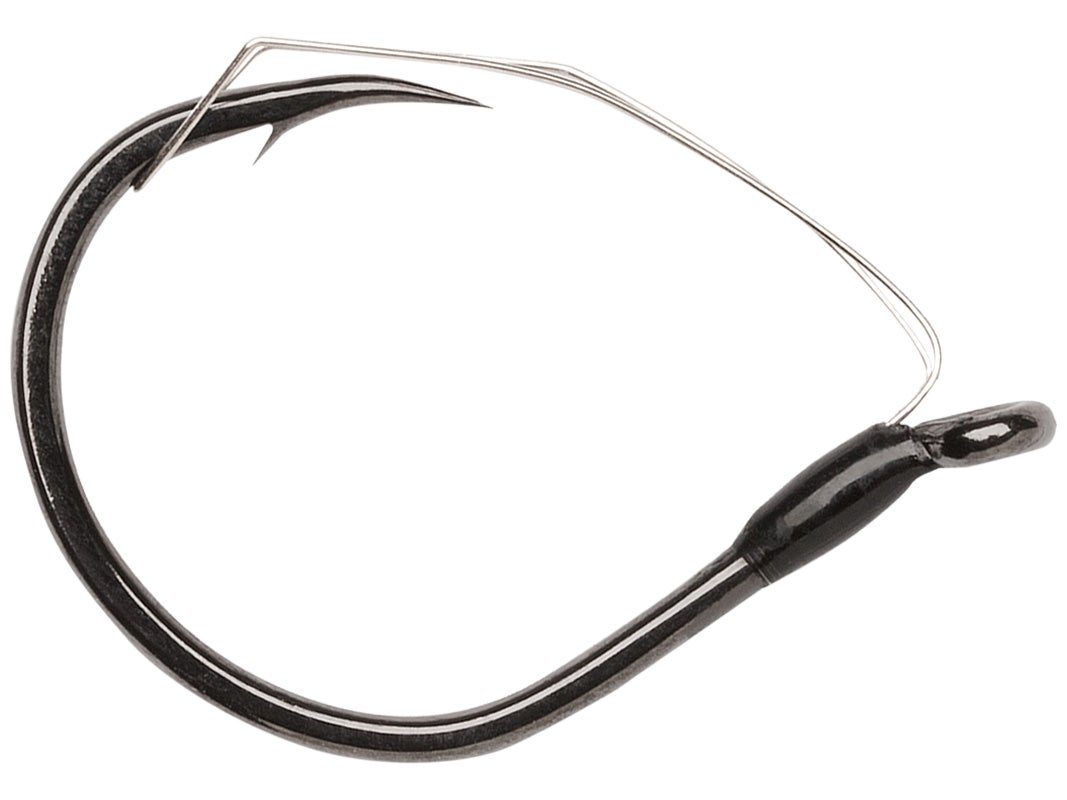 Perfect for pitching wacky rigged soft plastics into heavy cover, the VMC "Ike Approved" Weedless Wacky Hooks are the product of 200 years of hook making experience, combined with decades of tournament experience. Designed with the help of 2003 Bassmaster Classic Champion and 2006 Angler of the Year, Michael "Ike" Iaconelli, they come equipped with a wire weedguard that conveniently locks into place on the barb or the hook to protect from snags, then releases easily on hooksets. Featuring an extra wide gap and rounder shape that allows you to easily wacky rig your favorite soft plastics, it also has a wider bite for a better hook up ratio. Ike shared several of the tricks and tweaks that tournament pros have used for years to put winning fish in the boat, and applied them to this hook, like the smooth epoxy resin that seals the hook eye to prevent line from slipping through or sustaining unnecessary damage. Available in a range of sizes, the VMC "Ike Approved" Weedless Wacky Hooks have all the features Ike needs to compete at the highest levels of competitive bass fishing.
Place Your Order
More From VMC Worm Hooks
More From VMC Drop Shot Hooks
More From VMC Wacky Hooks
Customer Reviews
Comments: The weed guard is not usable out of the package. I like to clip the end off and twist the two wires once or twice and spread them into a v shape. I've lost a lot of fish on the fight with these hooks so I stopped using them. Hook set is fine but they tend to pop out easier than other hooks. I just lost a nice fish yesterday mid fight. Switched hooks and didn't lose another fish all day.
From: Doug: DE 5/25/16

Comments: Don't have the weedguard below the barb, yeah the picture shows that, but that will keep it from popping open on a hookset. Keep it above the barb and flex the wire a little to "loosen" it up. Once you do this, this hook is money. VMC should really put a little note on the pack about this, how dare they think the american public is capable of figuring things out for themselves anymore.
From: Brad: NY 11/30/14

Comments: These hooks are a waste of time. You need to hook a 3+ pound bass to pop the weed guard. Its really tough. I have lost more 1 - 2 pound bass with these. I now just cut off weed guard to use hook. They work that way. If you want weed guard wacky hooks buy OMTD hooks. They are hands down the best with weed guards.
From: Bruce: Sparta, NJ 8/26/14

Comments: I agree with Jesse. These hooks are not good if you don't mess with the wire guard a little bit. However, once you do, these are great hooks and are my go-to for wacky. It's just like tuning a crankbait! All you have to do is spread apart the two wires a little bit, so that it takes less pressure to meet the hook. Run your thumb down it to test. If you hardly have to push down on the wire before your thumb hits the hook, then you're in good shape. I also use a wacky saddle to maximize the life of the worm.
From: Nathan: Austin, TX 3/10/14
Comments: Great hook, but the weed guard kills it. The weed guard can also double as a leaf spring for a dump truck. I ended up cutting the weed guard off and using just the hook when conditions allow.
From: Scott: USA 3/6/14
Comments: I cannot stress enough how poorly designed these hooks are. bought a pack of these particularly for a lake with lots of lily pads along the shoreline. I'm not a big fan of wire weedguards in general but the shank of these are too short for this type of weedguard to even collapse correctly and get the point of the hook into a fish.I counted 10 missed fish that day because of these. the one fish I did catch that day I had to set the hook so hard that I bent the weedguard rather than release it from the hook point. stick to hooks with mono weedguards such as owner weedless wacky hooks, trokars, or gamakatsu wicked wacky hooks. these are all great hooks.the vmcs turned what would've been a great day into a rough one.

From: Craig: Savannah,ga

Comments: No problem with hookups but I can't recall ever using a hook where so many fish got off. Lost a huge pig as she made a run. Hook just pulled out. Back to Moto's. No issues any more.

From: Ken: IL

Comments: Boat three packs of 1/0...have never missed so many fish as with these hooks...will stick with the Owners

From: Rob: Bucks County PA

Comments: These weedless wacky hooks from VMC are a waste of money. Stick with Gamakatsu Finesse Wide Gap Weedless Hook, they are ten times better than these junk.

From: WI
Comments: I feel Shawn's pain....I missed a few good fish. After the 3rd fish and realizing no amount of hook set was getting me the fish i snipped off the weed guard. What a waste. Do not buy these. These hooks may cost you your personal best.

Comments: At first I thought these were junk until I played with the weed guard.If you bend it so it is not resting in the barb and just below it, I didn't lose any fish.For the price I will continue to use these but like I said, you have to bend the weed guard just right.

From: Jesse: WV

Comments: Used the 1/O hook for the first time yesterday. My hook-up rate was about the same as with my regular wacky hooks, but the hang-up rate was drastically reduce. The wire guard does seem to break after a few catches, but I would still recomend this hook

From: SLC: NC

Comments: Junk! Weed guard is good but terrible after the first fish. It gets twisted, bent, and breaks off after a few fish. Tip of hook is also weak

From: HBA: MN

Comments: Wish that I had read the reviews first. Big Ike fan, surprised his name is on it. Near impossible to set hook. I even let the fish fully swallow the worm on a slack line before trying to set the hook. The wire guard is just too stiff. I will cut off the weed guard and use as regular wacky hook.

From: Bruce: Philly, PA USA

Comments: Forget about em. the metal weedguard protests you from weeds and fish. you can't set a hook withrout either losing a fish or breaking your line.

From: Matt: Santee, CA, US

Comments: Pure trash. Used this hook in some fairly heavy grass and it seemed to deflect the grass well enough but you cant hook a fish to save your soul. Caught one small fish on this hook and lost 5. Wont use them again.

Comments: All I can say is I am very disappointed in these hooks. I've tried these hooks a couple of trips now. The hookup ratio is probably less than 10-15%. You miss far more fish than you will ever catch. I even tried opening the hook up a little and twisting the point. I don't know if it is the weedguard or the fact th hook point is curved towards the shank. Now I am stuck with 10 packs of this junk.

From: Shawn: salisbury, md

Comments: Absolute piece of junk wacky hooks! I missed a good 2-3 lb fish at one of my tournaments because the weedguard is way too stiff due to the fact that it's a metal guard. Later on afterwards I went fishing at my buddy's house and I missed even more fish there all because the weedguard wouldn't open up. Don't waste your time or money on these hooks cause right now I'm regreting every bit of it. Don't get me wrong I love VMC products but this was just an absolutely terrible product.

From: Justin: Lakeland, FL