VMC Spinshot Dropshot Hooks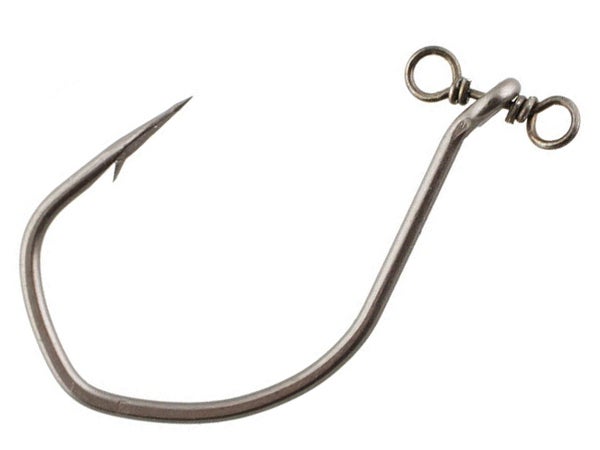 Winner of Best of Show in Terminal Tackle at the 2011 ICAST Show
The revolutionary VMC Spin Shot Drop Shot Hooks completely eliminate the line twist that has long plagued drop shot rigs, while also improving the action of your baits, and improving hooksets. By incorporating a light, but super strong, high-carbon steel spinning system into their premium 7119 drop shot hook, the VMC Spin Shot guarantees 100% free rotation and mobility of the hook with any size bait. The unique wire structure of the Spin Shot also not only transfers, but increases the energy transferred to the hook point during hookset. Crafted from Vanadium steel with a sticky sharp VMC Spark Point, the VMC 7119 drop shot hook seals the deal. The VMC Spin Shot Drop Shot Hooks - once you try one you'll never use a normal drop shot rig again.
Place Your Order
More From VMC Drop Shot Hooks
Customer Reviews
Comments: These definitely cut down on line twist and tangling, which is good. But if your line is at a low angle, like when you're casting off the bank or to shallow water, the lure tends to hang down with its tail pointing at the bottom of the lake, looking very unnatural.
4/26/16

Comments: I've been using these for 3 years now and have never had a hook break. I fish with 6 lb. fluorocarbon. Have lost a few fish but if you just reel set the land ratio does go up. As far as the bait not standing out I've never really thought this was a problem. I believe it adds some extra action when shaking the bait. All in all I like 'em and also use the wide gap worm hook with larger baits.
From: George: Newaygo, MI 10/24/15
Comments: I grabbed these drop shot to try out. worked as well as my other set-ups. I haven't noticed much difference in performance. Roboworms are great with this light hook. Used #4 VMC hook. I then decided to use these in a series with a crappie jig while dropping in brush piles for crappie; minnow on top #8 VMC hook, jig on the bottom. I had good hook sets and the kids had reduced hangups vs. using a swivel/leader set-up.
From: Ozzy: TX 5/28/15

Comments: These hooks are amazing I can not believe that such a small hook will hang almos every fish that bites while no hook is perfect for drop shotting th is as close as I've seen and in timber it has no equal in staying snag free.
From: Drew: USA 12/30/14

Comments: I was skeptical that the wire would hold up, and I'm not anymore. Landed a fat 4 lbs exact (weighed it) largie on 10 pound line. The hook was right in the roof of the mouth and I had to use pliers to get it out it was stuck in the bone so well. Size 2 btw
From: Chris: ME 7/15/14

Comments: The point on these hooks are similar to Owner hooks with the cutting point design, so this means that they are definitely sharp. These hooks use a much finer wire than the weedless wacky hooks and also finer than the regular VMC sureset dropshot hooks. I have been bending these hooks quite easily every time I get hung up in the rocks or sticks. Although I have not lost a fish on these hooks due to bending and straightening out, I'm sure the potential is there. On a positive note I've been getting the worm and weight back every time the hook bends. SO it's up to you to judge if that's a good or bad thing.
From: MaxZmus: San Diego, CA 2/26/14
Comments: I don't like them. They make the line spin around the hook when you cast.
From: Brady: MS
Comments: Absolutely amazing hooks for a drop shot rig. Caught one 7.55lbs this year and several in the 3 to 5 lb range. Rig this bad-boy (nosed hooked) with a Yamamoto shad shape worm and hold on. Great durability and engineering design on this hook. I prefer using the #4 but occasionally go with a #2 if I go choose a larger bait. I also started using this hook for catfishing. Using a typical drop shot set up I just make a 1 foot leader and apply my cut-bait to the hook. All I can say is wow what a difference in catches. Using this method I outfished my uncle 32 to 15, and did't lose one fish that bit. Great job VMC!

From: Matthew: York, SC, United States

Comments: Love the concept and bought several packs for dropshotting. On the positive side, they do reduce line twist and most importantly they virtually eliminate break-offs at the hook, but after several days of try-outs I noticed my hook to land ratio had gone way down. The swivel feature won't drive the hook home properly. Back to traditional ds hooks for me. I still use my supply for tourney practice fishing. Perfect for that. Set the hook, feel the general weight of the fish, and then the hook pulls out.

From: LTD: MA

Comments: They do not tangle which is great but they do break easily even on light line. Ive never had an issue with hooks breaking but these broke in the middle of the gap. I wouldnt trust these in a tournament after a few fish/ snags.

From: Tom
Comments: i got 2 of these hooks and went fishing today on lake st.clair for smallies first fish i got was about a 12inch smallmouth and he bent the hook so bad it wasent evan funny, but my dad was using the same hook and he caught a 2.11 smallie and didnt bendf at all, what is going on? lol i was using spinning tackle with 8lb mono and my dad was using spinnin gear and 10 lb braid and both of us had drag pretty loose. so im not sure if i just had a defected hook or what? but i love the design of thes hooks

From: Dale: ONT canada

Comments: I don't know where all these stories of these being bad hooks are coming from...I've never lost a fish on these hooks. They are STICKY sharp. Line twist is pretty much eliminated. These are wonderful hooks and they have never failed me in anyway. Also, I've never had any of my hooks rust.

From: Steve: Sylmar, CA

Comments: Caught a 7.5 pounder bed fishing last week with these and had no problems with any bending/breaking. I think that speaks for itself...

From: Robert: NC

Comments: These are great hooks. They have not failed me yet. I've landed multiple fish and have had no problems with the swivel breaking or the hook bending/breaking. Great idea.

From: Richard: TX

Comments: Impressive concept and a sharp hook but they do not last. I have had hooks break using 8lb line. They rust very easily as well. Hookup ratio is very good but the quality of the hook itself is a liability.

From: Justin: SC

Comments: These hooks are Not good.If you tie your rig and hold your line still the hook falls downward!The rig WON'T standout straight by itself!The last few times I went out I had to leave my bait motionless to get bit instead of shaking it alot.I changed to a "standout" dropshot hook and was back in business!

From: S: NC

Comments: I have used these now for about a month and have had very little problems they are a great hook! The line twist is way better then the conventional drop shot rig! I would recommend them!

From: Barry: Carson City, NV

Comments: 1/0 is bigger than 1 and 2 is bigger than 6

From: Lot: Italy

Comments: I've been using these for a few months now, and I love them. No line twist, and my hook-up rate has been killer. Great product.

From: J: NV

Comments: lost lots of fish on these hooks

Comments: this might sound like a dumb question but what hook is bigger a 2 or a 8?

Comments: I'd like to know where Ohio is getting these with a 3/0 hook? Hell for that matter, who drop shots with a 3/0 hook? And then he went bigger? OK..... These things are great. I'm still up in the air about the durability but the idea and application thus far is money.

From: Dave: Upperco, MD

Comments: pretty impressive system.....started the day with a 3/0 and ended up breaking the hook in two pieces on a 4 lb smallmouth trying to take the hook out so I switched to the larger sized hook and had no issues...caught 34 lbs of smallies in two days on those things and only used the one after breaking the smaller hook....great product and easy for anyone to use!

From: Ohio
Comments: hooks are amazing, very sharp and in my opinion hook up way better than standard drop shot hooks. highly recommended

From: Steve: NH, USA

Comments: Fantastic concept and hook. Has eliminated my line twist issues and always results in a positive hooking. No complaints from me.

From: Pat: CT, USA

Comments: Good but not great. The hook itself is excellent, very sharp. The swivel is sort of weak and the hook doesn't seem to spin as freely as I thought it would. Personally, I think a regular swivel works better for reducing line twist. But I did catch several good fish with this.

From: David: Atkinson, NH

Comments: These hooks are great! You never have to worry about line twists, and the way the hook is fastened on, allows for your favorite drop shot bait to look even better underwater with more freedom of movement, yet at the same time every fish that touches the hook gets brought in. Super sticky, and the way its bent makes it even harder for a fish to get free. These are the real deal.

From: Cobi: MI

Comments: AWESOME Hook combo caught several 3 lbs bass today. Team it up with ZOOM meathead and 3/8 weight awesome combo !!! Very fast dive looks just like a small shad diving in the rocks!

From: Robbie: Knoxville, TN

Comments: Best drop shot hooks. Got every size except size 8. Caught tons of smallies with these. Lost few weights due to snags but hook and bait was saved due to the design of this hook. Will buy more.

From: Warren: Canada

Comments: This is one awesome hook ! A few guys on here have had problems with this hook turning on the hook set. I modified this hook before I even tried it by bending the bend of the hook to the left or right and up a little so if the hook turns you still hook the fish. I killed them today with this hook !

From: Mr Drop Shot: NY, USA

Comments: For the guys having trouble with these hooks..don't know what to tell you.. I caught a 5.36 and a 6.20 on these hooks on a dropshot in one week..never had caught a fish over 5 lb on a dropshot before...Those 2 fish apparantly liked the action of the hook! Hook never bent..netted em by myself...it's called playing a fish and wearing him down.,.

From: Bobby: Max Meadows, VA

Comments: Comments: Defeats the purpose of a drop shot. The increased weith that comes from the swivel causes your bait to drop very fast.

From: Chris: Connecticut

Comments: Swivel broke on me. enough said

From: Cody: Columbia Falls, MT

Comments: I tried out these hooks today. Although I think it's a unique, and in some cases helpful design, I don't get near the same type of action i want from the lure.

From: Pat: San Jose

Comments: The design is very cool and it works wonderfully. Caught many smallmouth and largemouth on this hook last year. I never had an issue with the hooks breaking, although $1 per hook is a little steep.

From: Daniel: Spokane, WA

Comments: these are really nice hooks and sharp, but had the tips roll on me ! this is an extremley good concept , but they need to fix the actual hooks.

From: Nicholas: San Jose, CA

Comments: The idea is great and all, but the metal the hooks are made of bend/break easier than say gamakatsu.

From: Eric: Riverside, CA

Comments: These hooks are great! They have helped me catch and land bigger and more bass when it most counts... during tournaments time!

From: Patrick: Canada

Comments: My local bass pro has them in stock right now. They seem to run about 1 size bigger than the gammy ss/ds hooks (size 2 vmc=size1 gammy). Super sharp, and do reduce a little line twist.

From: Dan: IA

Comments: :i am have trouble with the hooks turning on me when i set the hook the a very sharp and would be great if the wouldn't turn i give them a 4 out of 10

From: Joseph: Hartselle

Comments: Was able to pick some up at ICAST and try them out. All I got to say is BUY up! They work perfectly and the hooks are razor sharp.

From: TadyMan: SoCal

Comments: Can't wait for these. One of the reasons I believe robo worms are so successful is from the the 180 spin they tend to do when you move the weight. I get a lot more twist with those worms, but also more fish. Great idea.

From: Terry: Lakeland, FL