Vibe Blade Bait - $4.39
A deep-water problem solver, the Vibe Blade Bait can plummet to a desired depth in seconds. It's exceptional vibration drives fish wild, and like most blade baits, the Vibe Blade sinks fast, flutters when it falls, and delivers a hard, pulsating vibration when pulled through the water. Once you locate a school of baitfish on your depth finder, rip the Vibe Blade Bait through the school and let it flutter back down, most bites occur on the fall. Bass take notice of its distressed baitfish action, and have a hard time resisting the chance at an easy meal. The Vibe Blade Bait - available in multiple colors.
Comments: Try changing colors or maybe you are fishing it wrong. Today I caught a gag grouper, triple tail and 3 lady fish. Lost one lure and ordering more. I have fished this lure for years with great success both fresh water and salt. My friends cant belive the results I get from these baits. Good luck.

From: Bob: SW Florida

Comments: Didn't do great in saltwater, i fished it all day in saltwater with nothing. Its more of largemouth bass fishing lure, God bless folks and good fishing today, tomorrow and forever!

From: Alex
***Note: If you have questions about this product or need assistance with an order please email your questions to info@tacklewarehouse.com
View Large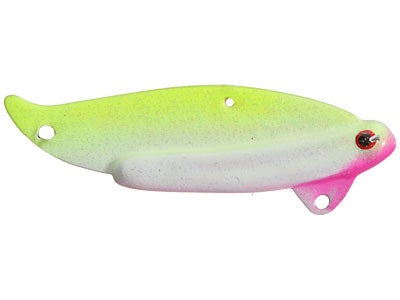 14 Available Colors
More Vibe Jigs