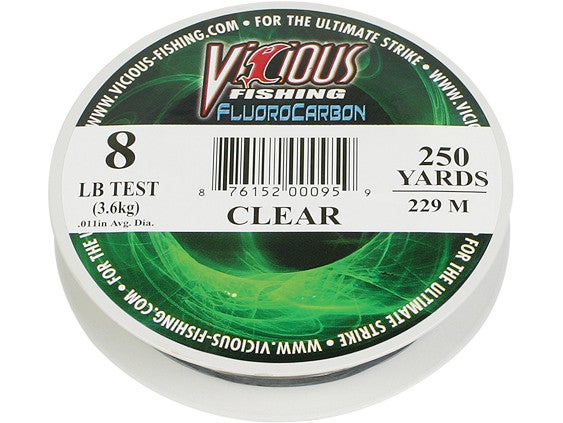 There are numerous companies building fluorocarbon line but none like Vicious Fluorocarbon. Built for extreme sub-surface applications, Vicious Fluorocarbon will get you more strikes and help you put them in the boat. We build Vicious Fluorocarbon to withstand the toughest environments.
Designed with high tensile strength and low diameter it is virtually invisible underwater and detects even the lightest of bites. Best of all, Vicious Fluorocarbon is built to withstand the toughest hook sets.
| | | | | | | | |
| --- | --- | --- | --- | --- | --- | --- | --- |
| Line Diameter | 6lb | 8lb | 10lb | 12lb | 15lb | 17lb | 20lb |
| Inches | .010 | .011 | .012 | .013 | .015 | .017 | .018 |
| Millimeters | .254 | .280 | .305 | .330 | .380 | .432 | .455 |
Place Your Order
More From Vicious Fishing Line
Customer Reviews
Comments: Been using this line for many years & have yet to switch to a different brand for my bait casters. I have not found a reason to. its true its not the most supple nor does it have the least memory but I don't break off fish with it. That being said i wont use it for spinning reels for those I use Trilene 100% pro grade. Try it out. If you like it great, if not use something else. its that easy.
From: Bryan: Wilmington, NC 12/19/15

Comments: This is the worse line I've ever used. It casts like crap and gets tangled too much. I bought it on sale for 4 bucks and it's the worst 4 bucks I've spent in a while. Will never use it again..
From: Cornelius: Fitzpatrick, AL 8/13/15

Comments: Had for awhile on my deep cranking rod I use on Erie. Decent line, only one break off. got my crank back as i waited for it to float back to me. but i will say it impressed me when i was throwing a Megabass Vision 110 Jr and i snagged the biggest amur in our pond in the tail. 45 min later,after it ripped out half my spool more than once, got the vision and the 40lb amur unhooked and released. that was pretty fun, gave me respect for this line. use 12lb i got for half price
From: Kevin: OH 4/27/15

Comments: On multiple occasions I have fished next to my buddy with the exact weight/lure and have been schooled. The only thing different was line- I was using this line- As soon as I switched lines, I now catch just as many or more fish than him... Happened with football jigs, shakey heads, and drop shot... My opinion, fish can see this line... wont ever buy it again.. going with shooter.. way smoother...
From: Andy: CA 3/25/15

Comments: I love this line I use it for my drop shots in 8 lb texas rigs I use 12 lb I think you guys that say this line sucks just have been fishing near trees because fluoro breaks when rubbed on trees.
From: Hunter: Monroe, GA 11/20/14

Comments: this is the worst line i have ever used it snapped 4 times on one trip and 3 times on the previous fishing trip on 2 separate poles save your cash and get some P line way better

From: Joe: Watsonville, CA 9/13/14

Comments: thought id give it a try for the price. very disappointed, 3rd cast with it set the hook and the 15lb line snapped, not the knot but the line. not a good casting line either, and its hard to say its user error when everything else thrown on the reel has come off just fine. oh well its just $12 right.....
From: Mike: VA 5/28/14

Comments: Used the 15lb for almost everything and I never had any issues. Doesn't hurt to try honestly, the people who break off must have had some sort of user error imo.
From: Adrian: Los Angeles, CA 3/23/14
Comments: i used the 17lb and had no issues as a matter of fact my shimano compre snapped before the line did. its a tough line however to me it does have a bit of memory
From: Jon: Xenia, OH
Comments: Switched to this stuff exclusively three years back and I haven't skipped a beat. I stick with the 15#, 17#, and 20#. I fish the stump and grass filled lakes of east Texas. I've never had a break off and my fish count and quality continues to get better. I've fished more expensive lines and while they have their perks I can't feel the costs justify the switch. I also spent many hours dissecting the line diameters of many lines and found there is a lot of smoke and mirrors. I've found that Vicious #17 is actually what most companies call a #20, their 15# more like a 17#, 20# more like a 25. I lose hours of sleep over missed fish and this stuff has never let me down. My experience with Flouro is that you have to learn to handle it and it needs to be respooled often. At least with vicious I don't feel the pain in the pocket book. I love this stuff!

From: Jimmy: Allen TX

Comments: this whole two years I've used the same 12 lb spool. I use it for t-rigging, cranking, jigging and just about everything i have. Caught over a hundred nice bass. Only snapped on me on three occasions when I set the hook. But it might have been because I didn't retie it after some abuse. This line is great for the price.

From: Anthony: CA

Comments: Went cheap and bought this line. Wasn't the greatest idea. Casts decent but that's about it. No abrasion resistance at all even with the #15 I bought. Broke off tons of fish even with a fresh knot tied. It seems to work for some people, but this line didn't work for me.

From: Adam: Sun Prairie, WI

Comments: This line has terrible strength, it broke when i had a 6+ pound bass on, when i got the line in the knot didn't break because there was no kinking at the end of the line, the actual line broke! I'd stick to seaguar red label its a much stronger line for about the same price.

From: J: GA

Comments: I've had the 8lb, 12lb and just recently tried the 15lb for jigs and lets just say I'll stick to seagaur. Sucks on spinning equipment, frays easily, doesn't cast well on both spinning and casting equipment so on and so forth. I'll stick to invizx and abrazx

From: Tom: Richmond KY

Comments: To each his own, I picked up a roll of 10 lb. viscious. Worked great for me. Flipped several 4-4 1/2 lb bass in the boat with it. I prefer the palomar knot with floro. But have not had any problem with it breaking, I have a nasty hookset and it will take the pressure. Caught 12 largemouth off beds 2 1/2 to 5 pnds. Never retied or broke any off and line still looks good. But as I said to each his own, I love P-line cxx, but would not give you a nickel for their floro. Tried some 12 pnd as leader line c-rigging and had the cxx co polymere 15 lb main line, could not set the hook without busting the leader.

From: Miller: Amherst, VA. USA

Comments: To the guy from Washington. If you think this is good line you don't know what good line is. If you know anything about fishing you know that your line is the most important thing between you & the fish. I've been using fluorocarbon for years & I have tried them all & Vicious is not even in the same class as Seaguar or P-line. Come on now, I came on here to give a review not to tell somebody who likes it that they don't know how to fish. But maybe its you that has the problem if your using this line. I bet you own stock in line conditioner. Quit being so cheap & buy some Seaguar InvizX or AbrazX & then you will know what good fluorocarbon is.

From: Jeremy: Indiana USA

Comments: Everyone will have their own opinions and their own expieriences with fishing line. Myself, I have been running vicious for about a year now and have been more than happy with the line. I run 12# floro on my spinning gear for walleye and bass, we have alot of zebra muscles on our lake and have had an issue in the past with line fray. This line thus far has been fantastic!! Not a single complaint. Recently on a walleye trip I managed to hook a 34" 15# musky on a medium light rod and 12# vicious floro and landed the fish after a 20 minute battle...after that, I will stand by their products always as it is something I will remember for a long time.

From: Nick: Dannemora Ny USA

Comments: Dont know what this guy is talking about.This line is the best on the market.Catch the crap out of fish on it and it dont fray or breack.This guy must not know what he is talking about or know how to fish.

From: Dalton: Washington USA

Comments: Line is complete junk!Bought 2 spools around 2 years back, it was terriable. Couldn't use it for anything, not even crankin!This stuff is like wire & frays like crazy!Don't waste your money on this so-called line & go buy you some SEAGUAR fluorocarbon. You willn't be disappointed!

From: Jeremy: Moores Hill, Indiana, US

Comments: way to stiff..... unmanagable, dont like it at all and a waste off money. I have always used mono or copolymer and never disliked aline this much. I hope all flurocarbon isnt like this.

Comments: I'm not impressed at all. I didn't have any of the major nightmere's with this line that some of these guys have had. But again, I wasn't super stoaked on this line either. It's got to be the stiffest floro I have ever used and it gets thrashed up super fast. Line conditioner helps a lot, but I don't want a line that I have soak in conditioner the night before I go fishing! Sufix, Sunline, and Spiderwire are WAY better choices!

From: Christian: Cleveland, TN

Comments: All you lovers and all you haters have my head spinning on my shoulders like that little chick in the Exorsist. Which one of you's is lying and which is the truth? Half hate it half love it? I am justs wanting to use it as a 3 foot leader while fishing a jig under a float for steelhead... Just for the "invisisable" factor....If I get broke off using #12 on my first steelhead...i am going to come hunting all you lovers out there! If it works out ok, I am going to hunt down you haters too, and give you a good whooping for getting me all worried before my guided trip.

From: Pete: Hoquiam, WA

Comments: I purchased three spools of different kinds of fluorocarbon/fluorocabon coated line. This is one of the spools, and it is by far THE WORST. Very unmanageable. I would not buy this line.

From: Nicholas: Austin, TX

Comments: Good crankbait line. Don't use it for setting the hook line, you get what you pay for. Use it on my cranking rods

From: Derek: Ohio

Comments: All I can say Is WOW!!! Don't wast your $$$. Broke off 3 fish on 8lb & 1 on 10lb. Brand new line, no nicks in 30ft deep OPEN WATER First time ever trying this stuff. Wont try again.

From: Josh: Murfreesboro

Comments: update: listened to all you yah-whoos flappin yer gums about how this line is SO awesome, anyone that hates it can;t spool up right, etc. Gave it another try in 12lb. Hated it a few years back and still hate it, along with whoever likes it. Very UNreliable.

Comments: I love this line been using it for 2 years never ever had any problems with it.The line is a little stiff use real magic it helps. I tried the elite hated it.

From: Scott: Nashville, TN

Comments: I tried 8# and 15# to give it a fair shot. I do not like the 8# very much. Its very hit and miss off the same spool. Some sections of the line works really well and the next time I respool with the same spool of line its just horrible. The 15# is decent. Love the sensitivity but it is still lacking in the abrasion resistance some. Its not horrible but not quite up to par. I do LOVE the price but overall its not what I'm looking for in a line.

From: David: Sauk Centre, MN

Comments: I have been using this in 15lb for awhile and all i can say is you cant beat it for the price. I have only snaped off due to being lazy and not retieing. I have boated many 5lb+ pigs with vicious and many more to come.

From: Tyler: Plymouth, MA

Comments: I love how sensitive this line, however it has way to much memory. Would not buy again

From: Adam: NY

Comments: Best fluorocarbon made for moving baits. I like Seaguar a little better for bottom fishing, but you cant beat the Vicious for moving baits. Whether its traps, squarebills, or jerkbaits its an awesome fluoro.

From: Will: Tuscumbia, AL

Comments: It's a decent line, I use 12lb for cranking and after a few cast I'll look at the line towards the knot and there some abrasion but other than that a pretty good line

From: Chad: lake Wylie, SC

Comments: Been using the 15lb after a buddy of mine turned me on to it..I fish in fl 95% of the time and fish some heavy cover water..This stuff has been great for me..I have only used the 15lb test but i love it..I use it for cranking and worming..It has great feel and cast a mile..Use kvd line conditoner and the right knot and you will be fine.. I re spool often cause i fish alot of tx's but it has help my bite ratio alot over braid and mono..Not sure why people are having so many issues..If you are tying palmor knots you will break off.. I use a trilene knot and jam knot and i haven't had any issues with knot breaking

From: Brandon: Kingsland, GA

Comments: Had 8lb on my spinning rod I use for finnesse fishing. loved the smooth casting and sensitivity of the line but every 10 cast or so the line near my jighead was shredded and even after retieing the line it would not hold up when setting the hook even had a fish break off right as I got it next to the boat.

From: Charles

Comments: I'm one of those believe nothing what ya hear and half of what you see....I bought 8lb & 17lb test to try.... remember when spooling your spinning reel with flouro only go half way up the spool and make sure you wind it onto the spool correctly...now back to the line ...both lines are working awesome...8lb on my Quantum spinning its very sensitive and strong caught 6 bass between 1-1/2 - 3 lbs and no issues.. on my BC i was tossing a T-rig worm/sweet beaver...biggest was 5.24 lbs and had no issues...as others stated it is a little stiff but some reel magic and a wet knot...and you should have no issues.....

From: Bart: NC

Comments: This line sucks, has no abrasion resistance at all. I have to retie every decent fish or about every 10 casts. This crap cost me my first tournament of the year, broke off 2 big ones flippen with 20#

From: WI
Comments: This is the worst line i have ever used, and i have just about used them all. I spent over 100 dollars on thid brand line at one time for various types of fishing. I have never seen any line twist as much as Vicious does, especially not right off of the spool. Will go with trilene next time no doubt!!!!

From: Danny: Macon, GA

Comments: i love this line in 15 and 17 # test!.. i don't like it in a lighter line such as 12 #.. it has a ton of memory and line twist with the lighter line sizes. But it seems once u get to 15# test, it's right up there with the best flourocarbon brands out there!

From: Kevin: Moscow, TN

Comments: best line ive found in the toughest conditions this line will hold up! its alittle stiff but nothing compares to most brands! i use 12 for cranks and everything else and then 15-17lb for jigs and texas rigs!

From: Kyle: Itasca

Comments: I just put 15 lb test Vicious on my Quantum Kinetic baitcaster and have had absolutely no problems at all. It does have a tendency to be a little stiff out of the box as most people have said. On a 1 to 10 scale I would give it an 8+

From: Tommy: Millville, NJ

Comments: Switched to viscious fluoro last year in 15# test after using p- line fluoro and evoloution 17 and 20 for several years on my jig and spinner bait rods. Best choice that I have ever made. It is stiff, but has good sensitivity. Went looking on bass pro for it to order this year, but they didn't have it so I' ll be ordering it from tackewarehouse this year. Still trying to find the right fluoro for drop shotting and cranking though.

From: Scott: WV

Comments: This is the worst fluorocarbon line i have ever used, even worse than vanish! I bought a spool of 12# and took off to T Bend for a club tourny. I had 6 bites while prefishing and the line broke on all but one bite! I am no stranger to fluoro, and i am very anal about my knots. I have never had a line this bad! this experience sure cured me from buying cheap fluoro. I should have learned after i tried vanish. There is no way on God's green earth that anyone could make me believe that any pro would use this stuff. I have 10 year old mono on a brim pole that has better knot strenght!

From: Mr. Coon: LA

Comments: GREAT line...A bit stiff, but works well in the 17# & 20#. I use it for almost all lure types.

From: Mike: Winterville, NC

Comments: The best fluorocarbon for the money on the planet. Like others, I recommend it highly as long as you wet your knots and condition the line with products like KVD Line and Lure Conditioner, Reel Magic, etc. All you haters, send me your Vicious F/C... I'll take every spool you have.

From: Alan: Adairsville, GA

Comments: This line is terrible. I'm a tournament angler and I've used almost every fluorocarbon line there is to use and this is right near the bottom. The knot strength is horrible, abrasion resistance is that of dental floss, and it has more memory than an elephant. Save your money and buy a higher grade line.

From: Ben
Comments: Tried Berkley 100% FC.... no abrasion resistance. Tried Stren Fluorocast.... same deal. Finally found Vicious FC and I'm hooked. It's a little stiff, but spray some KVD line conditioner on it and it's money.

From: Robert: Calhoun, GA

Comments: I like it...use 20# for spinnerbait rod and buzz bait rods without a single problem the past 8 months and I fish with 4 clubs since retiring plus some pre-fishing. ZERO breaks and comes off the spool very very well...as a power "machine gunner" fisherman I make 3-4x the casts of the bottom draggers.

From: Doug: Vidalia, LA

Comments: Worst flouro made. Bout a spool, and broke the line with hands. Seaguar Red Label is the way to go for the price.

From: Darrel
Comments: Absolute garbage. Ordered a 500 yard spool and I can break it by hand. Not sure if it's old or what but I tossed it.

From: Jason: Irmo, SC

Comments: This is the only line I fish with for cranking, flipp'n, shakey head, texas rig and drop shott'n ! Ill use vicious braid for my frog fishing and the mono for my spooks ! This fluoro last a very long time and is very strong and abrasion resistant!

From: Debeaux: Mrtyle Beach, SC
Comments: As we all SHOULD know, line twist is caused by your spinning reel or the way the line is spooled onto the reel, the line itself doesn't cause line twist. This line is a little stiff, but very strong and abrasion resistant. It's great on baitcasters but a bit springy on spinning gear. Hower, I think it's the best for the money and it's made in the USA.

From: Mark: Liberty, MS
Comments: I have used this for a while now and have had no problems with it. no line twist and no break offs.

From: Bryan: Wilmington, NC
Comments: This line is straight VICIOUS its great, and the people that have bad line twists probably don't even know how to put line on the right wayyyyyyyyyyy, and you can stick with that zebco line!!!!!!!

From: J-dog: Cedar Rapids
Comments: This is by far the WORST fishing line on the planet. When i say worst fishing line i mean out of all of em, not just floro. I would rather use 2$ zebbco line 6pound from walmart rather than this 6pound for drop shot. Has the most line twists out of any line and i have had so many problems with this line. I wouldnt use it if i was paid to because u wont catch fish on it. You get what u pay for when it comes to fishing line. Cheapest floro in price and cheapest floro in performance.

From: Josh: So. Cal
Comments: This line preformed really well for me with my moving lure presentations such as DD cranks on 12# line, but i have several break offs with the line when using a shaky head and the same 12# line. Used several knots and still had the problem. Seems the line couldnt hold up to my hooks sets with a medium action rod. No such issue with 17# on my Carolina rig

From: Allan: North Carolina
Comments: Too stiff for me, so to speak. If I wanted to pitch or throw swimbaits on heavier line, okay, I would use it. I put some 8 on a spinning reel and it was about as good as sticking your hand in a blender. You will have to change it a lot, so in the end, is the savings THAT great? Dont hate, this is just my 2 cents. I did get a whole bunch of the 1st batch that was bad, and Vicious made it right, so kudos to them for that. This review isnt based on the bad batch.

From: Meatwad: out of town
Comments: I had heard several bad reviews. I bought some and have had no problems. I have caught quite a few fish on it. Line conditioner helps soften the line.

From: Jim: Woodstock, GA
Comments: This vicious line is a really good line and you can't beat the price. It does tend to have more memory than some of the other line but I find that it can stand up to a harder hook set. I had a tendency of snapping spiderwire, vanish, and trilene when setting the hook. Great line at a great price!

From:
Comments: Really tough line, fish in heavy cover and not have to worry about your line. Awesome line and comes at a good price.

From: Sammy: Georgia, USA
Comments: I depend on this line daily in my line of work, can't beat the price or the performance of this line.
It's Vicious!

From: Matt: Marion, IL
Comments:Great line, can't beat the price.
From:Jacob: Muldrow, OK
Comments:For the money you cant beat this fluorocarbon. It is tough as nails and handles hard hooksets.
From:Chris: Lexington, KY
Comments:Best Line on the Market!!! Excellent strength and castability, especially when using the vicious fishing line conditioner.
From:Michael: Endicott, NY
Comments:IMO The best, cheap fluorocarbon. I heard a lot of bad reviews, but found myself liking it. I will have no problems using it again. It is a little stiff, but it has a lot less memory than mono!
From:Drew: Kansas City, MO
Comments:Decent line; however, it's stiffer then that of other fluorocarbon brands.
From:Gerard: New York, NY