Vicious Pro Elite Fluorocarbon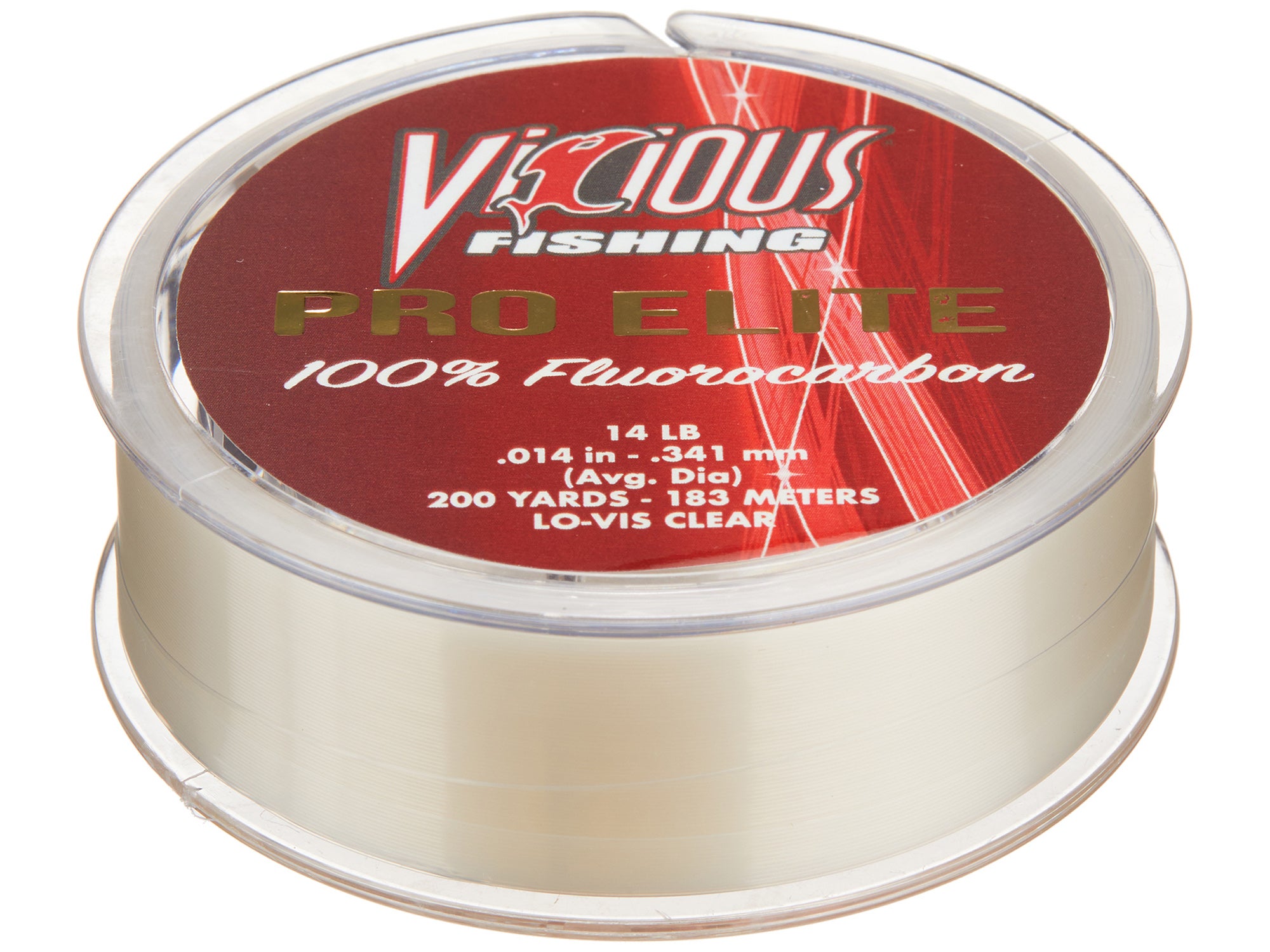 Manufactured with only the highest grade resins, Vicious Pro Elite Fluorocarbon fishing line has been tested by the Vicious Elite Team in some of the toughest, most demanding conditions on the nation's professional fishing circuits. Offering superior abrasion resistance, low stretch and low memory, the Vicious Pro Elite Fluorocarbon is designed to give you that extra invisible edge in the water.
"I like to take my crankbaits as deep as possible, and Vicious Pro Elite Fluorocarbon allows me to use a heavier line," says 2-time Bassmaster Elite Series winner, Kevin Short. "Instead of using an 8-10lb monofilament, I can tie on 12-15lb Vicious Pro Elite Fluorocarbon and go a lot deeper."
| | | | | | | | |
| --- | --- | --- | --- | --- | --- | --- | --- |
| Line Diameter | 6lb | 8lb | 10lb | 12lb | 14lb | 17lb | 20lb |
| Inches | .0096 | .0106 | .0123 | .0133 | .0145 | .0162 | .0172 |
| Millimeters | .241 | .264 | .307 | .333 | .363 | .404 | .430 |
Place Your Order
More From Vicious Fishing Line
Customer Reviews
Comments: Have been using it for the last 3 years & it's fantastic. Keep it maintained and lubricated & it will treat you well. Save you money at the same time for a superior product!
From: Todd: Fishers, IN 11/12/16
Comments: I broke off 3 big bass this week on 20 lb. brand new spooled up the night before line on three different rods in a FLW regional tournament. Line was purchased in the last two months on a bulk spool. It did not break at the knot & the line was not kinked or worn. I would NOT recommend this stuff to anyone who has a strong hook set.
From: Mark: Jefferson City, MO 11/14/16
Comments: I have absolutely no issues with this line. It's smooth, strong & very abrasion resistant. If you treat fluorocarbon correctly & condition it right it makes a world of difference. I pull fish out of gnarly cover all the time with this stuff.
From: Kyle: TX 2/20/16

Comments: I really don't get all these negative reviews. I fish a lot of tournaments out of the Susquehanna which is famous for rocks & wood & I've never had a break off with this line. Ive been using this since it came out & will continue too. When fishing fluorocarbon you need to maintain the line & use the right knots such as the palomar.
From: Tyler: Baltimore, MD 12/17/15

Comments: Best line I have found. I fish the FLW & Bassmasters circuits at the collegiate level & this is the line I trust on every cast. Very little stretch and extremely strong. Like all fluorocarbon the longevity of the line depends on how well you maintain it. Great abrasion resistance and all around excellent line!
From: Jordan: Carlyle, IL 7/30/15

Comments: this is the worst line on the market besides vanish. no abrasion resistance more memory then 20 year old mono it is so horrible on a spinning reel there was no technology even attempted with making this line. snaps at will.
From: Jim: Boulder Jct., WI 3/2/15

Comments: I seriously doubt anyone that had issues with this product. The break-offs probably come from poor knot-tying,poor line care,or the use of tungsten sinkers.Aaron Martens has a video on how to insert rubber liners into sinkers,it will help with performance issues. I use this line exclusively, just like many pros. I tie a doubled trilene knot, insert my sinkers, and keep line out of sun when storing, and I love this line.
From: Durt: RVA 12/14/14

Comments: I had this line on my core 50MG7 for over a year and it was always smooth and no memory issues, I had a bad backlash and lost a few yards so it was getting close to the backing on long casts on my flukes, so to make it short, I liked it so much that I ordered a spool of 500 yrds. the other day for my other cores 100mg7 I have. This line is very good at a great price!
From: Charlie: Trenton, NJ 7/15/14

Comments: best string I've ever used. Been using the same spool for iver a season now and never once had a break off. Got the 14 pound test and I've literally pulled trees down before this line will break. Knots stay tied. Only brand ill use from now on. No stores around me carry this so ib have to wait the shipping time.
From: Derek: IN 7/10/14

Comments: Only ever used it for leader material, but NEVER had a break off. Don't have to replace it often because it's pretty dang durable.
From: Austin: WI 3/22/14
Comments: I have no idea why there are bad reviews on this line.. they probably don't know how to properly maintain fluorocarbon, i just went out today using 8lb on a exo 7ft medhvy and a lew's tournament hs reel shakey heading and drop shotting in sharp rocks, i got snagged twice and pulled as hard as i could and it didn't break! finally i got it to break and i was putting way more pressure on it then 8 pounds, all in all this line is great super tough fairly manageable and clear, give it a try you wont be disappointed.
From: Dale: Lake St. Clair 3/1/14
Comments: COMPLETE JUNK. Do not waste your money on this line. No wonder it is so cheap. Broke on every hook set.

From: Randy: Wetumpka, AL

Comments: I see all the negative reviews and am puzzled??? You have to do your research, Reel Magic is the worst thing that you can spray on fluorocarbon, it will break it down.... I use 17# and 20# test... I will use Seaguar 10# on my spinning tackle.. If you want a true Lin conditioner, use the KVD line lube... Google the tests results between it and Reel Magic.... Remember, with fluorocarbon you can get away with a larger line than normal... Vicious is a great line...

From: David: Louisville, Ky.

Comments: If u pessimistic people would learn how to handle this line u could save a fortune. Having said that. I! Would go with a little more supple line on Spinning reels. I use 20 or 30 lb braid With about a ten foot viscous ORIGINAL leader if u don't have confidence in straight braid or u fish clear water. On casting reels I use original Viscous fluro. Never had a need to try pro elite. Here is how I put line on casting reels. I load my spool on my suction cup spooler, with reel on rod I run line thru guides and tie on spool then I take a tee shirt or similar material and saturate it with real magic. As I apply line I squeeze it with left hand that has real magic on it I fish EVERY DAY and its been over a year since I had a bad backlash.,

From: David: Birmingham,AL

Comments: All I can say this line is an outstanding line I have no problems with vicious Ive been fishing tournaments every weekend for the past ten years and never had an issue with breaking off line I read all the negative reviews on this line and I think most of the problem is OPERATOR ERROR

From: Josh
Comments: I have been using Vicious Elite exclusively for over a year now. Before I used to use Berkley Fluro on all my spinning and bait casters. Don't get me wrong, Berkley is great line too. But Vicious Elite works just as good and is cheaper. For the guys complaining about it, you don't know how to handle fluorocarbon line. From Erie smallmouth to Potomac Largemouth, Vicious Elite Fluro has proven itself to me.

From: Jon: Coatesville, PA.

Comments: Same Garbage as the original vicious just a new fancy name and a new sticker. Junk.

From: Jeremy: Punxsutawney pa

Comments: just because you put "elite pro sniper hardcore" and other bs names in front of your product doesn't make it better than it actually is. Definitely doesn't mean you can charge more for the same thing. If you didnt like vicious original, you wont like this.

From: Paul: IL

Comments: I spend alot of time on the water all year long and this line seldom fails to deliver top-notch performance. It has awesome abrasion resistance, much more than some other premium brands, excellent knot strength and is very manageable. Very good line period.

From: Mark: Raleigh: NC

Comments: I gave this line a final try. I spent a lot of time on spinning gear last year and bought a 600 yard spool to last me threw the season. I tried it every way on the spinning gear and swore it off for 6 months. Well i got a new Daiwa Alphas and figured i would give this line a last chance on a bait caster. I will never again use this line. I spent one day using this line and it appeared to be ok. Went out the next day and third cast sent my kvd square bill off into the woods never to be found again. If i had snagged earlier i would have kicked myself, but i had cut off four feet and tied to a fresh section. The knot was good and the line separated at the reel. I will go back to seaguar or yo-zuri hybrid and never look back.

From: John: CT, USA

Comments: Best Flipping & Pitching Flouro on the market. So far its undefeated for me!

From: Todd: Potomac River

Comments: Great line. I fish a lot of wood and rocks and the abrasion resistance is fantastic. All other fluorocarbon I would have to retie often because it would fray. But with this I only retie when I'm changing baits.

From: Justin: Mason, OH

Comments: This stuff is strong. I just pulled up a giant 50lb snapping turtle on 14#. That being said I think it handles terribly. I got this trying to save some money, but I'm quickly going back to suffix flouro...that stuff is money if you haven't tried it. Don't buy seaguar invisx, it handles great but that's because it might as well be mono with less visibility...saw a test done and the seaguar stretched more than regular trilene...could be good for cranks though.

Comments: I bought this line a few months ago and absolutely love it. It has very little memory and casts great. If you tie the correct knot you will never have the line snap at the knot. All i tie is the polamar knot and never have had a problem with it as long as i wet the line. It is very abrasion resistant. I normally leave this line spooled on my reels for 2-4 months and never have a problem with it and i fish 3-5 days per week, sometimes ill hit it with a little line butter and its like its new again.

From: James
Comments: Rarely if ever do I break off bass with this flouro and I use 10# a lot. I wouldn't buy too much into people's comments on here, they have faced different situations and may not be taking care of their gear or are tying knots poorly. The best thing to do is try it for yourself. I use this exclusively and I have no complaints.

Comments: Bought 14lb 500 yards and it was pretty bad, lost numerous bass as well as jigs! Very frustrating! I am done with this brand, although I have a friend that says the 20lb never breaks, so my advice is, if you want to order this line, buy 17lb or 20lb. Do not waste your money on anything under that because you will lose bass as well as your lures.

From: Yang
Comments: Outstanding line. Very abrasion resistant, excellent knot strength, low spool memory. I have tried tried the more expensive lines but just do not see a performance advantage. It doesn't hurt as bad when you have to refill the spool from deep abrasion or backlash...

From: Mark: Raleigh, NC

Comments: in response to john real magic specifically says on the back no fluoro read the label before you buy something next time fisherman

Comments: best flouro on the market

Comments: This is some great line. just bought my first spool and its a work horse. Brought it out to my favorite pond and went through a dozen or more good fish without retieing

From: Barrett: San Diego

Comments: bought this viscious elite to go to Lake Fork the first time out it was full of memory I'll stay with SEAGAR FLOUROCARBON

From: Tony: Missouri, USA

Comments: This stuff is garbage. I ordered a large spool, 500 yards and tried it three diffrent times. I origanaly bought it in california when visiting my parents, had tons of line twist. I gave it a second go when i got home to CT, and the third time i gave it a long soak in reel magic. The line twist problems were gone after the soak but then the line seperated three times when throwing small 1/4 oz jigs and chatter baits. 8 pound test is more than i normaly run on this setup. I normaly run 6lb berkley XL and was only going to 8 to prevent the pickeral from biting me off every onece in a while. I use and love seaguar invesx and continue to run the 10lb on my larger pole. There are better choices out there and if you fish as much as i do, the amount of lost baits will quickly pay the diffrence in price.

From: John: Groton, CT

Comments: Outstanding line. I buy it in the bigger spool sizes. Only Fluorocarbon I use.

From: George: Maine

Comments: Had a 50 inch Muskie wrapped up in four different trees with 12 lb test (bass fishing) fought for about ten minutes and after taking the crankbait out of her mouth the line had one tiny nick in it....talk about indestructible!

From: Brad: IL

Comments: this line is amazing! ive used other fluoros and liked em buut this one takes the crown. super sensitive, tough as all hell, very low stretch n memory, and casts great. im usin the 20lb test for my flippin n pitchin some nasty stuff n its held up great! have 12lb spooled for jig fishing the lighter cover situations n not one complaint n ill definantly be buyin more in other lb tests. get ya some, u wont regret it.

From: Matt: Fresno, CA

Comments: Really good line, especially for the money. I am a huge fan of flouro and have used most major brands and I can say that this stuff is just as good as any other line and cost a whole lot less. The only brand of line I havn't tried is Sunline but I don't see how it could be much better than this.

From: Jake: Greer, SC

Comments: Very nice line for the money. Used this past season and had problems late in the season when the line was aged. Began having lots of breakoffs. Probably because the line was 3-4 months old with pretty heavy ussage. Overall, a decent line and I will continue to use on my cranking.

From: Tommy: Columbia City, IN

Comments: Very good line, I have all my baitcasters spooled with the stuff. Never had a fish break off and even pulled my boat in with 12lb when I was snagged.

From: Devin: Phoenix, AZ

Comments: overall, a very good line that is stronger than most fluorocarbon. It is a bit stiffer than Berkley Trilene 100%, and will need an application of line conditioner periodically. Great value.

From: Sawyer: Malvern, PA

Comments: Have this in 12 lb. for cranking and 17lb. Haven't broken off once, and it casts really well I think for fluoro, but of coarse the 17lb. is a little easier to backlash. I had a smallmouth wrap me up around a tree branch with the 17lb. and I let him swim around for a minute to see if he would end up swimming out. The line was fine afterwards even after being scraped on a branch. I wouldn't be discouraged by some of the bad reviews... either they got a rare bad spool, or some kind of equipment/operator issue is causing breakoffs.

From: Erich: WI

Comments: Don't know about it! Had two fish break me off on boat docks. Hooked up had em on and it was over before it started.

From: Jon: Memphis

Comments: So far this is the best fluoro I have used put you a little KVD line conditioner on and it works great.

From: Lance: Livingston, TX

Comments: Love this line, I have had problems with fluorocarbon in the past but I figured I'd give this a try. I've had 12 lb test on my shakey head rod for two weeks now-about 30 fish later I still haven't retied or broken off. Awesome line.

From: Brad: Springfield, IL

Comments: This is the only line I will use anymore. The most sensitive line I've ever used. Its great! It is strong, abrasion resistant, almost no memory and very sensitive. If you are losing fish on the hook set then you don't know how to tie knots, don't know how to use your drag, or you flat out aren't using the right equipment for what you are fishing. I have rods lined with 8 pound all the way to 17 pound line and have never broke anything off on a hook set. Great job Vicious! I won't buy any other line!

From: Ben: Three Rivers, MI

Comments: Great iine.. I've never broke off a fish with this line.. I spend atleast 2 days a week on Guntersville, so I've tested it out pretty good! People having problems with this line doesn't know how to tie a knot an don't know how to set the drag! Vicious all the way!

From: Craig: Calhoun, GA

Comments: worst line ive ever used. i put on 17 lb fluoro and had 2 pounders breaking me off on the hook set. thats just rediculious. in one hour that line lost me 3 spinnerbaits and 2 chatterbaits all on hooksets. this line is complete crap and is a complete waste

From: Tyger: Conway, AR

Comments: worst line i have ever used. used the 20lb casted nice but breaks very easy. lost one bait on a hang up, then lost another while casting it out.

From: Earl: Marrero, LA

Comments: Didn't like the original floro but this new pro elite feel awesome. Just spooled 20lb. 17lb. and they went on smooth. Can wait to fish it. It feels as good as my Invis-X but a lot cheaper.

From: Bill: Liberty Twp., OH
Comments: pro elite fluorocarbon is awesome. i had nothing but good out of the orginal vicious fluorocarbon but this stuff is even better

From: Jacob: Muldrow, OK
Comments: All I can say is WOW!!! You can't even compare this to the original line. The new line is very abrasion resistant, hanldes well, exrtremly limp and almost no memory at all. I've only had it on for a few weeks so far, but so far it's the best flouro i ever used.

From: Kyle: Buena, NJ