War Eagle Buzzbaits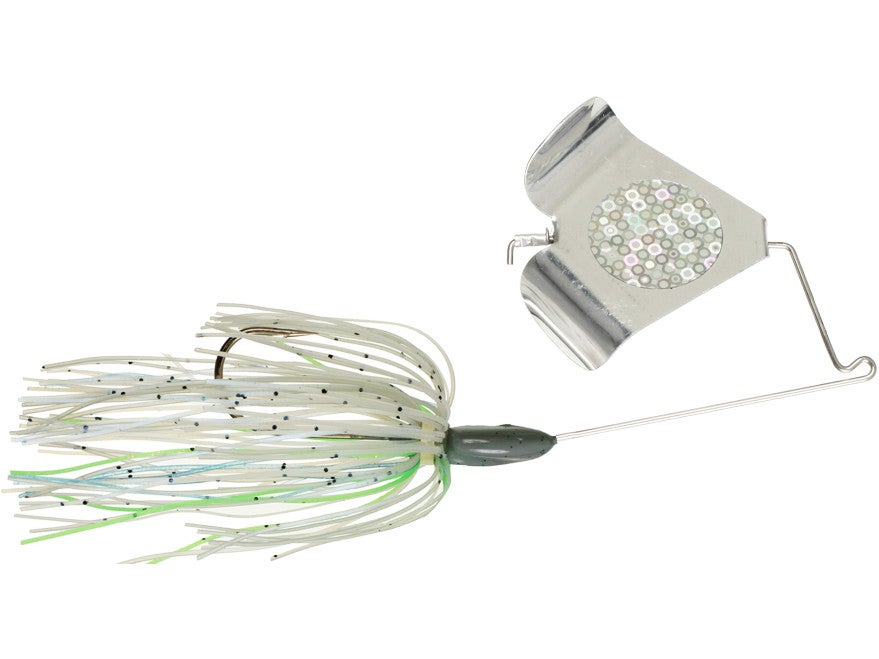 The War Eagle Buzzbaits are fast becoming favorites with top pros across the Country. They feature a specially designed flat keel head that allows them to quickly rise to the surface and get on plane. The War Eagle Buzzbaits also feature blades in a variety of colors, including prism blades for maximum flash. The blades kick up a bubble trail fish can't resist and put off an instant squeaking that drives them crazy. Also equipped with custom slip-on skirts, light wire for better vibration, and super sharp Mustad Ultra Power Point Hooks, the War Eagle Buzzbaits churn up the competition.
9 Colors
More From War Eagle Buzzbaits
Customer Reviews
Comments: Love these. Catches fish anywhere I go. Only problem is after a few trips out the lower loop-tab on the blade snaps off from the force while sliding back and forth during casting. The metal tears until the tab falls off, and they're toast after that. Essentially buying a throw away, but worth it for the $.
From: Gleb: IN 9/13/16

Comments: Best buzzbait on the market I fish about 3 times a week. I fish the same buzzbait every time I go. they are very durable I catch numerous amounts of fish on one buzzbait. My rating is a 9 for this buzzbait
From: Nick: TN 8/30/16

Comments: This is the only buzz I throw. Great skirt, really awesome hook & the prop squeeks out of the box. I will say the light one doesn't always run true but it wants run a bit horizontal. That being said, it still catches fish.
From: Justin: Noblesville, IN 6/21/16

Comments: This is a good buzz bait. I fish three to four times a week & throw a lot of buzz baits first & last light. War Eagle, Accent Lures and Greenfish are my go to buzz baits.
From: Danny: Versailles, KY 6/24/15

Comments: I want to like this bb so badly, but I can't get mine to run straight!! I got four of them and all of them are a wee bit out of tune. I KNOW the wire is in line with the hook but I've tried everything to adjust it so it's not up on its side/tracking wrong. I still catch fish with them though. I'll try a few more before I decide if they will stay in my arsenal.
From: Chris: ME 9/16/14

Comments: I really like these buzzbaits. The larger prop gets it up on plane fast and allows you to fish slower when needed. They seem to hold up well. No complaints at all. I will definitely buy more.
From: Michael: GA 8/8/14

Comments: This is the best buzzbait on the market in my opinion. Won a tournament, came all the way from last place throwing a black one all day.

From: Tristen: Fort Worth, TX, USA

Comments: Hands down the best buzzbait i have ever used.

From: Chad: Atlanta, GA

Comments: All I have to say is you better get more than one!!! Thats why I'm ordering 2 more. Mouse is the best color in my tacklebox these days.

From: Sawyer: Southern KY

Comments: Great buzzbait! The quality of these is crazy good, they compare to any 10$+ buzz out there. You can fish these slower than most due to the large blade. Fish love them, These are soley my favorite for bass. Also took them on a trip to the Tequamenon River in the Upper peninsula for muskie and pike, trolled them for 5 days straight and they got crushed by almost 50 fish up to 42" long, including 17 muskies on one! Every single one held up, the paint didnt even chip, and they still work for bass season. Simply Awesome lures.

From: Cobi: MI

Comments: Great buzzbait with a great price. Nothing to complain about at all.

From: Mike: Jackson, MO

Comments: I used this buzzbait during the golden hour after sunset on the Potomac and I hooked a some good quality fish to include my biggest fish of the day. The hooks are incredibly sharp and it make alot of noise, put a tralier hook on it and hang on, the strikes are vicious. I highly recommend it.

From: Sal: C-Ville, VA
Comments:Absolutely one of the best buzzbaits I have ever used. The large blade starts quickly and the squeal is just right out of the box.
From:Nick: Birmingham, AL