Xcite Baits Raptor Tail Chunk 6pk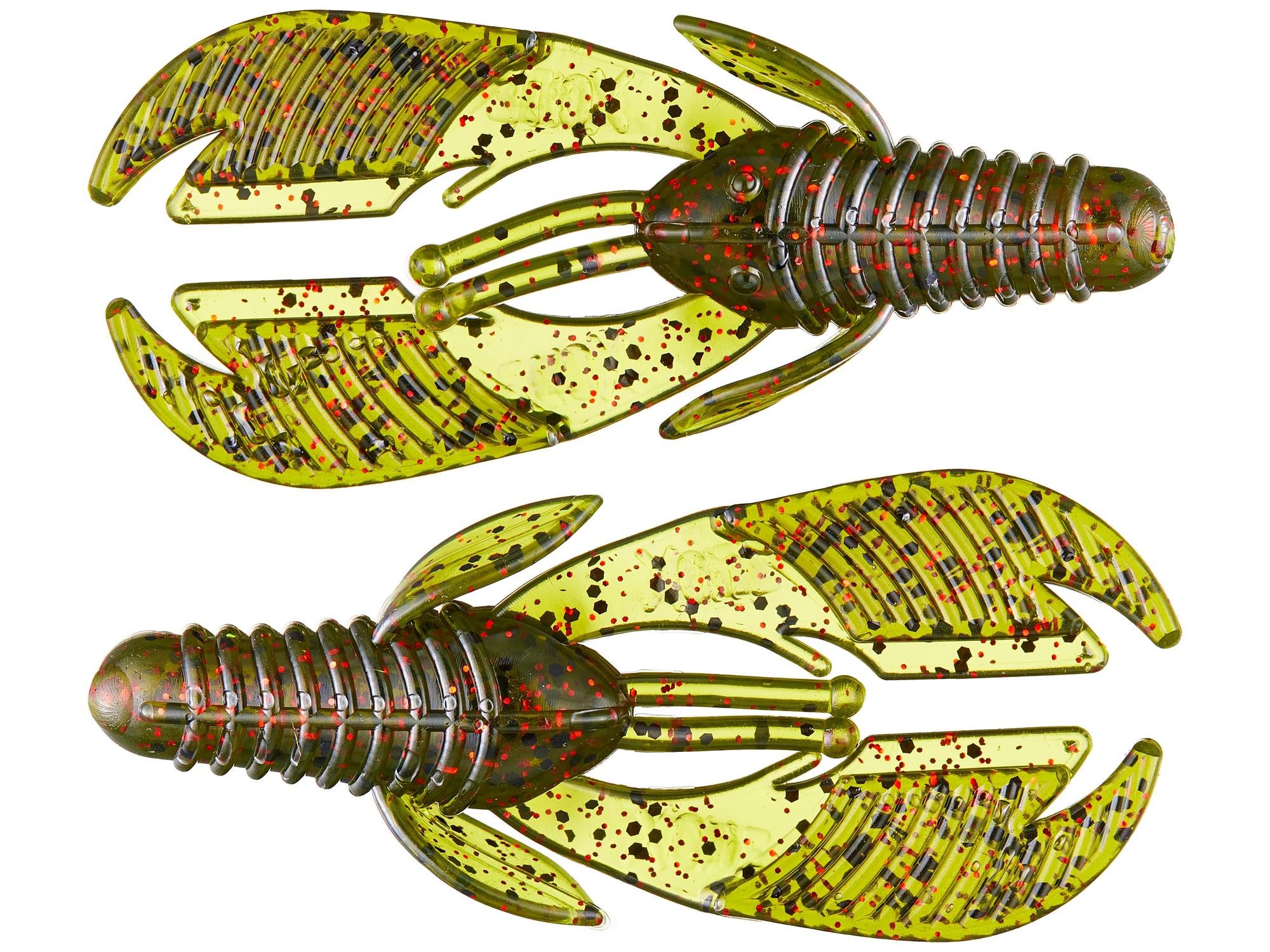 The Xcite Baits Raptor Tail Chunk features a compact body, which makes it perfect for rigging as a jig trailer. It also features specially designed claws that give off realistic movement and help it accurately mimic a fleeing crawfish. The Raptor Tail Chunk also has unique high floating capabilities that allow it to rise and float upward on the pause - looking like a crawfish in a defensive position. Available in several colors to suit your local fishing conditions, match up the Xcite Baits Raptor Tail Chunk with your favorite jig and go to work.
10 Colors
More From Xcite Soft Baits
Customer Reviews
Comments: I love these because they float. Great action & colors. I do cut the bottom of the body off because they are heavy & it gives my jig a smaller profile.
From: Adam: Lincoln, NE 6/29/15

Comments: Was turned on to these recently and am glad I was! I usually use Chigger Craws or Paca Craws for trailers, but these take the cake. Great action on the claws and they float! They do not lay limp and dead like the Paca when the jig is sitting still. For a constantly moving jig I like the Pacas, for a jig I am dead sticking or twitching these get the job. Pretty durable, small fish will nip the claws off but not as quickly as the Pacas. Midnight flash is money!
From: Ryan: East Wenatchee, WA 9/24/14

Comments: Hands down, the best jig trailer on the market. No salt added, so the pincers float. This means a great deal when dead sticking a jig. Gives your bait a natural defensive posture which drives the bass crazy. The wide variety of available colors ensures that you will have one to match any jig in your arsenal. Great for bed fishing also. Rig on a 2/0 hook and a 3/16 oz weight.
From: Rob: Columbia, SC 6/19/14

Comments: Great action and durable. These are by far more durable than the rage tail chunks and the scent is aparently better too. I just received mine in the mail 2 days ago and the bass love them. So far on I'm still on the 1st trailer and have caught over 40 bass including some quite large bass and a few northern. The trailer is still in the same condition as when I first took it out of the package. Weather hear has been in the lower 60's; so we'll have to see how much the durability goes down when it warms up. So far I'm quite impressed!
From: Matt: Scandinavia, WI 5/18/14

Comments: GREAT, Jig trailer on football head or even a swim jig.

From: Cinema730: MI
Comments: My new favorite jig trailer. Caught em with the rootbeer pepper green and dirt colors both pitching and swimming on a few different style jigs. Nice compact size and really easy to hook properly. It's easy to catch a limit with just one of these, but they are cheap enough to buy a few packs. 5 stars

From: Ryan: IL

Comments: the best craw trailer out there .. incredible action on the fall the craw flails its pincers sommin fierce also has grate action on the pause or when steady retrieving the unique pincers wave letting the bass know its time to party. Great for the price

From: Homeless Josh

Comments: Just got introduced to these a couple of weeks ago. Best jig trailer on the market, hands down. Holds up well and the action is second to none.

From: Jim: Akron, OH

Comments: awsome, perfect on football jigs. cant wait for tw to stock black

Comments: Love this trailer.. the watermelon red pairs up nicely with my lighter jigs and bass can't resist. Down to 1. Will be ordering more.

From: Hmongbass: Madison, WI

Comments: I love this trailer I use it and the raptor tail jr craw for swim jig and chatterbait trailers a good friend and I tested these against the ragetail craw speed craw super speed craw paca craw havoc pit boss and craw fatty chigger craw gambler flappy daddy yum money craw and craw papi and the power team conviction craw this one had the best/most natural movement of any out there and the fish preffered it over the others by far, we fished them for 5 straight days on the potomac river and they outperformed all of the other baits hands down at 1 point we were the only ones in the grassbed catching fish I think this bait is a must have

From: Potomac River, VA

Comments: Great jig trailer, has great action, I use them on any jig, but mainly football jigs or swim jigs, only problem I had with them is claws tear off rather easily, maybe I just got a bad bag or two. Gr/Pumpkin, Midnight Flash and Watermelon/Red are my favorite colors.

From: Dan: Shullsburg, WI

Comments: Just bought some of these for a jig trailer and you won't believe the action it has. They look awesome in the water when the claws are floating up. I have found my new jig trailer.

From: Tyler: Austin, TX