Xcite Baits Raptor Tail Junior 6pk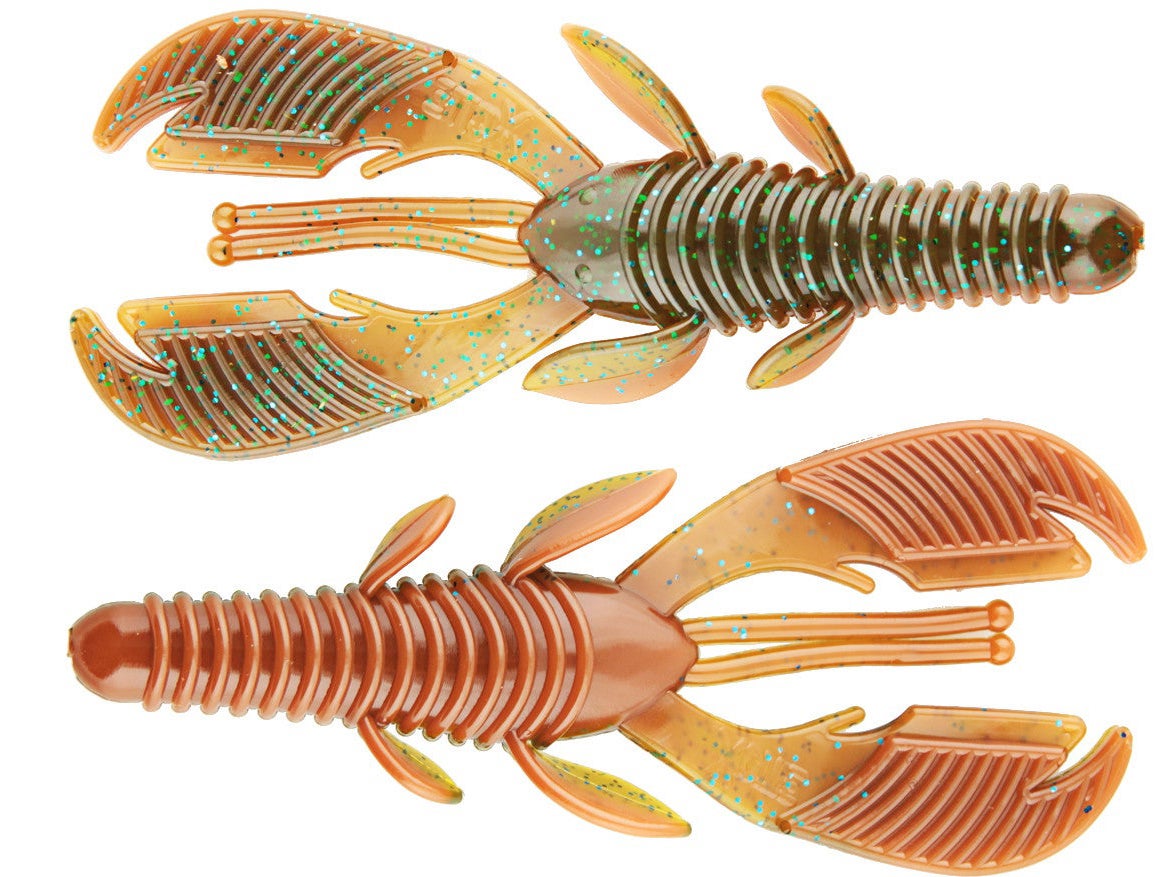 A great choice as a flip bait or jig trailer, the Xcite Baits Raptor Tail Junior offers more size and vibration than its slightly smaller cousin the Raptor Tail Chunk. Its 4" size makes it very versatile, and its high floating action means it will always rise in a defensive position when at rest on the bottom. Its specially designed claws give it a tremendous lifelike action, and each bait is infused with Xcite's X-Factor Attractant for added fish attraction. Available in several colors, the Xcite Raptor Tail Junior offers a killer imitation of a bass' favorite food.
10 Colors
More From Xcite Soft Baits
Customer Reviews
Comments: these baits are a big fish bait. We pulled up to a stretch of docks this summer on a hot sunny day pitching the okeechobee color and caught 4 fish over 3 pounds in 15 minutes. Love the action this craw presents and if you don't use them I recommend them.
From: Wisconsin Angling Outdoors: WI 9/29/14

Comments: Was at a local small lake that is very overfished, so my tactic was to get reaction strikes so that the fish wouldn't have very much time to look at the lure, and for about 3 hours it just wasn't working. So I pulled out this bait and starting flipping around dense fallen trees and docs, really slowing down, and I started pulling bass out everywhere. I even caught a 6 pound catfish believe it or not!
From: Tucker: San Antonio, TX 5/7/14

Comments: Great trailer paired with Shakey Head type jigs like the Xcite X-lock or Moaner Stiffy Jigs. Accounted for at least half my fish during a recent fishing trip including a 5 pounder. Crawdad colour worked well for me.

From: Robert: Cape Town, WC, South Africa

Comments: Makes a great jig trailer, excellent bait.

From: Robert: Battle Creek, MI

Comments: Was catching largemouth bass and rock bass with this bait cast after cast with this bait in the okeechobee craw color texas rigged without a weight, holds up very well after all the catches on one craw and it still will catch them, also the scent holds on it for a very long time. Very great descending motion and in all catches fish!

From: Zach: IN

Comments: These are the only craws I use for flipping. I also use them as jig trailers for a larger profile. The plastic really does float which helps keep the claws up in the defensive position...just like a live craw. Can't go wrong with Xcite!

From: Bill: Flatwoods, KY

Comments: I saw the Bass Master show that Elite Series Angler Grant Goldbeck did so well on this bait so I thought I would give them a try. They hold up really well and they flat out caught fish. My favorite color is crawdad.

From: James: TN