Yamamoto D Shad 7pk - $5.19
The Yamamoto D-Shad is a new breed of soft plastic jerk bait. Although similar in profile to other soft-body jerkbaits, the Yamamoto D-Shad provides added advantage of molded-in-weight.
Consider those situations when you're trying to work a fluke-style bait fast below the surface, the usual problem is keeping the lure underwater where it can do the most good. With Yamamoto's unique formula, the D-Shad has the density to stay down even when worked aggressively. That's huge, especially on lakes and rivers where bass respond best to erratic, high-speed retrieves.
When paused, the D-Shad also sinks much like a Senko - with a very desirable wobbling action - perfect for fishing it on the fall. Its thicker, heavier tail allows it to sink level and gives it a little shimmy. Available in a range of colors, rig the Yamamoto D-Shad like you would any other soft-plastic jerkbait - just with a lot less lead.
View Large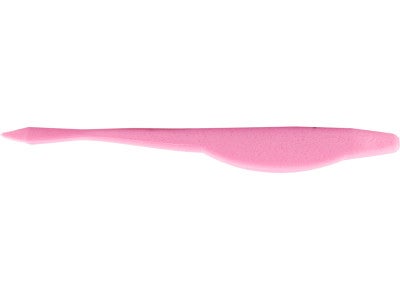 Comments: the d shads are by far one of the best overall jerkbait producers I've ever used. Now just like the last review these will only last 1 or 2 (if you're lucky). The nose is the first to go so what I do is clip the bad part of the nose off to get more use out of it. I've clipped off up against the bend of the belly and it still catches fish. I don't leave the house with out one tied on when that type of bite is on.
From: Brizzle: TN 4/27/15

Comments: In 3 trips I've brought 3 packs of these baits and every one has caught a fish. They usually last about 1-2 fish and then you have to put a new one on because they rip so easy but I will continue to buy them because they just straight catch fish. The wacky-worm-like fall with a faster fall rate because of the heavy salt is killer. These things get er' done!!
From: SoCalfishing4Pigs: Orange County, CA 10/6/14

Comments: These things flat out catch fish. Great shimmy on the fall and great action when twitching and working it like a worm. White has produced for me even on the toughest days this year.
From: Dan: CT 8/14/14

Comments: this d shad is small but really effects drop shot and bed fishing is my way to going..on my behalf the smallest lures are the biggest key to all big bass diet even when the are not feeding or active...good job Yamamoto.
From: Pmoua: CA 5/19/14

Comments: Well like meatwad said "Fluke the fluke!! Com'on man it's made by Yamamoto this little bait is the best soft jerkbait on the market. Buy'em up, you won't be disappointed!!

From: Mrbond007: East Lansing, MI

Comments: what the fluke? this is flukin WAY better than the fluke. The shimmy on the fall...?..ehh, it's just OK, but they cast 7 miles and the fish hang on to em. Fluke the fluke in the ear, fish this one here.

From: Meatwad: Fluke U

Comments: this is my favorite fall soft plastic jerk bait and sight fishing lure. it has a great falling action that seems to trigger the fishes bite. it great for sight fishing because it doesn't fall to fast on a weightless hook. also, GET SOME SMELLY JELLY TO GO WITH IT CAUSE U NEED SENT!
***Note: If you have questions about this product or need assistance with an order please email your questions to info@tacklewarehouse.com