Yo-Zuri 3DB Series Crayfish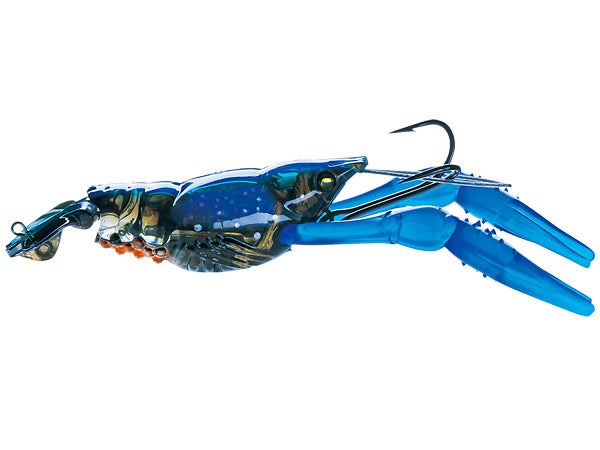 The Yo-Zuri 3DB Series Crayfish delivers an incredibly lifelike, slow sinking crayfish imitation perfect for tempting largemouth, smallmouth and spotted bass. Featuring Yo-Zuri's patented 3D Prism Finish and Wave Motion Technology, includes a realistic prism egg sac with UV properties for added realism and attraction. Its jointed tail articulates as the bait is fished as a jig, or retrieved with a slow swimming action just above the bottom.
A 1/0 heavy duty double J-hook delivers rock solid hook sets, and a heavy duty cable weed guard helps prevent snags. Available in an array of colors, the Yo-Zuri 3DB Series Crayfish delivers one of the most lifelike crayfish imitations on the market.
| | | | |
| --- | --- | --- | --- |
| Yo-Zuri | Length | Weight | Class |
| 3DB Crayfish | 3" | 3/4oz | Slow Sinking |
6 Colors
More From Yo-Zuri Crankbaits
Customer Reviews
Comments: This is a good bait if you use it in deeper water, but it is extremely fragile. I caught a nice 4 pound bass off of it & then I threw it in a tiny limb & the line wrapped over the limb & I jerked it out & all I came back with was the tailpiece of the bait cracked in half where you tie on to. I've never had a bait crack like that from such a small limb in 25 years of bass fishing, so you definitely need to baby it & not use it when fishing the banks.
From: Jeff: OH 5/25/16

Comments: Bought this lure in the Prism Red color just to try something new. My first cast after putting it on at my local reservoir, a solid 2 1/2 lb bass absolutely crushed it! I found that jigging the lure a little bit & then pausing often entices a strike. The fish will usually hit at the pause.
From: Kyle: Orange County, CA 5/22/16

Comments: Really good bait. Caught a 4 pound bass on it so far. I'd only use it in deep water though, because I threw it into 1 tiny limb on shore and jerked it out & all I came back with was the small tailpiece that you tie on to, so it's definitely pretty fragile.
From: Jeff: OH 5/20/16