Yo-Zuri 3DB Series Prop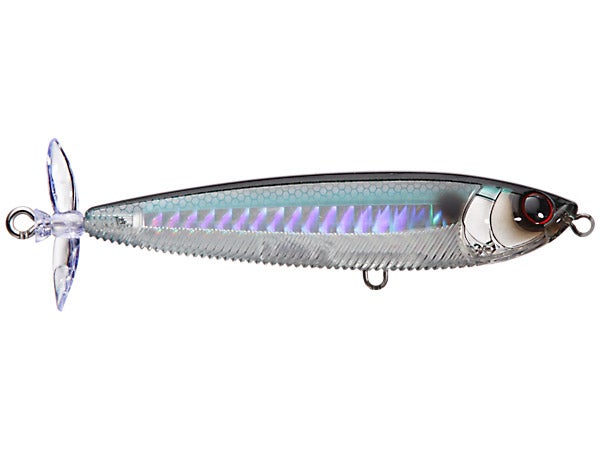 Equipped with a durable, polycarbonate prop at the rear, the Yo-Zuri 3DB Series Prop delivers a churning surface commotion and a dazzling flash. Walk it along the surface and watch the Yo-Zuri 3DB Series Prop light up the surrounding waters with its patent-pending internal 3D prism construction.
The Yo-Zuri 3DB Series Prop also features patented wave-motion ribbing and an internal rattle system that delivers a one-two punch of vibration and tonal agitation. To give it a more vulnerable, injured look, the Yo-Zuri 3DB Series Prop is designed with red eyes that make it more enticing to bass. Fitted with two super-sharp round bend black-nickel treble hooks, the Yo-Zuri 3DB Series Prop will definitely help your fish counts take flight.
| | | | |
| --- | --- | --- | --- |
| Yo-Zuri | Length | Weight | Class |
| 3DB Series Prop | 3-1/2" | 7/16oz | Topwater |
14 Colors
More From Yo-Zuri Topwater
Customer Reviews
Comments: i actually remove the prop when i like a bit smaller profile compared to the slightly larger yo zuri 3db, which is also fantastic! these are the best performing topwaters i have used, and i fish on top 99% of the time just cuz i love watching the bait work and experiencing the blowups! handed one to a buddy one morning and he had something like 8 in a row! he thinks it's the rattles. whatever it is, get a couple and hang on!
From: just plain bill - Austin TX 1/10/17
Comments: This is a great prop bait. The best I've used actually. It will cause fish to bite right in the middle of a sunny day like most topwaters won't, even in open water with no grass. That plastic propeller really irritates them bad.
From: Jeff: Ohio 12/1/16
Comments: Very well made prop bait. Unique sound,different from metal props. Love the plastic prop. Never have to tune it. Has caught many giant smallmouth on Lake Erie without any problems so far. Smallmouth tend to ruin lesser baits.
From: Frank: Niagara, Ontario Canada

Comments: on sml the prism frog is awesome its loud, and creates a huge disturbence on the water bass hammer it around docks and ramps
From: Chris: Vinton, VA 6/30/15

Comments: The pictures on the website don't do these justice, they look awesome. The fish think so as well, prism shad and prism ghost shad were getting hammered by smallmouth when poppers, waling baits, and even another prop bait weren't getting any attention. Grab a few of these, you won't be sorry.
From: Dan: PA 4/10/15