Yo-Zuri 3DB Series Shad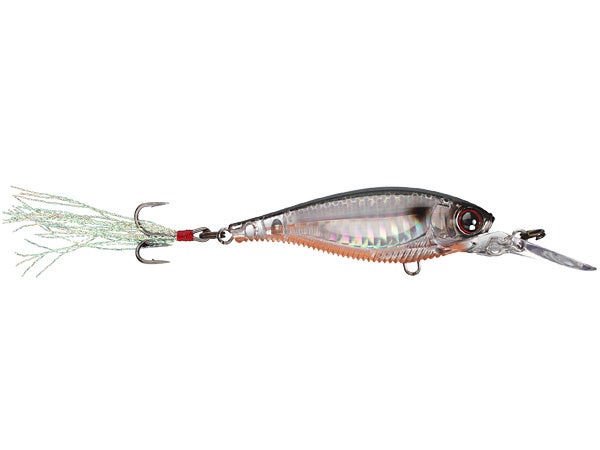 The Yo-Zuri 3DB Series Shad presents bass with a highly reflective flash and a look that is unlike anything they have ever seen. Utilizing the latest in Yo-Zuri's exclusive technologies, the Yo-Zuri 3DB Series Shad Features an internal 3D prism construction that sends out flashes of reflected light in all directions.
Along the belly of the Yo-Zuri 3DB Series Shad is Yo-Zuri's patented wave-motion ribbing, which generates an added commotion as it wiggles through the water. The Yo-Zuri 3DB Series Shad also features big, bulging red eyes that help bass identify it as an easy target. The rear hook is even tinseled with mylar threads to put off additional flash. Built with round bend black-nickel treble hooks, the Yo-Zuri 3DB Series Shad is a great combination of modern technology and the always-effective shad profile.
| | | | | |
| --- | --- | --- | --- | --- |
| Yo-Zuri | Length | Weight | Class | Depth |
| 3DB Series Shad | 2-3/4" | 3/8oz | Suspending | 0-6ft |
17 Colors
More From Yo-Zuri Crankbaits
Customer Reviews
Comments: There is no doubt that the 3DB series from Yo-Zuri catch fish. My son's personal best was on a 3DB shad. (double digit hybrid) I have found a fatal flaw however, that I feel other anglers should be aware of. The plastic in all of the 3DB series is easily ruined by too much heat. Don't leave your lures in the sun! I have probably $80 dollars worth of shads, jerk baits and lip-less baits that are warped and just won't swim correctly. Do yourself a favor and store your Yo-Zuri out of the sun and preferably where it is cool.
4/17/16

Comments: Cast better than a rap. Action is about the same. Mine doesn't suspend even with an extra split ring & a suspend strip but no biggie. Good hardware good finish & its durable. But it catches fish the most important part
From: Joey: TN 1/16/16

Comments: I've found that mine typically swims closer to around 8' when trolling. It's a great lure, but it swims a little deeper than listed.
From: Jeremy: Verndale, MN 7/4/15

Comments: If you like catching fish on a shad rap but hate how hard they are to cast, try this bait it casts a little better and has the same tight wobble. Looks pretty too
From: Wade: Chapin, SC 3/3/15