Yo-Zuri Hybrid Fishing Line Clear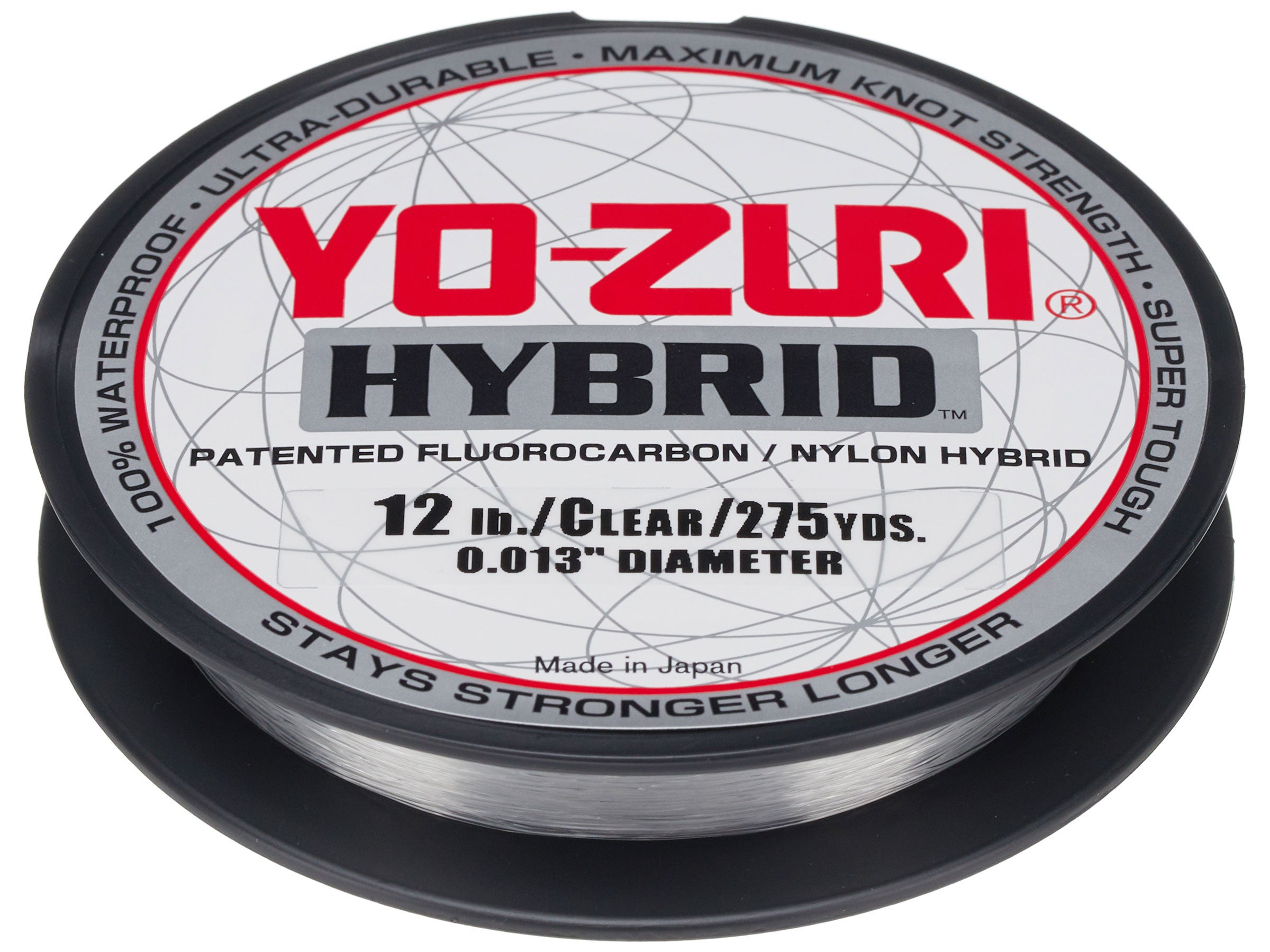 Yo-Zuri Hybrid is the first and only fishing line that molecularly bonds nylon and fluorocarbon during extrusion. The result is a strong, dense new material that takes advantage of the awesome abrasion-resistance and sensitivity of fluorocarbon, while utilizing the flexibility and stretch of nylon. The revolutionary Yo Zuri Hybrid fishing line will open your eyes to a new level of fishing line performance.
| | | | | | | |
| --- | --- | --- | --- | --- | --- | --- |
| Line Diameter | 6lb | 8lb | 10lb | 12lb | 15lb | 20lb |
| Inches | .010 | .011 | .012 | .013 | .016 | .017 |
| Millimeters | .263 | .283 | .308 | .338 | .405 | .438 |
Place Your Order
More From Yo-Zuri Fishing Line
Customer Reviews
Comments: Great Line Overall!!!

From: Hans: Puebla Puebla Mexico

Comments: VERY STRONG LINE A BIT EXPENSIVE BUT WORTH IT. GOOD SENSITIVITY USE FOR CRANKING OR WORM FISHING.

From: Thomas: CHICAGO IL. U.S.

Comments: This is an excellent line, I've used 6 and 8# on spinning gear, and 12 and 15# on baitcaster. This line handles great and has a low memory making it work great on spinning reels. The only negative thing I've heard some of my friends say about this line is that it's larger in diameter per pound test than some others., which is true ,so if line diameter is important to you then you may want to choose a size smaller in pound test. In any case this line is exceptionally strong and my favorite non braided line. The larger diameter never bothered me but it probably breaks at two pounds over it's rating designation anyway so going to a smaller size is an option.

From: Jevan: Estes Park, Co, USA

Comments: August 25, 2013 At one time I was using the Ultra Soft for jiggin' in 12# and found it to be low memory, pretty low stretch and strong, BUT not very abrasion resistant. It would begin to fray even around light cover--just too soft. Now I use it for topwater and it seems fine for that. I am also using the regular Hybrid in 12# for topwater and so far it is more resistant to abrasion and has pretty low memory, too.

From: Ed: Champaign, IL.

Comments: I have recommended this line to many friends, and those with issues fail to realize that like all fluoro type lines, they need to spool line without the spool rotating e.g., using a screwdriver in the spool. Only nonbraided line 20 lb getting use with expensive swimbaits and big nighttime topwaters 4 me. I now use 8lb for senkos, and 6 lb for grubs, all with little or no issues. Line treatment in a paper towel when spooling helps to loosen it up if you don't like doing that with a couple of casts. The warning on the label is for real, don't use your teeth to cut this stuff, been to the dentist for that lol.

From: Bigpoppabass: Nashua, NH

Comments: August 16, 2013. This is pretty good line! Have used the 12# and find it to be strong, low stretch, and have pretty low memory. I use it for jigg'n and wormn' and it has been excellent for that. I do stretch it after several trips to the lake, but I do that with all mono. It is a little expensive, so I have lately been using Spiderwire EZ MONO and it may even be better and it is lower cost.

From: Ed: Champaign, IL.

Comments: Any crankbait anglers like this stuff? I tried a few spools, different weights; this line couldn't last through a day of serious crankin' for me. Done with it.

From: Brian: Los Gatos, CA

Comments: When I'm not using braid, I'm using this. It's basically mono without stretch or memory. In other words: clear braid. The best part, THE SENSITIVITY OF THIS LINE IS AMAZING!!!! I love punching with jigs, so braid has always been my go to for it's sensitivity and abrasion resistance. Since I've tryed this however, I've spooled all of my flipping and punching rigs with it since it's clear and produces a lot more bites. Slightly stiff, so this line may not be the absolute best for casting a mile. I still use Sufix for all my casting and crankbait needs.

From: Brad: Orlando, FL

Comments: This line is where its at for cost and performance. I gave up on mono, because its like fishing with a rubber band, and any flouro that is hard enough to have some abrasion resistance is like fishing with wire. This line handles well, has minimum stretch and has decent abrasion resistance. The cost is very decent as well. What more could you want from a fishing line???

From: John: Groton, CT

Comments: This line is awesome and I put it on all my non-braid setups. The line is super strong and has very low memory.

From: Nate: Minot, ND

Comments: I don't wory with a big king salmon at the end of a spool of yo-zuri 12 lb clear you have to play them a little to wear them down or the'll keep taking runs on you when they get close. Not the time to worry about your line.

From: Alex: Kingston, WA

Comments: Any line can be strong but I judge line based on how little memory it has vs. its strength. Yo-Zuri line is very supple with very little memory while maintaining high strength and great knot tying. You can tournament fish for months without re-spooling spinning reels which I used to think wasn't possible. Highly recommended from a 8 year plus customer.

From: Danny: Santa Cruz, CA

Comments: This is the best line out there at an affordable price!! you cant go wrong!

From: WI
Comments: Best fishing line there is for the money.Very Strong!One thing I do is stretch line out after I re-spool, helps take out the memory. The only line I will put on my Spinning Reels.

From: Joe: Newton, NJ

Comments: Great line for the price. It is a little stiff, but nothing some line conditiioner can master. So far I have had no issues with this line

From: Jim: Woodstock, GA
Comments: Very, very strong line!! I've had the same line on for 2-3 years and its still holding on very good!!!

From: Wisconsin
Comments: Great line!!! Recommend!!!