Z-Launch Watercraft Launch Cord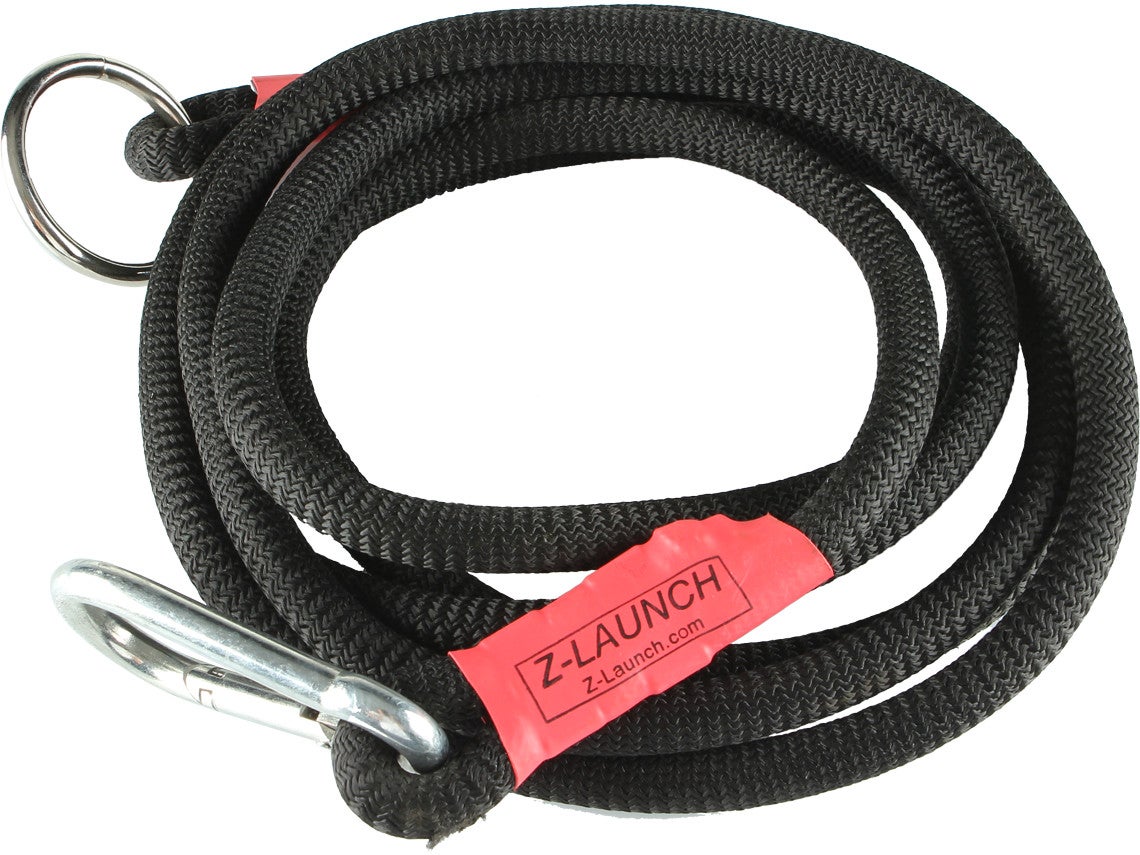 Launching your boat by yourself is as easy as 1-2-3 with the Z-Launch Watercraft Launch Cord!
1. Attach the spring loaded clasp to the Eye hook of your watercraft.
2. Attach the stainless steel ring to your trailer winch hook. (EZ Launch recommends pulling out approximately 6ft of your winch belt before locking the winch)
3. Lock your trailer winch.
After steps 1, 2, and 3 are complete, detach all safety and tie down straps from your trailer to prepare your boat for launch.
Slowly back your trailer and boat into the water until boat floats backwards.
Slowly pull vehicle forward. This will cause the Z-Launch cord to expand as well as pull your boat towards the ramp. As the craft comes to rest at the boat ramp, continue to pull vehicle forward until trailer is clearly out of the water.
Now you can detach the Z-Launch cord by releasing the trailer winch and unsnapping the ring and clasp from the trailer and watercraft. Secure your boat to the dock or shore and park your vehicle
10ft Z-Launch - designed for boats up to 16ft
15ft Z-Launch - designed for boats 17-22ft
-Helps you launch by yourself
-Will expand to more than 20 feet
-Backed by a 1-Year Warranty
-Made in the USA
Place Your Order
More From T-H Marine Accessories
Customer Reviews
Comments: I used this cord on my Stratos 278 & after about the 6'th or 7'th time I used it, it snapped on me. Luckily it broke as I was pulling my boat back into the ramp & not as it was drifting out to the middle of the lake. I called my Dad to warn him about it (he has one as well) & he said his had just broke too the exact same way. He also had just bought his. He was using the launch cord on a Ranger Z20. Awfully dangerous product to be trusting it to such a large investment as a boat.
From: Brandon: Bloomington, IN 7/7/16

Comments: I really like the product. I added an additional 10ft of rope as some of the ramps I launch from are very shallow & I need the extra length. Makes unloading a snap. I also use it to tow stranded boaters. It's great for this as it will absorb the shock of towing another boat.
From: Rick: San Antonio, TX 7/1/16

Comments: well my z launch luv it till it snapped at ring an there went my boat I had it over a year by one month. so I'm screwed on warranty, I will go back to nylon rope. don't recommend it if you have a 21ft bass boat. unless u like swimming!
4/16/16

Comments: This was the easiest I have ever launched my boat solo. This is the greatest thing since bass fishing was made a sport. Fort small bass boats like my tracker, I just let out a foot of toe strap and it's is the bestest
From: Eldon: Fort Smith, AR 4/4/15

Comments: Works as advertised, super product.

From: Biff: Harrisburg, PA

Comments: Freaking GREAT idea and works perfect! no more pulled back muscles or wet feet!! Thanks Tackle Warehouse!

From: Jerry: Oklahoma City, OK