Z Man Finesse T.R.D. 8pk - $3.99

Made using an even softer version of Z Man's ElaZtech plastic, the Z Man Finesse T.R.D. (The Real Deal) provides a realistic feel, longer holds, and increased hook-up ratios. Expertly crafted to trick the most finicky fish into biting, the Z man Finesse T.R.D. features a subtle action that works wonders on wacky-rigs and the increasingly popular Ned-rig. Offered in host of classic bass colors, the Z Man Finesse T.R.D. is a must-have for beginners and tournament veterans alike.

What separates Elaztech plastics from other soft plastics is their life-like action, natural buoyancy and unmatched durability. Elaztech baits not only look great, they are also up to 10X tougher than other plastics. They resist nicks, cuts and tears, and that means you're likely to catch a lot more fish on Elaztech before having to replace them.

*Do not mix ElaZtech baits with standard soft plastics
| | |
| --- | --- |
| Length | Quantity |
| 2.75" | 8 |
Color:
Black Blue Flk
View Large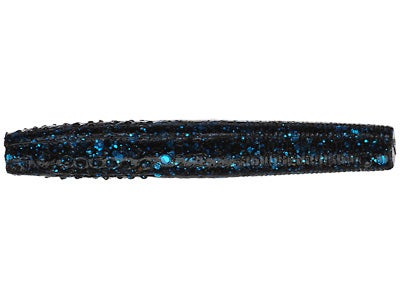 Comments: Got a sample from Lucky Tackle Box or Mystery Tackle Box & thought what the heck. Did some research and saw a video with Ned himself on proper presentation. Keep your rod tip down and let the reel do most of the work and this little thing kills it. I do like the Gopher mushroom heads over the Z-man variety, but have found the T.R.D. to be superior over other half stick baits. New Money is my go to and it caught my personal best smallmouth on it. Learn to fish it, it is a shakey head/drop-shot 2.0 type of presentation. It flat out catches fish. On the fall, on the bottom, even swam back it puts fish in the boat. One tip: they sink like a stone right out of the package, so stretch it and rub it between your fingers before rigging to get it floating. Add some super glue to keep it in place and you will fish with it all day. I would not put it on a jighead heavier than 1/8; 3/32 is my favorite size with a size 1 or 2 hook.
From: Matt: Broken Arrow, OK 7/27/15

Comments: I was cutting Senkos and Zinkerz in half before & did not have a problem with that. That being said these work great too. I have no idea why a Ned rig works, but it does. One tip, before you rig it, stretch it until it changes color a little. You need it to float straight up and a new one will sink like a stone. Glue it in place and it will last you until you hang it and break it. I like Gopher heads in 3/32 with mine. Catches all sizes & species.
From: Matt: Broken Arrow, OK 7/10/15

Comments: was a little unsure with the appearance of the bait, but the first cast with it landed a decent bass. I've been catching them on it ever time I use it. Lesson learned, don't judge a book by its cover. I'm sold!!! Thanks for another great lure z man!!
From: Eric: Cornelius, NC 7/8/15

Comments: After hearing so much about the midwest finesse fishing technique, I thought I'd give these a try. TRD's combined with Zmans shroomz jighead work when nothing else will. I used a 1/15 oz and mostly got bit on the fall or with a slight twitch of the rod while dead sticking. These worms are great because they are elaztech and nearly indestructible. I'm still fishing with the first one after catching a dozen or so bass. Give the "Ned Rig" a try and get ready to catch anything near it.
From: TB: St. Paul, MN 6/29/15

Comments: This is an awsome bait to have in your tackle box. Got a trial pack of these and bought more. Has almost become my go to bait seems to catch fish. Fished in a jigging motion on light line. A must have.
From: Bill: Barberton, OH 6/21/15

***Note: If you have questions about this product or need assistance with an order please email your questions to info@tacklewarehouse.com