Z Man Original Chatterbait Elite - $6.99
Built on Z-Man's patented bladed swim jig design, the Chatterbait Elite delivers the same great fishing action as the original - now with some new, upgraded features. Offering incredible attention-to-detail, the Chatterbait Elite comes equipped with a custom airbrush head and matching skirt - adding that extra fish appeal. Perfect for accommodating an array of soft plastic trailers, the Chatterbait Elite also utilizes a molded-in bait keeper, which helps to reduce slippage and keeps trailers secure. Z-Man even fortified and strengthened the head-to-blade connection to extend the life of each bait. and finally, it's also now backed with a super sharp 5/0 Gamakatsu hook for better hooksets and an increased landing percentage. Available in a range of proven colors, the Z-Man Chatterbait Elite is perfect for fishing around timber, rip rap, boat docks or other aquatic vegetation.
Comments: Will never buy another Zman product. D&M bladed swim jig blows this piece of junk out of the water. Worst part is, Zman knows other companies have better products and are forcing them to close down due to a patent issue. Pretty sure strike king just came out with a new bladed swim jig that blows this crap out of the water too. I bought three of the strike king blades and just loaded up on D&M. Do the same, stay away from this trash. I PROMISE YOU D&M IS BETTER, I'd buy D&M even if there wasn't a patent issue; but this was the icing on top of the cake for me. Burn your Zman products, they're having you pay for a junk lure that falls apart. I've won tournaments with D&M's bladed swim jig. Haven't won crap with this junk lure.
From: Matt: IN 6/20/14

Comments: I completely agree with Blake! These are junk! I used to be a fan of Z-Man's plastics, but now with their silly patent infringement stuff against others with superior products, I won't support them with my dollar...ever again! Get it together Z-Man...Your reputation depends on it!
From: Matt: WA 6/19/14

Comments: Bullying other smaller company's that make better products. First Phoenix now D&M! I am legitametly going to throw all my Zman products in the fire and post a video of it. That's how I feel about them and can't see how anyone would continue to support these guys.
From: Bryce: Orange County, CA 6/19/14

Comments: These chatterbaits are terrible! Absolute pieces of junk, and the worst part is that ZMan spends all of its time shutting down Phenix and worst of all D&M Custom Baits who made the most legit chatterbait on Earth! Stop spending time and money shutting down all of your competition but rather embrace it and try to build a better product like they have because lets face it, being able to patent a jig with a metal blade on it never should of been allowed in the first place.
From: Blake: Scottsdale, AZ 6/18/14

Comments: Would be good if the blade wouldnt bend all up after one fish. stick with the original
From: John: Guntersville, AL 6/2/14

Comments: z man wouldn't allow phenix to continue making the best chatterbait, instead they tried to knock it off and they did a Horrible Job at that......
From: Tony: USA 5/10/14

Comments: for all you chatter bait lovers how do you like how they are shutting down everyone else making a bait better than this and forcing their customers to buy inferior junk !!
From: Frustrated Consumer: Lake Guntersville 4/15/14
Comments: this thing is junk save your money and buy a D&M Piranha made in america !!

From: Steve: Lake Toho

Comments: I was hesitant after reading all the reviews. I preffer the Phoenix even tho they are unabailable, but after trying everything in my boat, I tied on a original in bluegill color and absolutely smoked them. I caught over 30+ fish on the same bait and never had any issues with the bait other than occasionally having to pull up to skirt back onto the jig head. Very impressed

From: Jeff: Grottoes, VA

Comments: As mentioned below the blade will detach from the jig head. Hook isn't as nice as expected. Either buy the original or find a different brand

From: Tyler: Plymouth, MA

Comments: Complete junk. Mine was barely holding together after 1 fish. The blade kept getting jammed and I had to really pump it a couple times to get it to do anything. Buy something else.

From: Rick: TX

Comments: junk. The paint on the blade doesn't last a day fishing grass. Elite my a$&!

From: James: the non, pa

Comments: These catch fish like nobody's business, but they don't hold up. I've had at least 6 of these come apart where the blade connects to the head.. Hopefully they'll come up with a better solution than just painting over the gap.

From: Mike: Houston

Comments: attach two split rings to the jig so there are 2 split rings between the blade and the jig, this will increase the action substantially and make it perform closer to the revenge type vibrating jig. or you could just find some revenge vibrators and not have to worry about messing with this pile of junk

From: Rob: PA

Comments: No way in hell is this thing better than the D&M Piranha .... its better than orignal zmans but not better than much else ..

From: Jared: FL

Comments: Bout time Z Man stepped up the quality of their products...dig the bluegill color

From: Chris: NJ

Comments: basic chatterbait structure is good, too bad they have forced out better lures such as the Phenix and Revenge. This lure lacking an arm still does not fish better than Revenge with swimbaits. Elite fishes well with a crawdad trailer and green pumpkin

From: Pete: Strongsville, OH

Comments: (person below) You tie it to the Clip, it whats gives the bait the action, and sound of the blade hitting the lead head.

Comments: Hey ive never fished a chatterbait, do you tie to the eye of the jig head or the clip?

Comments: Great bait, Great action, like the Bluegill color. Just a tip, be sure to clean all the paint of the u shaped head connector for the blade. It will help with the blades action.

From: Joe: ME

Comments: Bought a 3/8 Smokey Shad to try out the new version... I like the custom paint job on the head & the bait keeper. Like someone mentioned, I'll still add a little super glue, but the keeper will help keep things lined up... The hook wasn't ultra sharp & didn't 'grab' doing the fingernail test... Sharpened it like I've done with all the others before & ready to go.... Not so much better that I need to replace all that I have, but will only buy this one going forward. Tried every other bladed jig that's come along, including the D&M Piranha Swim Jig & I think the chatterbait is better. Sheds off weeds easy & great action. The bulky custom-looking skirt on the D&M, which is very appealing, tends to get up around the blade sometimes for me...

From: Midwest Bass Guy

Comments: No need to worry about the "white" painted blade.....the paint chipped off after a 1/2 day of fishing with it. Much improved hook! If you are looking for a painted blade that will last, this is not the bait for you.

From: Greg: Delta, CA

Comments: its about time!!..and ditto on the painted blade on the white..much rather have a silver! needs that small flash!

From: James: Knox, TN

Comments: WHY THE PAINTED BLADE ON THE WHITE!!!!!!!!!!!!

From: Jesse
Comments: These improvements should have been made to the pro models, the head design is better. I don't understand why it took so long for them to put a bait keeper on their chatterbait. Still going to need a little superglue they way bass hit these baits, trailers don't stand a chance.

From: Evan: Arlington, TX

Comments: The Elite finally incorporates all of the features that chatterbait fishermen have been begging for for years! Thanks Z-Man!

From: Dan: Madison, WI

***Note: If you have questions about this product or need assistance with an order please email your questions to info@tacklewarehouse.com
View Large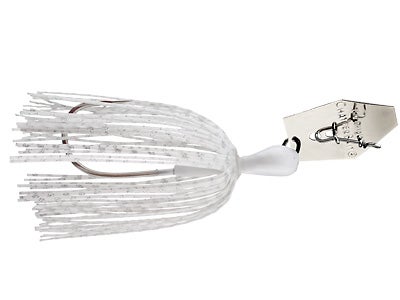 8 Available Colors
More Z Man Chatterbaits