Z Man Palmetto BugZ 5pk - $3.99
Z Man, one of the fastest growing lure brand in America, continues to push the levels of innovation with the new Z Man Palmetto Bugz. Its streamlined design allows it to slide through cover easily, while its ringed 4-inch body produces added vibration as it moves through the water combined with a softer, more lifelike feel when bass bite down. Available in a variety of colors, the Z Man Palmetto's salt impregnated ElaZtech construction is also made to last so you can keep landing the big ones. Cast after cast, fish after fish.
What separates Elaztech plastics from other soft plastics is their life-like action, natural buoyancy and unmatched durability. Elaztech baits not only look great, they are also up to 10X tougher than other plastics. They resist nicks, cuts and tears, and that means you're likely to catch a lot more fish on Elaztech before having to replace them.
Click Here for Pro Tipz for fishing the Z-Man Palmetto BugZ from Bassmaster Elite Series pro, David Walker.
Do not mix Elaztech baits with standard plastic baits.
Comments: My favorite plastic for flipping and pitching, extremely versatile and durable. Once this lure is on your hook, nothing is going to take it off. I use it with vmc hooks and vike tungsten weights, pitch it anywhere work it a little and hope for a bit,(most fish come on the fall of shortly after) I like California craw, great for clear, cold water conditions.
From: Quinn: Vancouver, British Columbia 7/17/14

Comments: they are durable, but they also melt, badly, 3 of them melted while still in the bag in temperatures not above 70 degrees. that's not good.
From: Slade: USA 3/12/14
Comments: You can't tear these things up and they will float a super line hook. I like to peg the weight about 3" above the bait so it floats up just enough for the fish to see it better.

From: Kelly: Shreveport, LA

Comments: great punching baits, my only complaint is that they get deformed very easily in the bag. i guess thats the price you pay for such durability. one of these will easily last you 50 fish, if not 100. the "10X stronger" on the bag is quite understated. i like to set them sit on the bottom for a few seconds at a time while punching.

From: Cullen: Ashburn, VA

Comments: As with other other Z Man products (accept zinkerz), floats great so stands up on your flippin rig. & super soft 'squeezable' feel - I like it! Only thing with the Z Man float baits is they should make appendages further apart, or at least coming out in sharper angles from eachother. The reason is they are so soft & tend to stick to eachother when they touch. Wind up with overlapping flappers that won't just let go easily when they get in the water. Kind of a deal breaker for me, but would be perfect if they'd do a little redesign IMHO. Maybe something like Gambler's ugly otter...

From: MidwestBassGuy: Gardner, KS

***Note: If you have questions about this product or need assistance with an order please email your questions to info@tacklewarehouse.com
View Large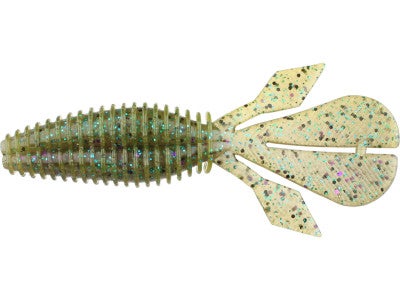 14 Available Colors