Z Man Pop Shadz 3pk - $4.99
50-percent soft plastic swimbait, 50-percent popper, the Z Man Pop Shadz offer a unique, hybrid design that is 100-percent effective. Unlike anything on the market, the Z Man Pop Shadz are poured using the super-durable, super-buoyant ElaZtech plastic, which allows it to be fished along the surface like a popper, even with a heavy gauge hook.

However unlike regular hard-bodied poppers, the Z Man Pop Shadz feature hook pockets along the back and the bottom that make it incredibly weedless and eliminate hook tangles. For added attraction, the cupped mouth generates a strong water spray and a hard-slapping acoustic that bass won't be able to ignore. Available in a number of tournament-winning colors, the Z Man Pop Shadz are truly original, blending two different bait categories into one very impressive package.

*Do not mix ElaZtech baits with standard soft plastics.
Comments: I just got back from fishing the Louisiana delta for reds and had the opportunity to use these there. Scott's previous review is spot on. You have to check the bait every cast to make sure the hook is in the correct position. The few seconds it takes is well worth it with all the grass lined edges. I could have thrown a spook or other treble hooked bait but would of risked tangling in cover. I caught two nice slot reds on this pop shadz. You must wait until they take it before setting the hook. This bait will always be rigged on a topwater rod when I'm fishing reds. I think it will work especially well in the mosquito lagoon over the grass beds.
From: Jill: Phoenix, AZ 8/31/14

Comments: JUNK! Be better off to buy a pack of jumbo Marsh mellows I think they would have better action. The front of the lure is flat with no cup or cone shape that will allow a popping action or spitting action and does not walk side to side just up and down like a bobber.
From: Josh: Rincon, GA 8/30/14

Comments: I was able to get my hands on some before our trip to Mexico last week. Fished one with 20 pound mono and 20 pound braid, using a 5/0 EWG hook. Unfortunately, the usual topwater bite was virtually nonexistent. I was really expecting these to excel thrown up into the flooded shallow vegetation. Fished them the first morning and caught one/lost one. Barely fished topwater after that. They are a little finicky for hook placement and will flip over if the hook slips through the bait out of position, which seemed to happen easily. Sometimes the bait wanted to submarine and go underwater, losing part of the useful portion of the cast. At times they can have a great popping, slashing action. Overall, I think they will be a nice bait, especially to throw in and around cover. My experience was just too short to give a thorough evaluation. Durable and reasonable, worth having a package or two for sure.
From: Scott: NM 8/9/14

***Note: If you have questions about this product or need assistance with an order please email your questions to info@tacklewarehouse.com
View Large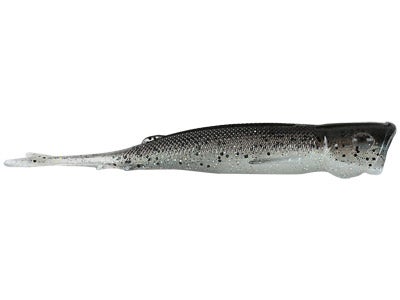 8 Available Colors