Zappu Inchi Wacky Head - $5.99 to $6.49
The Japanese anglers are a very studious bunch. They are always working on new and creative techniques. The drop shotting technique that the Japanese introduced to America several years back has become a household term in bass fishing recently, and now the Japanese have created a new technique called "INCHI WACKY" or Jig Head Wacky. This technique has taken Japan by storm over the past 12 months and for good reason. Two Japanese Bass Pros, Takuma Hata of Zappu Inc. and Toshiro Ono of Jackall Inc. pioneered the craze.
As the name suggests, it's a very straightforward rig and easy to put into practice.
Benefits of the Rig
1. More distance on every cast.
2. Fish deeper areas more effectively.
3. The bait falls quicker.
4. Easier to keep in contact with the bottom.
5. Most importantly it creates a wicked irregular action that looks exactly like a real worm squirming in the water.
Comments: I've tried them all and keep comign back to this one. You wont lose many, so cough up the cash and get to fishing. Oh yeah, USE THE RIGHT ROD/REEL/LINE.
From: Jay6: USA
Comments: The best in wacky rig fishing right here

From: Dave: Wilmington IL.

Comments: the very best waky jig head on the planet I have basically tried them all these are the very sharpest there is!!!!! never have to re sharpen these make any worms come alive from senkos to gulp crawlers and jackal flickshake worms the way they are shaped and there geometry they cause a pendelem response when floating to the bottom they make all baits really make a quiver on the way down. get some

From: Jim: lake tomahawk wisconsin

Comments: By far the best flick shake jighead on the market, love the wide gap hook on this bad boy, when you hook a fish, you own it, this jighead blows away the jackall

From: Mike: Havasu City, AZ

Comments: I bought the weedless hooks earlier this week and used them over the weekend. The weed guards are strong and always bend back to their original position. They look cheap, but don't let that fool you. I caught 12 Large mouths and like a million Blue gill using these paired up with the Jackall Flick Shake worms and Zoom Finesse worms. I must say I was impressed with the toughness of these hooks! I caught 8 Large mouths on the same hook and I would have finished off the weekend with it, but I got hung up and lost the hook. Also, these hooks are razor sharp! Just let the bass run with it and the fish hooks itself. The erratic action this hook produces just SLAYS fish. My fishing arsenal is now a lot deadlier thanks to Zappu!

From: Jordan: Fort Hood, TX

***Note: If you have questions about this product or need assistance with an order please email your questions to info@tacklewarehouse.com
Color:
3/32
View Large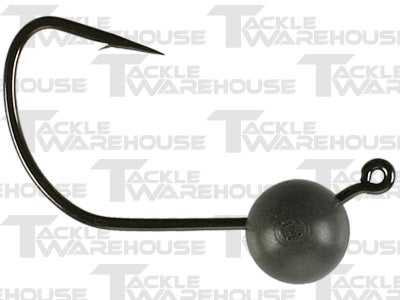 Place Your Order
More Zappu Terminal Tackle