Zoom Brush Hogs - $3.99

The Zoom Brush Hogs are the most popular of the new generation of 'creature baits' on the market today. They've been responsible for winning a lot of money in tournaments all over the United States. The Zoom Brush Hogs are big, bulky baits with tails, wings and arms for lots of motion and water movement. They're made with soft, salty plastic that feels like a meal to a big bass, yet they are tough enough to stand up to getting bit again and again. We offer a great selection of colors in both the Standard Brush Hog and the Baby Brush Hog so there's sure to be a bait to help you catch fish no matter where you are in the world. Of course, these are premier flip baits and a lot of anglers use them on Carolina rigs or anywhere you would use a lizard. You can also try them as jig trailers, either whole or cut down for a really big presentation, or put them on a football head and drag them in deep water like a spider jig. Your imagination is the limit with these baits so buy a few colors in both sizes and try something new.
| | | |
| --- | --- | --- |
| Zoom Brush Hogs | Length | Quantity |
| Baby | 5" | 12pk |
| Standard | 6" | 8pk |

Click the logo to view their review.
Comments: Alrighty guys you have to try this in late summer. I was flipping & pitchin a pit boss and strike king rodent and didnt have any luck so I said ahh what the crap and put on a baby brush hog in water melon red flake and I was rippin some serious lips on a 2/0 EWG and a 1/4 oz tungsten trust me guys you won't be disappointed. And also a tip dye the tails in chart. Jj's magic dip it's amazing
From: Seth: Muldrow, OK 9/13/14

Comments: There has been a complete shift in my fishing when you look at my success before and after my recent baby brush hog purchase. I was basically skunked all summer until I bought a pack of these in Junebug. I have been pulling out fish left and right. Texas rigged with 3-4/0 EWG, and light weights. Peg it, don't... it doesn't matter. The only negative is that they seem to get mangled pretty quick but that's probably more about how hard the fish are hitting these things. I'm definitely gonna get more of these in a couple different colors to cover different conditions.
From: Jim: Orange City, NY 9/13/14

Comments: Zoom does need to work on their quality control, but I've never noticed it on the Z-Hogs.. Mainly Speed Speed Craws. Anyways, The Z-Hog produces around flooded brush and in weed pockets. I like Black Sapphire/Black Red Flake for murky water and any Green Pumpkin/Watermelon for clearish water.
From: Logan: LA 5/24/14

Comments: Still a fantastic creature bait, awesome for pitching and flipping all year, especially during the spawn in my opinion though. The aggressive appendages draw strikes. The baby is best rigged with a 1/0 ewg gammy or a 2/0 regular offset hook. Often catches bigger than average fish than other creatures.
From: Tyler: Grand Junction, CO 5/13/14

Comments: Don't hesitate to buy the baby brush hog. An absolute river smallmouth killer. I caught all my big September smallies on these things last year. They are also great for largemouth too!
From: Henry: VA 3/31/14
Comments: Caught my two biggest fish on them. My favorite bait to fish:D

From: Brandon: PA

Comments: Great creature bait, have been killing it on the sapphire blue in stained water in Chicago and in downstate farm ponds. Great bait.

From: Brian: Chicago

Comments: Well, I just caught a 10lb 8oz largemouth on a green pumpkin baby brush hog yesterday. Check out my GoPro vid at http://m.youtube.com/watch?feature=plcp&v=hNml3udqNAQ These things are my altimeter favorite soft plastics ever, always will catch fish and some pretty good ones too...

From: GA
Comments: The Baby Brush Hog is amazing. You cannot fish it wrong. Twitch it along the bottom; hop it; creep it stop 'n go; lift and drop like a Senko stick worm; or swim it s-l-o-w just above the bottom like a Charlie Brewer Sliderworm. Anyway you fish it...you will catch bass.

From: Thefishinggolfer : NYC
Comments: This is my favorite creature bait. When the bass aren't really biting these work the best. My favorite color is green pumpkin

From: Chandler: Salisbury,NC

Comments: These are my go to baits any time of the year. I have caught more fish on this bait than any other bait. I always have one of these tied on texas rigged with a 3/16 to 3/8 bullet weight. I also tried a tungsten screw in weight, and it caught a couple the other day. Watermelon seed, mardi gras, and blackberry are my favorite colors.

From: Cody: Chatsworth, GA

Comments: One of my all time favorite soft plastics I rig it Texas style with a 3/0 hook. Bullfrog green is the way to go at first I was somewhat skeptical of this lure but I sure am happy I got it for darker stained water I go with the junebug also zoom makes awesome speed craws there about 3inch go great as a trailer or burning them weightless through shallow water!

From: Seth: MS

Comments: I caught my pb on this bait in the baby size in pumpkin color. Great bait, they have a lot of colors to chose from.

From: Trevor: San Jose, CA

Comments: dynomite! Anything with watermelon in the name gets eaten.

Comments: bought a pack of these and they sat in my box for ever with out me even thinking about trying them and yesterday I was catching nothing and throwing everything I had at them. So I ran into this awful ugly bait in the bottom of my tackle box rigged it Texas style. First cast 4 plus on the fall ended up back tracking to a few of the spots I fished earlier that day and scratching up a few decent fish I just think the bass have not seen to many of these and when your fishing high pressured fish somethin different can be a great way too catch a few fish on a shotty day

From: Jason: WI

Comments: i split shot em! pop-pop-pause...gets eatin

From: Buzand: Socal

Comments: i love these things i rig them on a deep crankbait and catch nothing. they are so fun to use.

From: Don: GA

Comments: Today my friend and I went fishing, I was using zoom my all time favorite brand and he was using yum. I was pulling fish in with all my zoom soft plastics and after 5 hours of fishing, my friend did not get a bite. So I gave him a brush hog and instantly he reels in a 6-pound bass. 3 minutes later he brought in about 3 more. He never bought from yum again. Get these baits, every color works outstanding.

Comments: Yo! If you dont have the baby brush in your arsenal, then you aint 'bout it bout it'. VERY versatile. Works on a shakey head almost better than a trick worm. But you already knew that, right?

From: Meatwad: Hawgin

Comments: Won my first club tournament today thanks to a black and blue brush hog..4 pound kicker fish

From: Hunter

Comments: got third in my tournament today- carolina rigging the baby brush hog is outstanding

From: Cutter
Comments: WOW. these work great... i got 7 bass 2-6.5 lbs in about 20 minutes with these flipping brush piles

Comments: Fished a tourney at Guntersville with A-Rig. I was throwing swimbaits and co-angler had brush hogs on his. My best five went 15-5 and his went 18-8. I think the answer is obvious. The pigs love brush hogs.

From: Sam: Jackson, TN

Comments: I was picking up some bait one day with my girlfriend and she picked out the watermelon color. I asked her why this one, and she said it looks cute and I bet the fish will go for it. OK? Sure enough, she caught a lunker first cast and then a few more there after while I was at zero in the first 45 minutes. My plan B, "let me get one of those!" First cast - BOOM!

From: Cguila: Antioch, CA

Comments: Bought these on a whim in the early fall. I tried them the next day texas rigged on a 2/0 EWG hook and a 1/16 oz tungsten bullet weight. I caught 10 bass, 4 pickerel and 2 big yellow perch in 4 hours, including a nice 3.5 lb bass. Caught them in open water, on weed edges, near brush, and over rip-rap. Amazing baits, and I plan to fish them a lot in the coming seasons.

From: Charles: Scranton, PA

Comments: A tried and true standby lure theres nothing more to say, these baits are excellent from ponds to major tournament fishermen.

From: G: KY

Comments: 1/4oz with a no2 hook TX rigged is MY GO 2 BAIT AT ALL TIMES OF THE NIGHT the last 2 times i have fished i have had 2 work the bait straight up with the boat .............AVOCADO,WAT RED FLAKE IS MY FAVORITE COLORS 2 FISH BUY A PACK THEY REALLY WORK!

From: Dalton: TN

Comments: Borrowed a baby brush hog from my friend and Texas rigged it caught a few 2 lb bass and my friend put one on and brought out an 8lb bass! I went out and bought some and they unbelievable action. recommend these to everyone.

From: Matt: Charlotte, NC

Comments: Texas rigged with a 1/4 or3/8 is almost all I use anymore

Comments: Watermelon red flake Texas rigged with an 1/8 oz bullet wieght with a lift and drop presentation is killer!

From: Alex: Joliet, IL

Comments: These are solid baits for sure but they have nothing on Strike Kings Game Hawg. If you dont believe me go buy a bag. Its a great bait.

From: TN
Comments: caught my PB with this.. 6 lb 9 oz. very happy with the product!

From: Freddy: Delta, CA

Comments: one of my favorite creature baits! been using this for 2 years now and its allways produced! texas rigged on a 4/0 hook is how i like to throw em. maybe even with a 3/8 or 3/16 ounce bullet weight depending on if you wanna flip them (there great for that too!) bass cant stand these things and time and time again, THEY EAT EM!

From: Bass Nightmare: OH

Comments: By far my favorite soft plastic bait to throw anytime . Plum crazy and blue fleck work best for me at night in the summer!!

From: Lucas: Glasgow, Kentucky
Comments: Have always heard good things about these but have always thought they were just a little to crazy looking and thought they were just another fad here today gone tomorrow type deal. Well I seen a bunch in the bargin bin one day and bought a few bags. Holy bucket mouths do these things catch fish! Have never had much luck at all with lizards and thought these were along those lines but for some reason they trigger bass in a major way. The first time I tried these I was catching bass that were hardly bigger than the bait & up to 4lbs and everything in between. I caught 47 bass that day. Will be buying more of these. Watermelon seed is a great color.

From: Cory: Great Plains, USA
Comments: This is by far one of the BEST soft baits that you can buy. like mentioned by another reviewer, I have one of these on one of my rods at ALL times! It is very versatile as it can be T-Rigged, Carolina Rigged, shake head rigged, etc.... I have a few favorite colors---Green Pumpkin, Watermelon Candy, Watermelon seed, Watermelon Red, and Junebug. If these colors don't catch you fish, nothing will!

From: Scott: Mount Airy, NC
Comments: If this bait isn't rigged on one of your rods right now, you are missing out on a ton of fish. Ever since my buddy Dave introduced me to this bait, I have never not had one of my rods rigged up with one (E.g. Texas Rig). I've caught my biggest fish ever on these baits - both the full sized Brush Hogs and the Baby Brush Hogs. This is my go to bait. The amount of ways you can fish this bait - successfully - is just insane. Bump it along the bottom, steady retrieve it, fish it across the top (E.g. Open water, mats, hydrilla), or cast it out and just let it sit. YOU WILL CATCH FISH WITH THIS BAIT (E.g. start out with Watermelon Red for your first color selection)! I honestly cannot say enough good things about this bait. Depending on the color, they are pretty durable. Even if they weren't, I've caught hundreds of bass on these over the last year or so, in all kinds of conditions and presentations. Bass just love these things. I've tried other creature baits, some of them work ok, but none compare to the brush hogs. I have no idea why they work so well on bass, but trust me, they do. If you don't have these in your arsenal, you are seriously missing out. Try it, and I'd almost guarantee Brush Hogs will quickly become your "Go To" soft bait.
From: Shawn: Tampa, FL
Comments: I cant believe that i am the first person to comment on these wonderful baits, they obviously don't get enough recognition. The watermelon red original brush hogs are M-O-N-E-Y. As far as i know these were the first creature baits, and in my opinion are still the best. These are my "Go-To" bait for any situation, crawl them slowly across the bottom and hang on!!. Thank you ZOOM.

From: Cade: Kentucky, USA
***Note: If you have questions about this product or need assistance with an order please email your questions to info@tacklewarehouse.com
View Large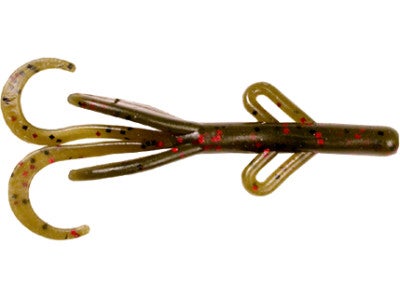 61 Available Colors
More Zoom Creature Baits