Zoom Salty Super Fluke - $3.49 to $4.49
Soft jerk baits are known fish catchers and the Salty Super Fluke from Zoom Baits is one of the premier baits on the market today. The natural fish shape is attractive to all kinds of fish in both fresh and salt water, but big bass really like them. Because of their streamlined shape they glide and swoop through the water easily with the slightest twitch of the rod tip. Use them weightless and they hit the surface like a fleeing baitfish. Use Insert Weights to get the Super Fluke down around fish-holding structure or deep into brush. Try the Zoom Super Flukes anytime you need a quiet baitfish imitation. With all the colors available you'll find one that catches fish in your lake.
| | | |
| --- | --- | --- |
| Zoom | Length | Quantity |
| Fluke Jr | 4" | 10 |
| Super Fluke | 5.25" | 10 |
| Magnum | 7" | 5 |
Comments:
From:
Comments: what is going on with zoom! The last twenty or so bags of flukes I've bought have been garbage! Some float, some sink, some have huge indentations in the sides, some are deformed really bad(not bent but deformed). They are way way too soft now also. They are drenched in a nasty oil now. Totally different bait than the used to be. Get with the program zoom!!!!
From: Nick: USA 8/16/14

Comments: this bait is durable it last a good 3-8 fish my most successful colors are watermelon and rainbow shad both used weightless
From: Colin: MI 6/25/14

Comments: this bait is my favorite soft plastic. When ever this fishing is tough I throw a zoom super fluke in green pumpkin or midnight chart. I usually Texas rig it with no weights. I have caught almost every bass on the fall. These baits are also durable I will catch about 6-12 fish on each fluke! Best soft plastic you won't regret buying these!
From: Ben: IL 6/4/14

Comments: the fluke is a fairly simple design, however zoom manages to make superb quality bait that catches fish time and time again. Not only does it have the great "wounded" action of a baitfish, it also has a very soft but durable plastic at a price you can't beat. Unlike most soft plastics I use that average 2-3 fish til the bait is completely destroyed, the zoom fluke averages 4-5 (from the experiences I've had). At such quality and at a reasonable price, you simply can't go wrong with a Zoom fluke.
From: Zach: TX 5/10/14

Comments: Best fluorocarbon I have used especially for the price. Super smooth casting,low memory,superior knot and abrasion strength. Obviously review by unknown person has no idea how to use a baitcaster or tie knots if he is breaking this line casting and getting birds nest.
From: Brian: Farmington, MN
Comments: If you are having problems with flukes being bent from the package, boil a small pot of water and submerge the bent tail for 15 seconds cant be anymore otherwise the plastic will melt but this is a sure fire way to always get your flukes running strait.
From: Dan: Chicago, IL
Comments: This is absolutely one of my favorite baits. It is so versatile, you can fish it almost any way you can think of and still catch fish. When the bite is slow, i just throw on a watermelon red flake fluke on a 3/0 wide gap hook and rip lips! A must have in your tackle box

From: JC
Comments: This bait really impresses me, not only does it have superb action, but they are also cheap. I love all the zoom baits. I caught my very first bass on a zoom product and became a regular customer to them because of these awesome baits. Bubblegum and silver rainbow rigged on a 3/0 EWG hook = money.

From: Marcus: Tempe

Comments: I am 100% with ya on the bent bait issue. Take half the baits out, put them in an old, empty Zom bag, STRAIGHT. Use the original bag for the other 5. After a few days, they will straighten out. But yeah, Zoom, get with the program. They prob wont though, they still sell thousands a day so why change anthing?

From: Meatwad: basswipe's canal

Comments: still one of the best go to baits ever made. But the quality has been dissapointing of late. (Packing of baits, all bent) i have to remove all the baits and re-package them before taking them for swimming lessons...

From: Pierre: South Afrika, Cape Town

Comments: I love this bait on scroungers they just have the perfect action. Try it.

From: David: Shanghai

Comments: Great bait which I have used for years, however sadly the quality has got poor and its hard to find a straight bait in the packet.

From: Allan: South Africa

Comments: Great bait, catches fish but ive stopped using them cause of the quality they r coming out with. Got 1 pack the other day and not 1 fluke in it was made right to fish with.

From: Dave: South Africa

Comments: The super fluke has caught me more and larger bass in recent years than just about any other plastic lure. I use the baby bass color weighted and un-weighted for large mouths and the baby bass and green pumpkin for smallmouths. This spring the rivers in the Mid-Atlantic region have been colder than usual and the crank baits and other swim baits were not working for me. I put on a green pumpkin super fluke mounted on an 1/8 oz. Dirty Jig Head and slayed them. I got 38 river smallmouths in one afternoon with an average size of 18". I also got a number of bass over 19".

From: Jamie: White Hall, MD

Comments: This is my second favorite bait(behind the strike king shime stick), and when the stick bait dont get me a limit, this will. first day out got a 15"er on the third cast, second time out got a 10-12 lb limit(in a 8lb avg. limit pond), bigggest being a 4.5 lb 19" pig. rig it on a 3/0 ewg, 12 lb flouro, on a 7ft M spinning reel with a 2500 spinning reel. Tight lines!!! Thanks TW and Zoom

From: Mitch: WI

Comments: a friend told me about these about a year ago when i first got serious about bass fishing. if you don't catch anything while using this bait then their are no bass around,period.!!! great producer,this is my go to bait.!!

From: Bob: kerrville tx usa

Comments: Ill keep it short- Super consistent catchers, great for quantity more than quality (but you can still get bigger ones). 3 or 4/0 wide gap hook, and fish it like a jerkbait. These also work well for walleye on a jig head. Not very durable, maybe 2 or 3 fish per bait. Buy lots.

From: Josh: Canada

Comments: Nothing can beat this fluke. Don't buy any other brand because this one is best. I caught my PB largemouth at 6.1 lbs on this first cast into the day. Amazing is the only word to describe it. White Ice works best for me.

From: Ed: NY

Comments: Caught my first(and personal best)bass on the 5 inch in smokin shad,you know bass love it when they hit it 3 times!All the other companies are just a copy of a copy of a copy. The Super Fluke is the origanal, and the Super Fluke is the best!

From: Elijah
Comments: I love to hear "I dont fish flukes"...that means I take their money a lot. Great bait to find out where the fish are, fast. If you fish a fluke for an hour with nothing, it is safe to say they aren't active. Or you are in a fishless area, which is lame. Get out of there!

From: meatwad: flukin nutss

Comments: Been using these for a few years now and I've never been disappointed. I have used almost all colors including baby bass, watermelon red, smoking shad and many others. BUT my go to color is bubble gum. Not a color many people tend to go to, but I have found them to work better than any other color down in the south. If you're fishing semi murky water...use bubble gum and you won't be disappointed. I promise.

From: Justin: Virginia Beach, VA

Comments: One of the most consistent baits on the market for catching fish in the toughest of conditions! Zoom Salty Super Flukes are my favorite baits for fishing Calico Bass in heavy kelp beds around Southern California. They catch quality fish! I carry a few bags of each color on my boat at all times. I go through bags and bags of these every month. They offer so many great colors and they are very reasonably priced compared to other softbaits on the market. I've tried other similar baits, but now I only use Zooms because they simply work!!!

From: Jin: Southern California

Comments: This lure has to be one of the most if not the most versatile lures on the market, you can cover the whole water column, match the hatch, make it look like a baitfish that is feeding, or just swimming along, or one that is being chased. You can fish it with a weightless texas rig, a carolina rig, a drop shot, I'll even texas rig it with a bullet weight and drag it on the bottom, and I flip and pitch it, this thing catches bass however you fish it, weightless, darter head, weighted hook, carolina whatever, you cannot fish these wrong, and they cast the farthest of any fluke style out there. Zoom has done it again, white pearl, and houdini aer my best colors, but never had a problem catching fish on any color of a zoom bait.

From: Ben: FL

Comments: all i can say is just...WONDERFULL!!!!these things flat out catch fish,no matter what color,i use the white pearl,bubblegum,arkansas shiner,albino,baby bass and all of em work like a king......i rig this bait with a gamakatsu offset shank work hook size #1.these are literally the best soft jerkbaits on the market.buy them!!!this will always be one of my go-to baits.....

From: Nathan: GA

Comments: these superflukes really work! They work for big largemouth as well as large smallmouth. I have had luck with both smallies and largemouths. The movement of the flukes are just outstanding. Incredible bait i highly suggest you try it on your next day out on the pond/lake for largemouth or the river for smallies. Goodluck!

From: Zach: Griswold, CT
Comments: An excellent lure when bass are attacking schools of shad. Cast the 5.25 inch Super Fluke on a 1/16 oz 4/0 Sworming Hornet Sling Blade Flutter hook into the middle of the boiling water, let it sink below the shad. If it doesn't get a strike on the fall, jerk it around on the retrieve through the school. Match the color of the shad.

From: Vince: Tucson, AZ

***Note: If you have questions about this product or need assistance with an order please email your questions to info@tacklewarehouse.com
Color:
Albino
View Large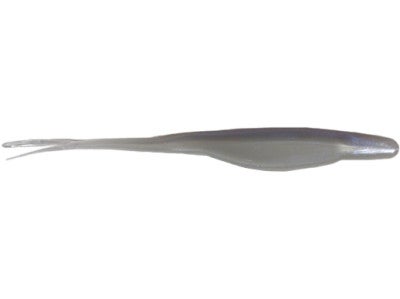 40 Available Colors
More Zoom Soft Jerkbaits