Owner Weighted Beast Hook w/ Twistlock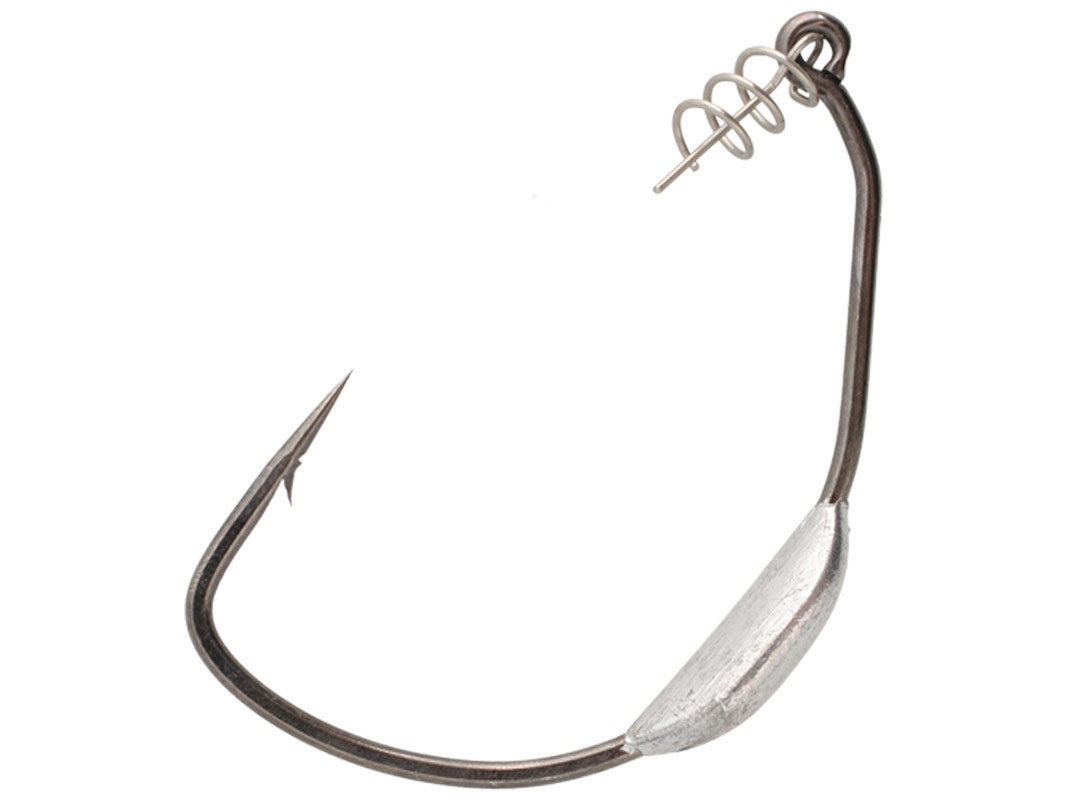 The Owner Weighted Beast Hook with Twistlocking Centering-Pin Spring are designed for weedless-style rigging of larger plastics like swimbaits, flukes, tubes and creature baits. With its Twistlock Centering-Pin Spring attached to the hook eye, baits can be permanently secured by inserting the pin in the center of the nose of a soft plastic, which can then be screwed onto the Twistlock coil spring to rig perfect everytime! Different size springs are matched to hook size to maximize holding power. Quick-drop shank below eye allows for rigging fat-headed baits, and maximum gap allows for improved hook sets because of better bait clearance. The non-movable weight attached not only helps to sink or swim a rigged bait down into the strike zone, but because the weight is positioned so low on the shank, it provides a keel effect. As a result, when rigging large swimbaits weedless-style, plastics swim naturally (as opposed to rolling or flipping where weights are inserted inside soft baits). Ideal for both fresh and saltwater fishing, features include a Twistlock Centering-Pin Spring attached to the hook eye, maximum gap, a XXX-strong forged shank, super needle point, and black chrome finish.
Place Your Order
More From Owner Worm Hooks
Customer Reviews
Comments: The twist lock could be a little better but overall a great swim bait hook I would recommend to anyone
From: Michael 1/21/17
Comments: This review is for the Berkley Sick Fish took me a while to figure out the exact correct size and I found this hooks to be ideal for these size's. Owner Beast 4/0 for 4.5 inch Berkley Sick Fish and Owner Beast 6/0 for 5.5 inch Berkley Sick Fish

Comments: 6/0 is perfect for weedless Topshelf

From: Jason: UT

Comments: The 4/0 1/8oz is perfect for the Gambler EZ Swimmer.

From: John: Plant City, FL

Comments: the hook is way too short, and the gap is huge!! not what i want in a swimbait hook.

Comments: Great hook! I don't do any swimbaiting really but they work great with a Rage Craw. The 1/8oz size gives it a nice slow fall.

Comments: A friend and I caught over 70 bass in two days on Bass Trix Paddle Tail Swim baits with the 6/0 Owner Beast Hook. We never had to change the hook once!!!! They stayed sharp the whole trip!

From: Aaron: Spring Hill, TN
Comments: This is a great hook for hollow belly swimbaits! The 6/0 fits the 5" YUM Money Minnow really well.

From: Scott: Lexington, KY
Comments: These are great hooks. They're very sharp and the wide gap is just the right size. I use these for my basstrix swimbaits and they work really well. The twistlock really keeps the bait from sliding off.

From: Tom: Charleston, SC
Comments:This hook is awesome! I throw my Slippery E's on it and it never rips them.
From:Jesse: Phoenix, AZ