Zoom Horny Toad 5pk - $3.89

The Zoom Horny Toad offers some great features not found on any other soft plastic bait. The shape resembles a frog and most anglers will use them for a topwater frog presentation. The Zoom Horny Toad features two Ultra-Vibe legs that buzz and churn on the surface with a moderate retrieve, and it can be rigged weedless and fished over grass and pads. The Zoom Horny Toad is also great as a jig trailer with the Ultra-Vibe legs giving out plenty of fish attracting vibration in the water. The belly of the Horny Toad is slotted for your hook, allowing the point to push out further for a more positive hookset.
NOTE:The national response to the Horny Toad has been overwhelming! Feedback from Tackle Warehouse Pro Staff and customers has been that the Horny Toad is really catching fish. Most of the use has been as a topwater bait, rigged weightless and fished on the surface like a buzzbait. Anglers are throwing the Horny Toad around grass, pads, other emergent and submerged cover and over shallow structure. The response has been tremendous; you need to try this one!
5 Horny Toads per Pack.
| | | |
| --- | --- | --- |
| Zoom | Length | Weight |
| Horny Toad | 4.25" | 1/8oz |
Comments: Look at all the glowing reviews before mine - like most zoom products, these things flat-out work! I've got reaction strikes on these when almost nothing else was working. Managed to salvage one of last tournaments by throwing white ones at Lake June in the Winter (South Florida lake fished with Bay Area Bassmasters club). Even if you've got other lures that are working on a given day, this lure is probably more fun to fish. Bass often explode on these. Just like other topwater baits, you need to wait before setting the hook (Make sure they still have it in their mouth). These are one of my favorite baits to fish. Almost all the colors work here in central Florida, but I always have packs of white, bull frog, June Bug/Chart Legs, and Watermelon Red Pearl on hand. You need to pay attention when rigging these. Hook needs to be perfectly centered. Take your time. Buy a few packs, b/c they tear up pretty quick.
From: Shawn: Tampa, FL 9/30/14

Comments: hey work incredible. They work especially well in weedy lakes. Top-water, underwater, anything you can think of works. You catch fish, plain and simple. I've had 5 pound bass swallow them, pike bite them off, and even bowfin hit these. I'd personally recommend the green pumpkin, bull frog, tree frog for colorways. If you have clear lakes then the gray ghost works like a charm. Horny toads work like no other soft plastic bait. I'd strongly recommend these for anyone looking to catch fish of all sizes and species.
From: Noah: Black Lake, NY 8/8/14

Comments: Great Frog. I fish it like a real s-l-o-w crankbait. Unweighted on a ewg 4/0 hook. Swims real nice like a real frog. Keep in and under the water. I tried topwater an no luck. A soon as I went in the water non stop action.
From: Mattchew: Flo, MO 6/19/14

Comments: Best bait EVER MADE! I am a diehard Berkley Fanatic; but these are phenomenal. I have caught hundreds of Bass on these baits last season. Last fish of the season for 2013 was an 8-1/2 monster caught in PA. I was a believer before that; but that Bass sealed the deal. If I could only have one bait for summer and early Fall this would be it. Great colors; great price; very durable and the action is incredible. Can be crawled across the top or burned with high speed gear; they catch fish period. I always rig this bait with an Owner 5/0 Superline EWG hook; it's the PERFECT rig.
From: Gary: PA
Comments: My girlfriend and I landed over 30 bass and a dozen pike last July on a weed choked shallow lake where you needed to throw a weedless lure. The Horny Toad was the ticket for success. Luckily we had 4 paks but those pike bit the legs off and our trip ended soon after. Next year we'll have plenty more to use. My girlfriends first topwater bites and she was thrilled. Great bait.

From: Pete and Kim: Oak Park, MI
Comments: Best top water frog ever produced, these things catch multiple speices, rigged up weedless and buring over shallow weed beds or drop offs produces fish nearly everytime. yeah they might be good for a few fish but by gluing the heads on the rig you can double the amount you can catch on one frog and the value they cost who cares if you run through a whole packet well worth having a whole tray full of them, biggest barramundi I've caught on one of these is 108cm yet I've had 120cm + fish blow up on this tiny epic lure.

From: Keegan: Queensland, Australia

Comments: this is a great top water bait the white is great on cloudy days and when the water is merky

From: Jordan: new jersey westampton America

Comments: These are the best top water buzz bait style frog you can buy. I fish Lake Del Valle and the California Delta. I have caught some bass and stripers on these. I love them to death. Like some other people say its a 1-3 fish type plastic but they work so dang good its worth it. It never fails I can pull a small mouth up from 20 feet with one of these and I barely pop it over reeds and lily pads and bass can't stand it. I get blow ups afer blow ups on these.

From: Joe: Livermore CA

Comments: a'ight, mang. here's the deal: these things WORK. BUT-they are good for 1-3 fish. get over it, that is just the way it goes. When the carpet of my hooptie, 1971 Bass Slayer is covered with torn up frogs, I am happy. pick a color and get your frog on, till the break of dawn.

From: MISHAP: livin in America
Comments: I love to use these after midnight around lily pads or close to shore. A solid darker color has given me better results, so I avoid the different colored legs. Junebug, watermelon, and black are my favorite colors, but any other solid dark color should do. The action is subtle enough to not spook fish on glass waters that you find at night, when crankbaits or poppers are too loud. These are my most productive night-time lures, and have never failed to produce fish, from half pounders, to my second largest fish, an 11.9 pounder. My only complaint is that these lures are torn up after 3 fish (5 if you're lucky), so there is a good chance you'll go through an entire pack in one night, whether or not you use the screw in hooks (I personally stopped buying them because they were only slightly better than a big worm hook.) All in all, an absolutely amazing lure that will produce fish without to much effort, and will provide lots of fun.

From: Brad: Orlando, FL

Comments: The bullfrog color catches fish. The feet drive the bass nuts. I rip these over the pads on a fast retrieve to get their attention. Durability is an issue though. Find a color that works in your area and stock up.

From: Eddie: Boston, MA

Comments: BUY THIS FROG!! Black and watermelon red are the best colors drag them on the bottom with a 3/8 oz jig head smallmouth and largemouth hammer it!!!

Comments: Amazing bait. Bass love them. I have these in black and they work very well. 4/0 hook works best in my opinion. Easy to set the hook. Overall they are very good and easy to use.

From: AJ: FL
Comments: This is a very good frog. i had alot of success on it but the only thing about these that i do not like is that they break easy.. my all time favorite is the rage tail toad,then this one but overal a good frog to use for the money

From: Eric: Naugatuck,CT

Comments: got this frog in the black and yellow swirl mainly cause I was just looking for a cheap frog to use. This frog works great. Went out to a local lake and on my second cast pulled in a decent little largemouth. A couple casts later, brought in a 4-5 pounder. The action doesn't look like It would work all too well, at least to me. But do not be fooled. This is a great frog. I highly recommend this frog to anyone who doesn't wanna pay $11 for a single top water frog that doesn't even work as well. Definitely invest in a pack or two

From: Henry: FL

Comments: great frog with plenty of action and works great for me as topwater or submeged on a swimming jig head. did have a problem with it flipping over at first but fixed that on the go by using a clip on lead weight (normaly clips on line for crappie) and clipped it onto the hook under the belly just before the EWG began its hook bend and had no more trouble with it - also cast much better then too.

From: Junyer: AL

Comments: amzing frog it is my go to topwater bait i out fished my friend at his farm pond and he pretty much threw every lure in his tackle box dont get me wrong he was still catching fish but i had him beat once i started throeing it amazing frog i would rig a watermelon red horny toad weedless with no weight on a 3/0 red ewg hook throw it paralell to a bank with a lot of cattails reel it in a little bit then kill it let it set for about ten seconds pick up your slack if you feel a fish set the hook if not then drag it a little bit let it set again

From: Nick: Ohio

Comments: best frog ever made i out fished my friend who was using powerbait worms hula poppers every bait he could think of and he could see how i was out catching him i would throw it in front of some cat tails watermelon red weedless rigged with a three ought ewg worm hook rell it on top of the water for a few seconds and let it fall to the bottom let it sit for about 10 seconds about every time i put tension on my line i had a fish it drove those bass nuts

From: Nick: OH

Comments: Best frog every made! Period

From: Tyler: Timonium, MD

Comments: got some of my most biggest bass on this frog zoom great job

From: Bodee: St. Augustine, FL

Comments: Great bait!! but only one problem they flip over but it still catches me fish in key situations. 5 stars

From: Brett: Madison, IA

Comments: These aren't the most durable toads on the market, but if you use the screw lock hooks, you'll be able to use the same bait much longer and it tends to keep the bait upright. If you want more action out of the legs, cut a small slot where the legs meet in the middle. This will give the legs a little more noise and better splash.

From: Dan: Madison, WI

Comments: went to my friends house and fished their pond with a yellow horny toad first cast on dollar lilies and a 3 pounder busted it then 3 casts later same retreive 5 pounder ate great bait keep on making great bait zoom.

From: Wil: Callahan, FL

Comments: I cant get it to swim upright, it always flips over, but i still catch em. great action

From: Bryce: Orange County, CA

Comments: awesome frog but one thing i do that alot of people dont do is kill it and let it fall they nail it on the fall like a jig or ill twitch it after i kill it under the water and it looks like a real frog swimming for its life try these tactics and tell me what you think

From: Joe: CT

Comments: just fantastic. best action on the market, and durable as steel. you need some. my buddy nailed a 4 pounder at dusk in a little pond with it. use the hook zoom makes for it with the screw lock. just a flat out killer bait.

From: Scotty: VA

Comments: The zoom horny toad is not very durable, leading the head to tear. The legs I find are also way to close together, I had to melt them apart to give them more action, but besides that, a great frog packed with salt for beginners in open water with explosive results on bass. A great value for money also.

From: Dominic: WA

Comments: white.buy.it.works good around june or july in the evening weightless.

From: Connor: AR

Comments: The watermelon crawfish is a great color, here in wisconsin the muskie go crazy for them, i caught a 40 incher on one.

From: Tony: WI

Comments: Sick ass frog right here. ive been killing it with white and bull frog colors. i use a shimano curado high speed reel, a quantum dean rojas signature series frog rod, and 60 (50 would be ok in sparser vegetation) lb sunline fx2 braid. I use the stanley double take hooks with these horny toads with great success. The double hooks prevent the bait from rolling over on the retrieve, and i get an almost 100 percent hook up ratio.

From: Julian: Amherst, MA

Comments: This is my favorite bait and I use this bait on my favorite rig, endorsed by my favorite fisherman! A Skeete Reese rod and reel combo with my Wiley X's! I love this bait HUGE topwater action!

From: James: Lake Toho, FL

Comments: Caught a 5.6 and 4.8 on these the other night from the back of the boat (2 biggest of the day!). The white HT has been my favorite so far. The 5.6 came on a Watermelon Crawfish color. This color is different from what is pictured on this site. The real thing looks a lot like a female bluegill in color... I've had great hook up success with 5/0 Owner EWG hooks and 5/0 Owner screw lock hooks. I believe the EWG option makes them run more true but both hook up well on this bait. I fish mine on 40# Power Pro braid... Another GREAT BAIT from ZOOM!!!

From: Scott: Lexington, KY

Comments: Great lure caught a 7 and a half pounder on the first cast and proceeded to catch multiple 3 pounders after that, but it tend to roll over so you have to be careful.

From: Victor

Comments: After using the ribbit frogs I decided to try these to see if they were as good. when i first threw it I thought that it didnt have enough action but after having a bunch of bass hit them I am sold on them. These are great!

From: Aubrey, TX

Comments: best frog ever i don't know what some of these people are talking about but these things are the best

Comments: Worest frog I have ever used and do not have any action

From: Bryce: Louisville, KY

Comments: To see a 5+lbs. Florida large mouth Come up out of the water 2' from the toad and Come down on top of ur horny toad.....I own a camera now... Even keying it fall to the bottom can have some good Results....

From: Bill: Gainesville, FL

Comments: by far the best toad on the market. I just caught a 6 lb bass yesterday in the delta.

From: Jake: Sacramento

Comments: My favorite frog ever, had sucess with multiple colors ( black n white swirl, green pumpkin w/ white belly and the straight black and white) are all good colors depending on cloud cover and water clarity. I have tried a lot of frogs and these are the best, try letting them sink a little for those really suspicious bass and your numbers will improve.

From: Sam: Crestview, FL

Comments: By far the best soft body frog I've used! Catch alot of good fish on this! You can get your pocket picked very quickly with them though, not very durable, but you will catch fish using them!

From: Anthony: Detroit, MI

Comments: the horny toad is by far the best soft body frog on the market in my opinion.the watermelon seed caught me my wallhanger at 7 pounds,fish the horny toad,you wont regret it.

From: Nathan: Georgia, USA

Comments: using a 4/0 Gamakatsu EWG hook (red ) with a 4" horny toad ( watermelon crawfish ) they kill this toad , I had to buy another package because the first package bait was so mess up. Could even really fix it with glue so I bought another one and they love them .

From: Erik: IL

Comments: The Horny Toad is killer. I rig it with a 4/0 Gamakatsu superline EWG spring lock hook with 50 lb braid and swim it through the tickest pads I can find. The bass slam it! I have also had success by pausing it and bass can't resist the leg action on the fall. A spring lock hooks helps prevent the nose from getting torn up. I have caught multiple fish in the 3.5 to 5.5 lb range on this bait. If you use this bait, hold on tight!

From: Teyrry: MA

Comments: Great frog!! I tend to use the Ribbits a bit more, but these frogs are good too.

From: James: Orange Park, FL
Comments: amazing bait looks great in the water
Comments: what a great frog! i dont use them all that often but when i do they always procude! got a whopper 7lb largemouth on this the other day! howver bass arent the only thing that will crush this bait down here in florida i have caught some lunker snook! 35+ inches on this bad boy! what an exciting strike!
From: A.J.: Florida, USA
Comments: This lure is unreal obviously it can be fished on the surface, but I have had much more success letting it sink down..

From: Mike: Long Island, NY
Comments: These lures are so real that I had an owl attack my white one just as the sun was coming up. I had to yank it away from it as it flew right between my partner and I in the boat. If that doesn't tell you how real a lure is, I don't know what does.

From: James: Navarre, FL
Comments: Unreal!!!!! Was looking for the most simple and effective lure to use at any pond or lake at any time of year, OH BOY did this lure prove twice its weight in gold. Bought my first two pkgs at a local store and after my second time out with them, I had none left. First nite I used, I caught a 5lb 12oz lm!! along with multiple 3s. Northeast fishing, that is fudgn awesome. So far this year I have 7 fish over five pounds including a beautiful 6lb 9 oz chunker. What more can I say, if u dont buy, u will be left out. Thank you Tackle Warehouse for supplying me with ammo when no others in my area could. I spent extra money on shipping, but the pictures in my portfolio were well worth it. I just hope not many more people find out about them. Just buy yourself some mend it and these lures will last for several fish. Have glued mine about a dozen times and still catch em. only throw away when feet are bitten off. BANG FOR BUCK--- PRICELE$$$

From: Tour Guide Tom: Northbridge, MA
Comments: The horny toad is a reliable producer, both in the slop and in open water near weeds. Nothing complicated about this lure, just buzz it back for a nice subtle buzzbait type action, and drop it in to any open holes in the weeds.

From: Big J: Houston, TX
Comments: Used these for the first time EVER in my first bass tourneyment EVER today. OMG!!! As soon as we pulled up on our first spot at "safe light", we were getting strikes like crazy on the black. It took me 30 minutes to calm my nerves and adrenaline to finally realize that I wasn't landing my hook set because I was yanking the bait out of there mouth. After that, I landed 5 keepers back to back for my limit within the first 2 hours on the water. I culled 2 more fish in the next 2 hours. In total, I landed 9 fish in 3 hours and had 2 times as many strikes!! After the first 2 hours I switched to Green Pumpkin Pearl and it produced as well. Going to buy more and you should too!! Used them on the Zoom Horny Toad 5/0 hooks.

From: Rich: Manhattan, KS
Comments: I went fishin whith my sister and cousin in a local little pond. I did not think I would get anything there but I cought an 8 pound bass at dusk, changed my view of little lakes.

From: Colby: Seminole, FL
Comments:The best topwater frog out there, works great with the Zoom Horny Toad 5/0 hooks. Love fishing lily pads, favorite bassfishing time of year!
From:Tom: Wallington, NJ
Comments:Great top water lure, it gives of a lot of vibration and action.
From:Weber: Rochester, NY
Comments:This is a remarkable lure. Will catch bass in all different sizes. This is a must for anyone's tackle box.
From:Jody: Porter, TX
Comments:I caught a 4 1/2 pound largemouth in thick brush at Lake Success on a watermelon candy toad. I went back and caught a 7 pounder on the green pumpkin/pearl and 15 minutes later a 5 1/2 pounder on the same lure. These things come through brush really well and they catch fish. The 5 1/2 came when I stopped the lure and let it dip down at an isolated bush. I twitched it back to the surface and she ate it.
From:Steve: Bakersfield, CA
***Note: If you have questions about this product or need assistance with an order please email your questions to info@tacklewarehouse.com
Color:
Black
View Large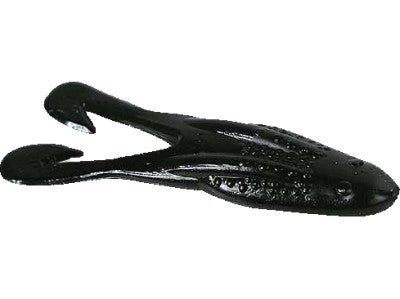 18 Available Colors
More Zoom Topwater Baits