Gambler Big EZ - $3.99
An enticing meal for any fish, the Gambler Big EZ delivers a realistic profile in the water, and the combination of its segmented body and paddle tail create a thumping swimming action fish can't resist. Available in a variety of colors, rig the Gambler Big EZ on a belly-weighted hook or with a screw in weight and the Big EZ's erratic swimming action will do the rest.
Comments: The weight of this bait casts easily, and thumps even on a slow retrieve. Pike and largies absolutely demolish this bait. I slide a 1/8 oz. Shaw Grigsby tube weight on the shank of the hook, and let it fall to the bottom when the bite gets tough. The fish either hit it on the fall or suck it right off the bottom. Superior Spring bait, and the best value out there.

From: Papa: USA

Comments: Great swimbait in the grass. Rig it on a 7/0 hook with a 1/4oz belly-weight and hold on! Put a little JJ's on the tail!

From: K.C.: Lake Wales, FL

Comments: I use alot of Gambler's baits. The Big ez is by far my favorite. It just flat out catches fish. This bait and Senkos i never leaver leave home without. The copperfield and the fortyniner are my favorite colors they emulate the golden shiner extremely well. Thats how I catch those big nasties out here in South Florida. By the way for you saltwater guys out there they also catch snook and reds.

From: Boynton Beach, FL

Comments: Great bait, very good swimming motion, soft enough to swim and wiggle lively, tough enough to last a long time on a weighted swimbait hook. Nobody can go wrong with that bait.

From: Fab: France

Comments: used them today 06/16/2012 - me and my bro just killed em! rigged on 6/0 Owner Weighted Beast Hooks. caught a bunch of smaller fish - 1-2lbs and a couple pushing 5. pulled in a ton of northerns as well - including 2 at 40"! a few guys out there tossing other stuff but not hooking into anything at all. not a bad day for us at all!

From: Cheng: Maplewood, MN

Comments: Great baits these are my favorite bait currently I have caught some monsters on these. I use a 7/0 1/8oz davis baits or gambler hook with these.

From: Brett: South FL

Comments: these work awsome texas rigged with a belly weight or as a trailer on a swimjig

From: Jacob: Lakeland, FL

Comments: best swimbait ever! fish on top, off cover, down deep they are great and they smell great too!

From: Jacob: Lakeland, FL

Comments: I love these things. I use a 6/0 or 7/0 Gamakatsu 1/4 oz bellyweight screwlock hook. Over the top or on the edges of grass with a fairly fast retrieve and hang on. They really smell strong so don't leave them laying in the boat.

From: Patrick, Palm Beach, FL
Comments: This is a great swimbait for the money. The tail paddles at a really slow retrieve. Casts a mile. You do need a really big hook for it. The body slides down the bent part of the hook if you use an offset hook after a few hits. I think the solution to this problem would be using a texposer hook by Lunker City which is a great swimbait hook anyway. 6/0 is perfect. (recommend the 1/8 or 3/16 oz. belly weight as a keel). If it slides up on the hook the bait helicopters thru the water.

From: Steve: W. Milford, NJ
Comments: These baits are great for the money. They last a long time and produce strikes. The scent is ok, a little heavy on the garlic for my taste, but the fish seem to like it. I've had the best luck fishing it weightless, despite the description. Kicks hard even on slow rolls. I recommend this bait, as a great back up soft swim.

From: Joe: Massachusetts, USA
***Note: If you have questions about this product or need assistance with an order please email your questions to info@tacklewarehouse.com
Color:
Black Blue Flake
View Large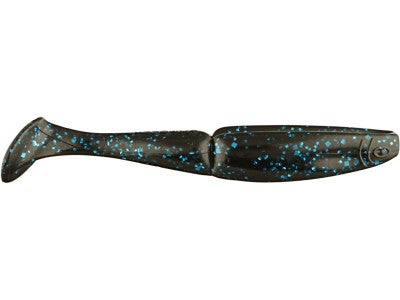 23 Available Colors
More Gambler Swimbaits