Captain Ken's Clone Series Frog - $8.99
Captain Ken Daubert has been making bass fishing frogs for over 30 years - continually enhancing and improving their designs. Utilizing the full extent of his knowledge and experience, the Captain Ken's Clone Series Bass Frog delivers incredibly weedless performance. Designed to slide over vegetation and dive under lily pads with ease, it is also composed of a durable yet spongy foam material that will allow it to endure many battles with big bass.
Bringing the Clone Series Frog to life is rather simple. Pull the frog forward, and it's legs will extend behind it, and as you pause it, the legs will slowly move forward, producing the lifelike swimming motion only the Captain Ken's Clone Series Frog can provide. A specialized "Cross Planar" hook stays weedless thanks to its unique weedguard, while also delivering excellent hooking capabilities. If you are looking for a frog with a natural swimming motion that has been proven to fool bass time-and-again, tie on Captain Ken's Clone Series Frog.
Comments: I've been using these frogs for awhile now and yes they do produce fish and for the people who doesn't know how to use the bands here's a link from capt ken that will yeah you the easy way to put it onhttp://youtu.be/pmWy8t-vpZc
And for the tackle wearhouse people u guys are awesome at getting baits where no one else carries them.
From: Ntau: Cottage Grove, WI
Comments: I just want to say that Ken is THA MAN! The best customer service!

From: Rui: Queluz, Portugal

Comments: This is hands down the best topwater lure I have ever used! The bass and especially the snakeheads destroy these things. These are better then the live target and strike king frogs by far! I have bought frogs from all parts of the world, thailand, singapore, etc and they also cannot compare. If you are serious about catching big fish you need these frogs! You will not be disappointed!

From: Matt: MD

Comments: The words said above simply do not make sense to me. These are a pain to keep together. The weed guard is a joke - the legs were lost before a fish was even caught. I trusted this frog. I believed in this frog. I wanted this frog to work - end result, nothing.

From: Ryan: WI

Comments: The Stinger Hook from the Kit will slip right on with the Kicking Legs in seconds, and the Skitter Legs with the Stinger --- hook everything. I know from personal experience that the stinger hook gets even small adventurous crappie

From: Tommie: Brandon, MS

Comments: These frogs are amazing !!!!! The fish just annihilate these things. I really like to put on the skitter legs and to small twitches with the frog in open areas in the thickest lilies you can find. The hawgs come screamin for these things. Also with the rubberband weed guard i will throw this frog over stumps and fallen trees and never get hung up. the hooks are strong as anything also, i caught a fish over a log drug the fish back over the log and boated him, all the time the hook stayed right in the corner of the fishs mouth. Down here ive had the most luck with the black and yellow and brown spotted bull frog. All i do is chunk frogs at fish and these are the best frogs on the market by far.You also dont have to stop ever time and sqeeze water out of the frog. I cant wait for frog season down here again.

From: Tommie: Brandon, MS

Comments: Hello I wanted to buy this frog but was just wondering if there is any way of putting a trailer hook on with the legs that come with it, because a small 2 lb bass will not be able to get hooked on this. If anyone could help me that would be great. Thank You

From: Chris: Ontario, Canada

Comments: If you want to catch big bass, you need to be fishing with one of these frogs! There is only one lure that is better and that is a live frog! One of my clones is so beat up from bass hitting it, I had to retire him! Caught the biggest bass of my fishing life with this frog. It was a 6.2 lb monster that I will never forget. Thank you, Capt. Ken!

From: Bruce: Bedford, NH

Comments: I've fished these frogs quite a bit and caught some really nice bass on them.If you know someone with braces, the rubber bands that orthodontists use are better.Buy a metal crochet hook to put them on the hook.You can thank me later for that.I also use tiny o rings to keep the hook in place.Throw it in the nasty crap and work it slow.If you live in Western Mass give me a shout.We'll go get 'em.Maybe even chow down on some Billy C's Jerky.

From: Larry: West Spfld, Mass

Comments: I live on a small lake in South Carolina. Since 2005 when I moved in, I've caught many bluegill, sunfish, crappies and only a few bass. Of the two big bass I caught, one was on a frog lure. I'd pretty much given up on bass and then I bought one of these frogs (light green) and in less than an hour of fishing time I caught the biggest bass in 6 years and hooked a second one of equal size that managed to wrap the lure around a log and escape. I switched to my other remaining frog (yellow) and caught two more smaller bass in 24 hours. For the smaller bass, you need to insert the extra hooks in the tail of the lure. I can supply the pics if you don't believe me. They'll be in Captain Ken's site very soon. The negative reviews are quite obvious competitors. I used competitor frogs for several years and caught only one big bass in several years, whereas in 24 hours I caught 3 on these frogs. NONE of the competitors have the kicking motion or detail of even the cloned frogs. When you give the line a quick pull, the legs of these frogs kick back and then forward, looks very real as the bass will agree.
DON'T beleive the negative reviews. It's all too easy to log on with a bunch of fake names and slander a smaller, but superior, competitor.
But don't take my word for it. Buy one and try it; if it doesn't work they give you back the $9.

From: Erik: Fort Mill, SC

Comments: Bought 4 more clones today & a couple paks of Ken's skitterlegs & read thru some of the reviews - gheeez! Glad I didn't see all those negative reviews before I bought the first ones or I might not have bought them to begin with. It's a shame it has so many bad reviews because I think it's one of the best frog lures out there. Guess people either love it or hate it - no in-betweens here! Put me in the "love-it" column - in the process of retiring the hollow bodies & just froggin clones. I've never done a review before but feel obligated to put in my 2 cents to balance the negatives. I can understand why some don't like these because they do take a little more finesse than a simple hollow body - but to me the fun & reward is worth it. Besides catchin bass - here's what's good about clones: 1. the frog body is easily removed from the hook so you can change colors & 5 different leg action combo's without having to retie the hook. 2. with the skitterlegs & stingerhook kit you can pre-make a bunch of different color frogs with different leg actions & with or without stingers -- then just make changes for different presentations by sliding one frog body off the hook & different one on - eliminates retying on a whole new lure. There's 5 different leg action combinations plus colors to use with or without stingers. 2. stinger hooks can be made weedless by texas rigging them. 3. take the frog body off the hook & the nose hook makes a weedless wacky rig without having to cut & retie. 4. you can impart better action than any other frog with a little practice & patience.
The owner, Ken, has a website that explains how to finesses these frogs for great results at www.bass-frog.com. Go thru the info on the leg system, frog lip hook system, frog hook page, frog legs page & videos to see how he fishes it. For me - the time & patience spent to learn Ken's system has lead to tons more fun than hollow body frogs with bigger bass & bigger blow ups. Love these

From: Bob: Vermont

Comments: Bought one of these as an alternative to the Spro Frogs that over run my boxes - last one. I do not see the leg action that I though I would see. Also where a Spro will find its way through pads, the hook found its way into EVERY elephant ear pad. Frog looks good and I took the bait. But does not hold a candle to a Spro.

From: Ryan: Gays Mills, WI

Comments: Threw this a couple times at the ponds with high hopes, man was i wrong. i had a couple blow ups but that was it. Weed-guard is a joke, need more realistic paint job and too light to throw effectively with 65lb braid and a heavy action rod.

From: Tony: Chicago

Comments: I've used these frogs and they do produce fish i mean big ones too... The first day i got the frogs took them out of the package took them to the lake messed around with it by the side of the canoe and a 8 lbs bass came out from under the canoe and slamed it hard i mean real hard it broke the tip of my rod but was really happy with it.....

From: Ntau: Cottage Grove, WI

Comments: the body and legs are fine and produce an enticing swimming motion, but the hook solution is poor, infact the hooks moves a lot and the elastic band breaks easily...your choice

From: Sticauzz: International

Comments: The frog is horible the body not realistic the hook sucks the weed guards break and are to hard to keep on when it hits the water. I will throw the frog work it every way possible and wont get a thing, thats when i switch to the Koppers Live Target frog or the Jackall Iobee frog my 2 favorite frogs to throw and the catch bass check them out on You Tube. Dont waste your money on the Capt. Ken frog trust me.

From: Lane: CA

Comments: Didn't catch a thing on this frog worked it fast and it slow had many bass come at it and look at it then turn away they don't seem interested so i tryed the skitter legs kit same thing happened i wouldent buy this frog i will stick to the Jackall Iobee frog and Stanley Ribbet frogs :(

Comments: To the point...these work, they work good. I will give you an even better account of how good they work after June 30 when I fish a tournament at Lake Guntersville here in Alabama. Best frog....ever....EVER!!

From: Angel: Calera, AL

Comments: The design on this frog is laughable. Complete fail on the hook in front of the bait and the weed guards are a joke. People want a ready to use out of the package weedless frog. If it was a great frog how come nobody on the bass trail uses them? I want my money back!!!!

From: dissatisfied customer: the florida swamp
Comments: Dear Readers, whether you have the chance to try the Clone Series frogs or not, I'm here to tell you it is phenomenal. I purchased a few clone frogs back in February. Within a hour of fishing, I had caught half a dozen bass. Within the first month, my phone and my buddies phones were filled with pictures. I must admit, I spent a few hours on the phone with Capt. Ken trying to pick his brain on better ways to "fish it" in certain situations. This, along with reading all the material Ken sends really helps to understand the set-up of the lure. The movement and size make a great attractant bait. Living in Florida we have many kinds of frog species, and I ended up purchasing a couple Signature series frogs as well to match my hatch. I have caught many large bass over 4 lbs. lately, and a few over 6lbs. Key is to use the frog in the right situation, and the right conditions. just like any other lure.I highly reccommend these lures to anyone who enjoys topwater bass fishing as much as I do.

From: Sean: St. Pete, FL

Comments: With the silicone molded weedguards that come with the Clones, you should lightly "prestretch" them before attaching them to the hook. The accessory Kit with 3 spare FROG Hooks + 30 weedguards gives this tip on the back of package. You can also switch to the latex style that I use in both lightweight & heavyweight. All 3 choices have their advantages, and I use them all in different cover situations.
By the way, I should apologize about not educating people quickly enough on many things about this very different & ever changing family of FROGs, but ever since they appeared with the lead photo in BassMaster & on the cover, I have been unable to keep up with it all. I think all 5,000 members have called or emailed. I am very behind on the websites, but we do have members of the FROGMEN Fishing Team that do help to educate users --- and we are looking for more volunteers !

From: KenDaubert@bass-frog.com
Comments: the weed guards are pointless i break it every time i try to put a new one on. whats the secret?

Comments: This comment is for Mike in Jackson, MO: I am here to make you happy again with a total refund, but I would like a chance to change your mind. I guarantee satisfaction, and I love talking to users. I am easy to find and talk to. I spend every day talking to users by phone & email. I run a very personalized business --- ask anyone who knows me, including many of the best known anglers in the world. There is no scam. I would quickly go out of business guaranteeing satisfaction if the FROGs did not work. You will notice from the previous posts that some people do not want to use any of those other lures after using this FROG. You were wrong on many obvious points, espec ially about what I'm using in "all" of the videos. Perhaps you made a hasty judgement or need some other help? But no offense taken.

Comments: got one of these a while back and caught tons of bass in the time i had it. about 3 weeks after it came in the mail, i big ole' fat bass jumped up and broke my 65 lb braid. this bait is a must for any serious frog fisher.

From: Reid: Newton Grove, NC

Comments: Absolute junk. I'm shocked TW would carry a product like this. Pure snake oil, similar to the banjo minnow, helicopter lure, etc. I fell for it and was sorely disappointed. Stay with the major frog makers and don't waste your money with this. And don't fall for the youtube videos they're try to get you to watch either because they're using a totally different frog. Key word here is "clone" meaning the same, or like, or similar, or exact replica. This frog is nothing like it. I took the hook off, threw the melted legs away, and let my son use it for a bath toy.

From: Mike: Jackson, MO

Comments: If anyone has ever used the Banjo Minnow this is the same rigging concept. The Banjo Minnow comes with little black O-rings that slide over the hook to prevent the hook from sliding out. You can get them on the Banjo Minnow website.

From: Tony: Chicago, IL

Comments: Matt, it is rare for the FROGs to fly off the hook, and the quick change aspect is a real bonus, but you can place a keeper over the connection ---if concerned. (KenDaubert@bass-frog.com)

Comments: i bought one of theses clone series frogs last year in the light green this frog might not look amazing but it sure work great hands down one of the best frogs i own... its a must have!!!!

From: Mark: Suring, WI

Comments: this is for matt : illinois-- to help the nose hook from sliding out of the lures eye connect for the hook, use a keeper like a bobber stop or a round piece of rubber. i make my own with a paper punch and piece of inner tube. sounds simple but it works. good luck-------

From: Wes: Salinas, CA

Comments: Great looking frog cant wait for frog fishing it couldnt come faster! great action and im kind of worried about the hook slipping out of the eye hole and then the frog just floating in the lake so im not sure if there has been any problems with that let me know if any one has had that happen to them where the hook on this bait slips out of the eyehole on the frog. the warm weather needs to hurry up and get here in illinois

From: Matt: IL

Comments: i wish i had never bought these frogs! now, i have a lg. box of other brands that i will probably never use again. if you want wrist-jarring strikes when using a frog bait, look no further. the hook set-up looks phony but they hook as well or better than than any other frog on the market. the banjo minnow lures seen on tv were the first with nose hooks i ever saw and they worked, so i should have known. yes, i use banjo minnows and if you don't shame on ya! these great little frog baits were only seen on the computer or in eastern fishing mags until now. hurrah for tackle warehouse!! please keep some in stock. now if they would only stock arbogast hula poppers. these are sleeper little baits, wake a few up and take them fishing. you will NOT regret it--

From: Wes: Salinas, CA

***Note: If you have questions about this product or need assistance with an order please email your questions to info@tacklewarehouse.com
Color:
Black Yellow
View Large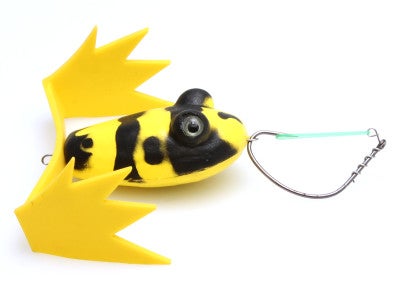 6 Available Colors
More Captain Ken's Frogs