Gamma Edge Fluorocarbon Line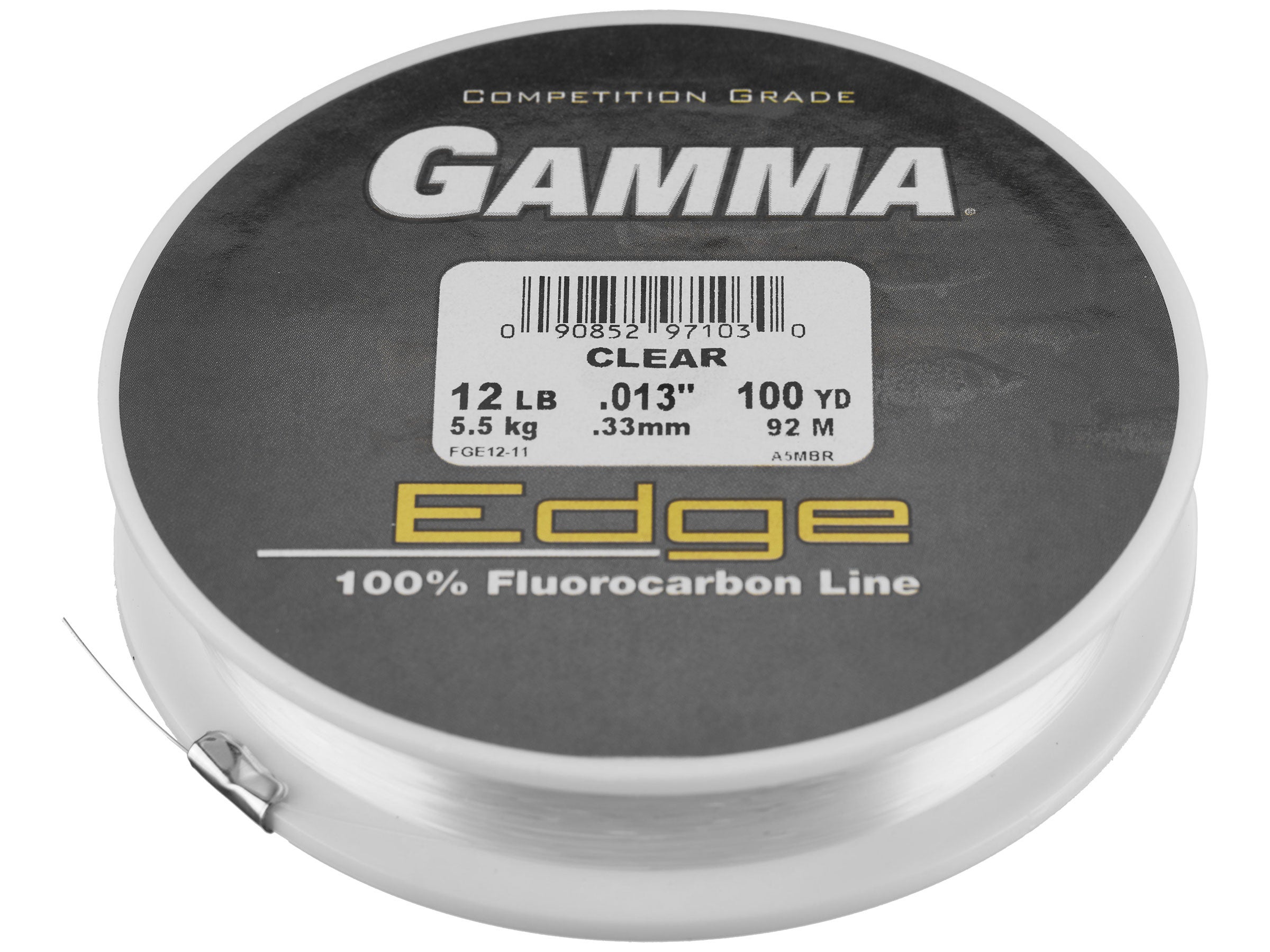 BassFan's Product Review on Gamma's New Fluorocarbon:
The new Gamma Edge line is 100% fluorocarbon, but one problem with fluoro has always been its stiffness. The more flexible the line, the easier it lays on the reel, and that's where a lot of fluorocarbons struggle. Gamma Edge impressed us in terms of flexibility – it lays well and is very castable, even in the heavier test- strengths. Click here for a more in depth review from Bass Fan
| | | | | | | | |
| --- | --- | --- | --- | --- | --- | --- | --- |
| Line Diameter | 6lb | 8lb | 10lb | 12lb | 14lb | 16lb | 20lb |
| Inches | .010 | .011 | .012 | .013 | .014 | .015 | .017 |
| Millimeters | .25 | .28 | .30 | .33 | .36 | .38 | .43 |
The Gamma Performance Money Back Guarantee: If you are not convinced that Gamma's high performance lines are the best you've ever used, Gamma will refund your money. For details, please visit Gamma on the web.
Place Your Order
More From Gamma Fishing Line
Customer Reviews
Comments: This stuff is TOUGH. It is a stiff line, but it will last forever. Like the others write, this stuff doesn't just break. Randall Tharp talks about using 20 lb. It is more like 30lb. Even their 16lb is more like 20lb. I use 16 and 20 to flip & their 14 for deep cranking.
4/27/16

Comments: I have used Gamma line for about 14 years and love this stuff. You definitely get more than what you pay for with this stuff. Ignore the price cause it's worth every cent. I have never lost a fish because of this line. In 14 years I have lost 2 or three 3 fish because of tying knots in a hurry. Definitely recommend this stuff.
From: James: MA 7/6/14

Comments: I'll add my two cents worth. Like almost everyone has said, Gamma is the best Fluorocarbon line on the market, when judging strength, durability, and sensitivity. It can be a little stiff but will relax some after using KVD line and lure. Many fishermen say that Sunline is better but to me, Sunline isn't as strong as Gamma line is. Gamma is pretty expensive BUT, you get what you pay for. Many pros swear by Gamma, not just sponsored ones, so there must be a reason! Gamma for life!
From: Tom: Charleston, SC 5/5/14
Comments: This line is by far the best. I've been using it since it was introduced and it is unmatched in durability and handling. No other fluorocarbon line compares. The light line is especially good. I can't tell as big of a difference once you get above 10 pound test, but the light line is leagues better than any of the competition. Don't get me wrong the heavy line is good, but the light line has incredible strength. Don't waste your time buying the competition, this stuff is the best.
From: Cody: AL 3/27/14
Comments: The best line out there. Here's a test you can try yourself. Tie a knot in your favorite floor. Then take 2 pencils and tie each end of the line to either pencil shaft. You will use pencils as handles to pull the line until it breaks. Now with the tied knot in the middle of the line and handle on each end stretch the line until it breaks. 100% of the time it will break at the knot. And notice how easily it breaks. You may have 10lb test line but it is 40% weaker at the knot. Once you try that get a piece of gamma floro from a friend or buy then do the same test. You'll never buy another line period.

From: Rich: Carrollton ohio

Comments: Gamma fluorocarbon already has tons of great reviews for people looking to try this line out out but i figured i would throw my comment in as well. For those of you who have not used it, This stuff does not break!! I have used almost every line brand on the market and this is by far the best! My top line choices are sunline sniper or shooter and this. I feal like this has a little more strength thought than sunline and lasts a little longer too. It doesnt twist up bad at all and the life spand of this line is about 50% longer than any other brand. Even though it is a little pricy, buy the 100 yard spool just to try it out and i promise you will love it!

From: Dudley: Valdosta, GA

Comments: The strongest best handling flourocorbonline on the market, period.

From: David: Richmond, VA

Comments: Honestly this is the best flurocarbon ive persoonally used. I have tryed about 9 other flurcarbons out there and this by far blows them away it has minimal memory and very little stertch. it is a little pricey but the performance of the line defitnetly reflects on the price. If your planning on trying trilene 100% dont it has the most memory and if your reel sits for maybe a week without being used that memory really really shows. for the price trilene is at it should be much better. Stren is probably the worst fluro. Seaguar tatsu not a bad fluro either but is also pricey. Moral of this story is to get Gamma Edge Fluorocarbon Line if you want one of the bests flurocarbons.

Comments: Best Line I have ever used. I have seen it time after time, out doing all the rest of the lines on the market.

From: Dave: South Africa

Comments: Outstanding!!!!! Thats really the only word that describes this line!!!!

From: Western PA

Comments: I have used every type of fluoro on the market today and gamma edge is the strongest longest lasting fluoro there is. It is unbelievable, the strength to diameter ratio this line has. You don't have to worry about breaking fish off anymore.

From: Brent: Rochester, NY

Comments: This stuff has never let me down!!

Comments: this is the best fluorocarbon i have ever used id like to thank payton hese a good friend of mine for getting me to use this line and its all i will use now

From: Dalton: Wetumpka, AL

Comments:Gamma is the best line period from the strenght an durability no other line can compare to Gamma!!!
From:Payton: Wetumpka, AL
Comments:Gamma is the best line on the market with out a doubt, from strength to durability, there is no other line that can compare.
From:Payton: Alabama