Oxygenator U2 Pro Formula - $2.95 to $8.99
The Oxygenator U2 Pro Formula keeps fish healthy and anglers from incurring costly penalties at weigh-ins. By adding essential electrolytes to live well water and removing harmful nitrates, ammonia, chlorine and heavy metals, the Oxygenator U2 Pro Formula ensures your fish make it to the dock at their optimum weight. The U2 formula was developed from over 15 years of research and is proven to replace skin slime and stop fish from bleeding. A fish under duress can experience weight loss or regurgitate what it has recently eaten, causing you to lose precious ounces. Protect yourself against penalties and fish against injury with the Oxygenator U2 Pro Formula. Oxygenator U2 Pro Formula is the trusted choice for professional angler Denny Brauer.
- Approved for use with THE OXYGENATOR
- NON-TOXIC to Humans, Pets and Aquatic Life
- Removes Nitrites, Ammonia, Chlorine, Chloramines, and Heavy Metals
- Adds Essential Electrolytes
- 1 oz Treats 60 Gallons
Comments: This is by far the best Oxygen supplement I have ever used in my wells. Not only does it keep the fish alive and calm, but it doesn't leave that nasty residue like the crystal stuff. It won't clog your Oxygenator either! Plus, its cheaper.

From: Hunter: Bono, AR

***Note: If you have questions about this product or need assistance with an order please email your questions to info@tacklewarehouse.com
Color:
1oz
View Large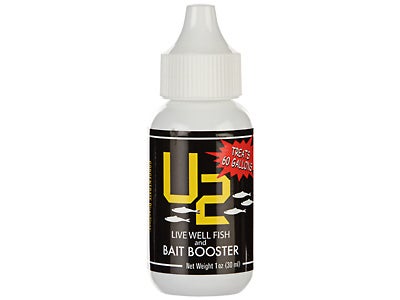 2 Available Colors
More O2 Marine Livewell Accessories