Owner Wacky Hook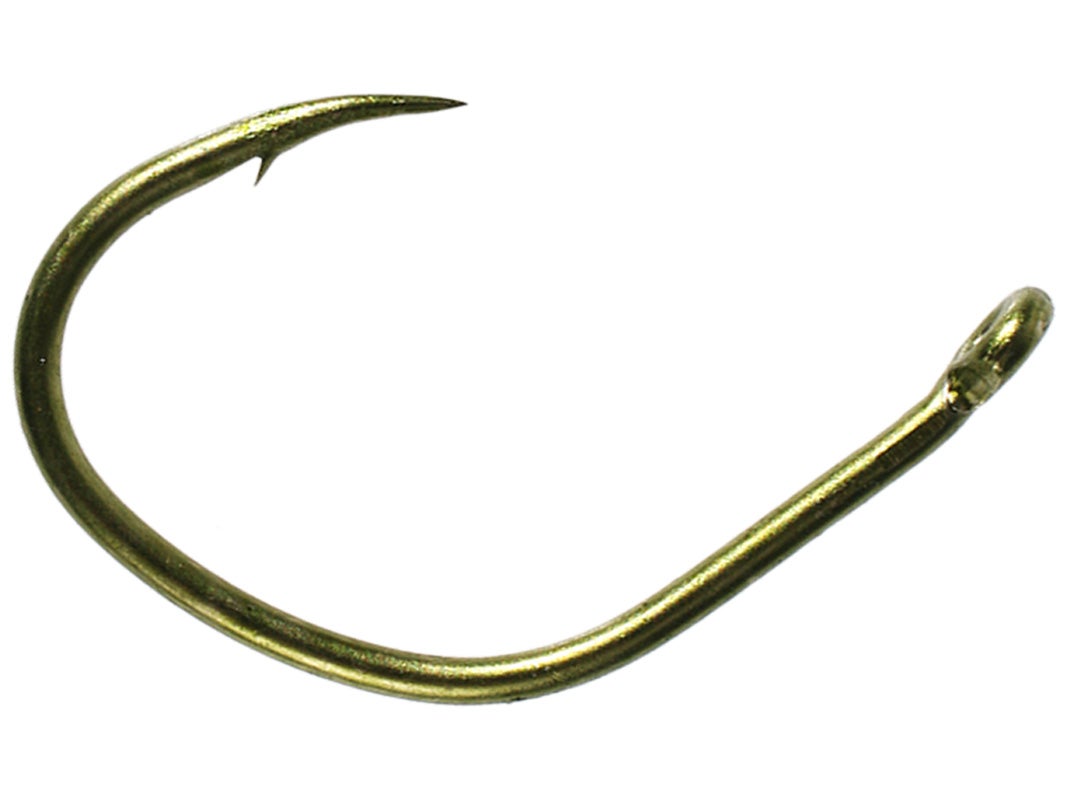 The Owner Wacky Hook is perfect hook for drop-shotting soft plastics. The hook gap's sharp-angle bend serves as a saddle that encourages a worm rigged at the middle to seek an optimum position for an enticing horizontal presentation, which makes this an ideal hook for wacky worming. Features a Super Needle Point and camo green finish.
Place Your Order
More From Owner Miscellaneous Hooks
Customer Reviews
Comments: Best hook for wacky rig hands down. I use the 1/0 with 5" senkos & have a hook up ratio of 90% or better. I have landed bass from less then a pound to over 5# with these hooks. I have never had one break. They also work good for drop shot.
From: H.S.: MD 7/18/16

Comments: these are the best drop shot hooks as long as you are nose hooking your baits. Use rebarb hooks for t-rigging drop shots
From: JC: IN 11/17/15
Comments: These are very good hooks in my opinion. The hookup ratio is great, there is no need to give a hard hook set and risk pulling the hook out of the fish's mouth because once hooked they will stay hooked. The only negative I have is that after 15-20 bass caught I noticed the camo paint coming off showing the plain silver hook underneath. This isn't a turn off for me just something I noticed. Plan on buying more in the 2/0 style.
From: Mitch: Brownsburg, IN 5/13/15

Comments: The wide gap bend on these hooks are superb. They have an incredible hook up ratio. Now that I look at it, it reminds me of the bend on extra wide gap treble hooks. Once they penetrate they hold extremely well. I only lost 2 fish out of 20 the first time I used these but that's only because the hook got buried in the plastic. They also have a stout wire and I have yet to bend one. I thought the green camo was sort of a gimmick at first but the color grew on me. No one should be throwing a dropshot, wacky, or neko rig without these hooks. They are a must have!

From: MaxZmus: San Diego, CA

Comments: my favorite drop shot hook! its really sharp and strong! the paint doesn't come off and the wide gap gets the bass hooked so much better than a regular drop shot hook would!

From: Buzz: Southern Cali

Comments: Great hook for wacky rigging Yum Dingers or Senkos. I started with the 1/0, but switched to 2/0 and had much better hook-ups. I like that Owner makes these hooks in a green camo color to blend in with the worms I use. You may, from time to time, have to sharpen the hook....other than that these are a good buy.

From: Joseph: Liverpool, NY

Comments:Great hooks for drop shotting and wacky rigging. EXTREMELY SHARP!
From:Jacob: O'Fallon, MO