Plano Alabama Rig Stowaway Box 3708 - $6.39
Custom designed to store umbrella rigs, the Plano Alabama Rig Stowaway Box 3708-00 was created using Plano's popular 3700-size footprint. Constructed from sturdy, clear polypropylene and equipped with durable ProLatch fasteners, it can hold up to four fully rigged umbrella rigs in individual compartments. It features two types of unique, adjustable dividers designed especially for umbrella rigs. The first type of divider features a V-channel leader slot designed to clip firmly to the top of the umbrella rig, and the second divider features a patented star channel that secures each rig's multiple wire arms without bending or crimping them. Keep your favorite umbrella rigs secure and ready to go at a moments notice with the Plano Alabama Rig Stowaway Box 3708-00.
Don't forget to check our Umbrella Rigs
Comments: Nice Box, hold Alabama/Umbrella rigs perfectly.

From: Trent: Windsor, CO

***Note: If you have questions about this product or need assistance with an order please email your questions to info@tacklewarehouse.com
View Large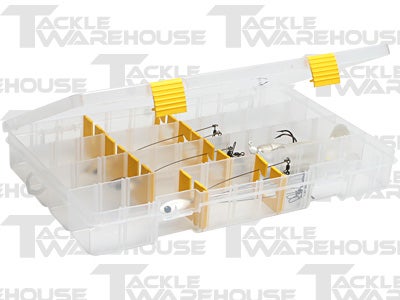 Place Your Order
More Plano Stowaway Utility Tackle Boxes