Paycheck Baits Punch Skirts 2pk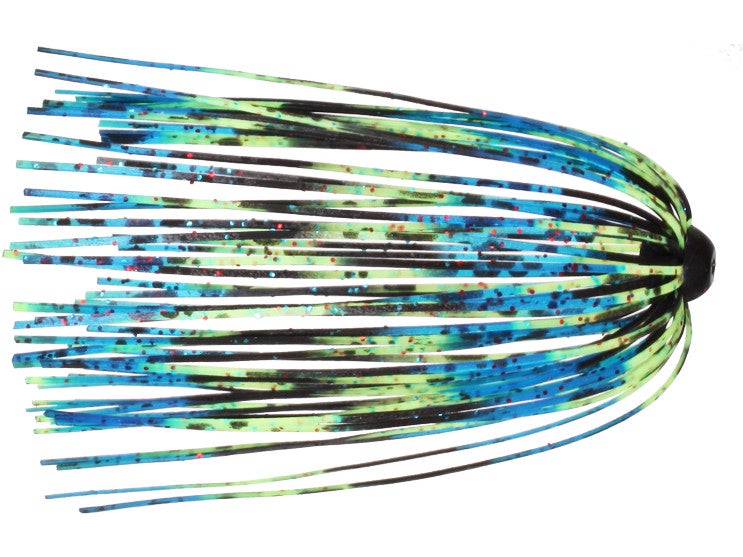 When the temperatures heat up and bass seek cover, actually 'punching' through the cover is one of the most effective ways to get your bait into the bass' strike zone. The Punch Skirt is a hand-tied skirt rigged to a durable bead that slides in between the hook and bullet weight of a Texas rig set up. It basically creates a punch style jig and shields the Texas-rigged bait as it enters and exits thick vegetation. The Punch Skirt provides anglers with the benefits of a jig but also allows you to throw bulkier baits with the more streamlined Texas-rig. The larger profile created with the Punch Skirt Texas-rig setup is also key for attracting bigger bites and 'getting paid' as the Paycheck motto states.
Professional bass angler and founder of Pay Check Baits, Bub Tosh designed the Punch Skirt and has used it to great success, placing second in the FLW Tournament on the California Delta. He paired it with a 1 1/2 oz flipping weight and a Reaction Innovations Sweet Beaver in the Sprayed Grass color.
According to Tosh, "Jigs don't fish well around a lot of the aquatic vegetation we have in the Delta, so I invented the Punch Skirt so I could pitch a bulkier bait in that slimy grass and be able to pull it out clean every time so I didn't have to stop and pull the grass off my line."
Also pair the Punch Skirt with the Paycheck Baits Punch Hook for optimal results.
Please Note: Nasty Nate & Dirty Money colors are tied with round rubber.
Paycheck Punch Skirt Product Video
11 Colors
More From Paycheck Punch Skirts
Customer Reviews
Comments: These are good but you're lucky if you can find them. Check out the Reckless Baits punch skirts, I've found them to be not only more durable but come in many of the same colors and at a better price
From: John: Stockton, CA 9/18/15

Comments: I find these skirts are a great way to step up your presentation but every know and then I will have a bead break before it ever got pulled out of the box.
From: Michael: Deland, FL 6/22/15

Comments: The color combo's work really well i'v caught plenty of fish on them. I'v only had 1 out of 8 break on me. Yes that one broke the bead within a few hours of using but i had 5 bass on that one alone. Any plastic/skirt goes bad after so many fish. The fact is these skirts catch fish i'd definitely recommend them to any one looking for a good skirt.

From: Sergio: Watsonville,CA

Comments: A little thin but not bad. However after only 2 uses one of the skirts came apart at the core. Was not very happy with that considering the skirt itself was still very useable. At this price point the core should simply not fail. I am looking at others who make custom skirts for less.

From: Joe: MO

Comments: I love these things. They get bit very well and go in and out of cover easily. I have had three of the beads break and that does bother me. I honestly don't know how it happens. Maybe it's the tungsten pounding on it on the hookset. It's always after a hook set. I've thought about sending the broken baits back. I did that the first time one broke and they sent me a bunch to make it right. Customer service is great. Problem is the things catch fish so I keep using them. I don't mind the busted skirts, that is expected to happen. As long as the beads hold up; the bait is very durable. But once that bead breaks; it's done. They're definitely not bullet proof.

Comments: update: STILL catching fish with these. Never had one break, but YES, after 5+fish you will notice the skirt strands start getting less in numbers. WHo cares? Either replace it or keep on truckin. Haven't noticed a difference. The one on my rig has 10+ fish on it, is chewed as hell, but keeps on workin. I never pitch without it. Oh and Ive noticed this same issue with other brands of punch skirts, too.

From: meatwad: long winded toady

Comments: Caught lots of bass with this skirt during summer time. Used it for punching. Non stop action with this skirt.

From: Lawrence: Cupertino, CA

Comments: Bought "Bubs Money Craw" color punch skirt...only used it for 3 cast and the plastic ring broke off in pieces. Didn't know what happened until I found a piece of the plastic underneath the cone of my punch weight. Don't know if it was a defect, but at close the $7/pair I would think it be more durable.

From: Yajkuza: Sactown, CA

Comments: These skirts have changed my fishing in a very positive way, I throw these skirts on everything salamanders, beavers, swimbaits, craws, you name it the possibilities are endless. Been using these weightless it seems to make the creature baits fall slower and have caught so many more fish with bubs watermelon color in clear water, just a fantastic buy and the fish love them!!

From: Zach: IN

Comments: The best skirt I have every used...Not sure about the last guy but mine have been very durable.

From: Mikey: Clewiston, FL

Comments: not very durable, brovarney baits has a better one

From: Jim: WI

Comments: BEST PRODUCT EVER WORK GREAT SOME TIME WORK BETTER THEN JIGS YOU CAN SWIM THEM LIKE SWIMJIGS PITCH THEM

From: Micloving: San Fernando, CA

Comments: best skirt around! These things will break and wear out but its a skirt! They are fragile in a sense the more fish you catch the quicker they wear out but isn't that a good problem? Go with paycheck they can't be beaten.

From: Fish Boy: WI

Comments: They work until the break, which was way too fast. had them 1 month and half of them broke in half. cheap plastic or whatever. Will try punch skirts, but not from paycheck baits

From: Joshua: Indiana

Comments: Money! Pitching or casting...doesnt matter. Screw the imitations.

From: Meatwad: Somewhere

Comments: Tried it on a texas rigged sweet beaver and it worked great! Only 2 out of the 9 I caught were keepers but the set up worked.

From: Jesse: Visalia, CA
Comments: I will pay $6.69 any day of the week to catch more fish and that is exactly what the paycheck punch skirts do...they catch more fish. They are the best skirt system out there! That's fine with me if other guys think they are too expensive it leaves more fish out there for me to catch! I would be willing to pay $10 for these skirts they are that much better than the competition.

From: Orting, WA
Comments: I've tried all the skirts out there. Unfortunately, these skirts are by far, the best. I say, "unfortunately" because, they are so expensive. These skirts work amazingly with beaver style baits. I use them with a 3/8 to 1/2 inch tungsten flipping weights, when I am pitching in heavy timber. I also use light colored skirts in clear water, not for pitching, but for hopping along the bottom like a jig. They work great.

From: Shawn: Raynham, MA
Comments:Great skirts. Work well with beaver type baits. A bit too much $$$$. I am trying other less expensive brands to see how they match up.
From:Neil: Amarillo, TX
Comments:These things work!! Way better than a jig and the colors are amazing!
From:James: Oakley, CA
Comments:Yeah, I'm going to have to agree with Jesse. These work really well, but the price point is a little up there. If only they we're 3 or 4 dollars, I would buy a lot of them.
From:Alan: Talbott, TN
Comments:For some odd reason these things work, but they're a bit too much money.
From:Jesse: Phoenix, AZ