Stanley Ribbit 3.5" 5pk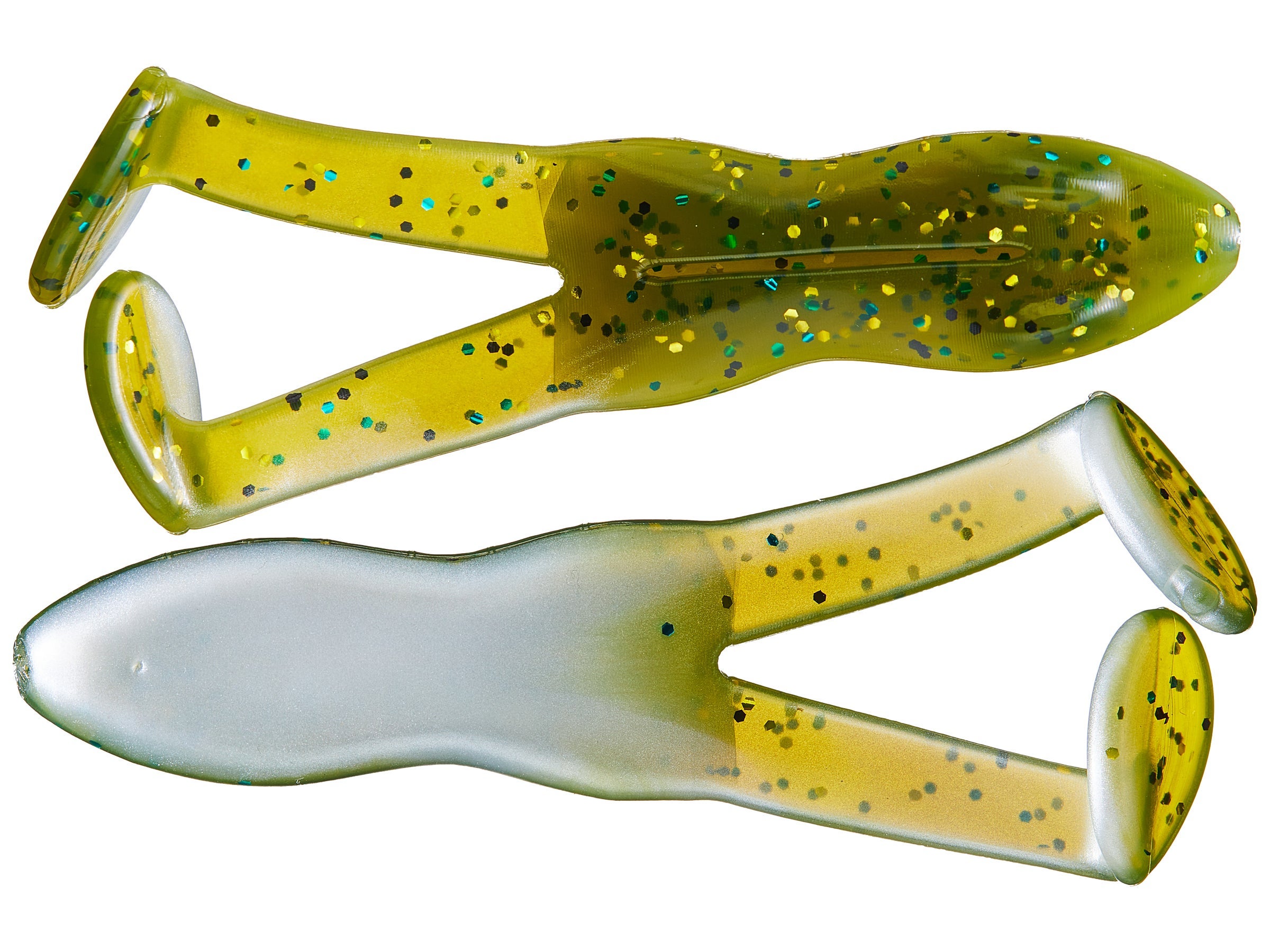 Of all the baits out there, a frog is one of the most exciting lures to fish. Bass explode on the Stanley Ribbit. It's absolutely heart stopping action. You can work this weedless wonder over logs, grass beds, and lily pads. Rigged properly you can work the Ribbit almost anywhere.
Try rigging with the Stanley Double Take Hooks - specially designed to increase your hook up rate with the Stanley Ribbit.
18 Colors
More From Stanley Frogs
Customer Reviews
Comments: I purchased the white Ribbit & I have to say this is one of the best frogs on the market for a stealing price. This frog moves water like a wave and makes great nose, I took it out and just slaughtered the bass in the evening time.
From: Mark: Fresno, CA 7/30/15

Comments: Super action for heavy cover. Used this couple of years back in a tournament on Guntersville and had a sizable limit in 30 minutes! Works great with Stanley Double-Take weightless hooks.
From: Conway: Athens, AL 1/309/15

Comments: I had saw some people on Youtube throwing these and I thought I would try them. First trip of me taking them on the 2nd cast a 4lb Smallie just annihilated it, and as the day when on I caught a lot more. Compensate for the strike and the hook set. These frogs are great. Ive found success in BlueGill and White.
From: Makay: UT 6/9/14

Comments: I have been using ribbit frogs for years and they have the best kicking action i have found. Soft and durable but make sure to use screw lock frog hooks to prevent the tip from ripping. Cant go wrong with black.
From: J.C. USA 4/28/14
Comments: This is an excellent fish calling lure. I had problems with the bait rolling over on a single hook , so I went to a double hook. I will try the larger single hook per the suggestions. If useing a double hook , make sure to hook it up as shown on the package, The hooks go through the top of the legs and not the bosy. Too much plastic to pull through. I also think this frog is better in sparse weeds or open water. For the thick stuff I use more of a spro stile frog.

From: Virgil: Green Bay, WI

Comments: I really wanted to love this frog. Caught a 5 lb bass on it. But, the frog consistently lands upside down, tears easily when you burry the hook point. I used the Tokar 4/O screw lock hook. Looking for another frog!

From: Tom: IL

Comments: Cannot say enough about this bait!!! Best action out there, drives the fish wild. Awesome for both open water and thick cover alike. Most of all, this thing is DURABLE. You cant beat this thing. It will easily last you 20 fish. I have been fishing the same bait 2 hours a day for the last 3 days and its still on my hook. Landed a 4.5 lbr on it yesterday morning. Buy some and you will catch frog fish!!!

From: Scotty: VA

Comments: These are the most durable frogs I've used awesome action. Caught two 2.0 lb.'s and some hogs on one its super durable definitely will be buying.

From: Dylan: Lansing, Michigan

Comments: Awesome bait for fishing small weedy ponds especially in the Bull-Frog color,It caught me 16 bass in a day in a small farm pond including a couple bass in the 4lbs range

From: Tom: Ohio

Comments: Awesome frog especially wat red/pearl. Never thrown a frog much until the last couple years when milfoil started growing on pickwick. Slow roll this thing over the edges of the milfoil and wait for the explosion! Add a 5/0 wide gap mag worm trokar and you got a fish catching setup. Great frog.

From: Will: Tuscumbia, AL

Comments: Like others have said best frog on the market. Every bit as good as Rage Toads and a lot more durable making it a much better deal.

From: Cory: Upper Midwest, USA

Comments: Best toad on the market!! Cast out, buzz it across the surface and bam!! Lots of fun.

From: Rob: Westfield, IN

Comments: Great frog 10 times better that horny toads caught my first frog bass on one of the hot feet great bait skips extremly well very durable great action its a must have!

From: Louis: Baton Rouge, LA

Comments: Caught more 5 and 6 pounders on this bait than any other plastic I fish around grass

From: Jim: KY

Comments: This thing will flat out put fish in your boat

From: Jammer: Grand Rapids, MI

Comments: my #1 soft-bodied frog! My most productive color is watermelon red pearl, although I'm not entirely convinced that color matters that much when it comes to topwater baits. If you're having problems with it rolling over, you're most likely using too small of a hook. I use a 4/0 or 5/0 extra-wide gap hook and it works great. You can fish it fast like a buzzbait and then kill it & let it sink near weeds and twitch it sub-surface for extra enticement for those lurking bucketmouths...

From: Tony: Charlotte, NC

Comments: My best "go to" Frog period. Caught more fish on this bait than any other.

From: AL
Comments: best soft body frog on the market

From: AL
Comments: Very good frog!! It's my go to frog!!

From: James: Orange Park, FL
Comments: best frog I have ever used. went to my favorite spot and caught a three pounder on the first cast! highly recommended!!!

Comments: GREAT top water action. I have the smoken Shad and the white. The bass slam them any part of day down here in texas. I caught a 3 pounder in the middle of the day in the middle of the summer. It was about 95 degrees out. Highly recommend .

From: Thomas: Texas, USA
Comments: I received a package of these from Stanley, they were the hot feet model and all I can say is these are now in my arsenal at all times.. I have black ones, bull frog and a few other colors.. On a recent fishing trip a pike anhiliated the bull frog, lets just say I reeled in line.. They cause quite a commotion on the water's surface and draw in bass from a good distance, they work well during all times of the day from open water to the shallows and in and around weeds. They are a very versital bait, I have not yet tried to skip these frogs but the best hook to use is the Zoom Horny toad hooks with the corkscrew keeper on the front. A regular 4/0 Gamakastu EWG hook works well also but tends to tear the frog during battle. I would recommend this product to all avid bass fisherman, my biggest fish almost got brought to the boat using these frogs, these frogs are not floaters so you can let them die ( sink in the water ) for those bass that tend to miss it. Get yourself some of these frogs you won't be disappointed.

From: Fishing Fanatic: Battle Creek, MI