Seaguar InvizX Fluorocarbon Line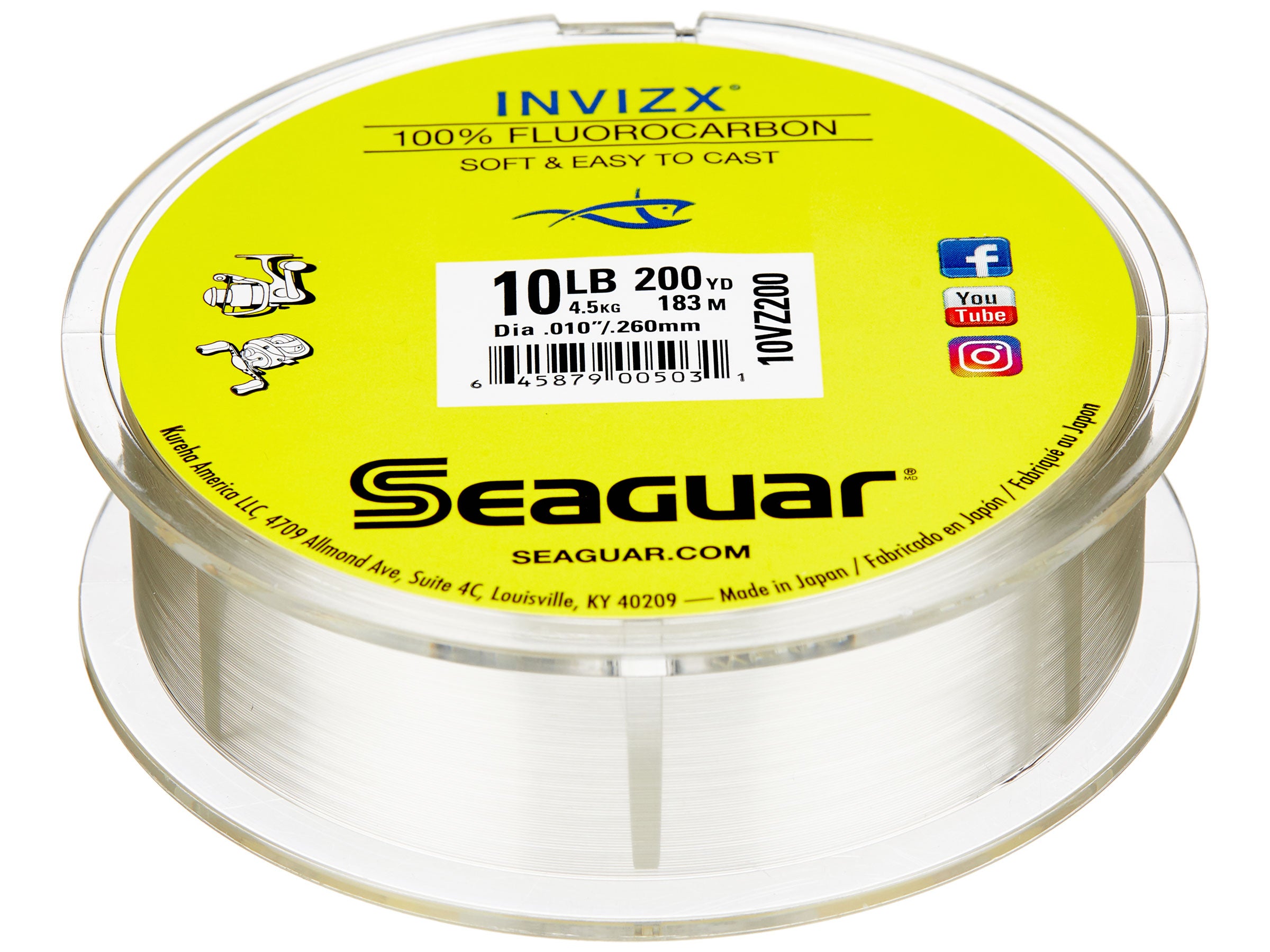 Soft, supple and castable - Seaguar InvizX is 100% Fluorocarbon fishing line with superior sensitivity and strength. Specially designed to dominate freshwater, InvisX is virtually invisible to fish. Also delivering advanced hook setting power and exceptional abrasion-resistance, Seaguar IvizX Fluorocarbon Fishing Line - they'll never know what hit them.
| | | | | | | | | |
| --- | --- | --- | --- | --- | --- | --- | --- | --- |
| Line Diameter | 6lb | 8lb | 10lb | 12lb | 15lb | 17lb | 20lb | 25lb |
| Inches | .008 | .009 | .010 | .011 | .013 | .015 | .016 | .017 |
| Millimeters | .20 | .23 | .26 | .28 | .33 | .37 | .40 | .43 |
Place Your Order
More From Seaguar Fishing Line
Customer Reviews
Comments: I use this line on a spinning rod #8 for smallmouth when bouncing jigs & have had great luck with knot strength & abrasion resistance. I also use #6 with my fly rod instead of tippet. It is cheaper than tippet & is stronger & the same diameter if not smaller than tippet. Great line overall for size & strength!
From: Robert: Westwood, CA 9/12/16

Comments: This is the real deal. Don't understand how there are any bad reviews because I have had this stuff for years without any issues. Casts a mile & has minimum memory (for a fluoro). Used everything from 8# for spinning to 17# with a casting. Like with all fluoro lines, you should use a line conditioner periodically (i use kvd's)
From: Dane: Milwaukee, WI 6/28/16

Comments: This is my favourite line. I read so many mixed reviews about this line, but in the end, every line will have good & bad reviews, and most that bash it are probably sponsored by a different company. I use this line for everything that requires the lure/rig to sink & even float (double uni knot to Mono works best, with thicker line I do 3 raps).
From: Noah: Montreal, QC 5/29/16

Comments: Worst line I've ever put on my rods. Lost more lures on one spool of this than I have in the past 2 years. It does fish very well when presenting a lure. The problem seems to spring up in casting when half way through your motion it snaps and there goes your lure. also, when tying on it tends to break 2 out of 5 times when simply securing the knot. my advice spend the same amount and get quality with stren fluorocarben.
From: Corey: Madison, NC 4/7/16

Comments: Best fluorocarbon. PERIOD! I have used the InvisX & Red label for many years now. Only after trying several brands have I came to the conclusion that this stuff(InvisX) is the best. When flipping I use 20# & have never had an issue with stretch or line breakage. I use the 12,15,and 17#'s as well with no issues for all my other flouro needs.
From: Justin: USA 3/20/16

Comments: Well....looks like Seaguar is jacking up their prices on line just like everyone else. This was my favorite line for quality and price. Fishing industry is getting ridiculous in price.
From: Jason: Elizabethtown, KY 2/14/16

Comments: I've used nothing but the red label. Just bought this one to spool up my new 13 fishing concept A reel. Can't imagine going wrong with this brand of line. It has amazing strengths. Durable long lasting. By far my favorite brand of line.
From: Fishaholic: Twin Falls, ID 2/11/16

Comments: Have been using InvizX for 2 years now with no breakoffs. Just hauled a 4ft. alligator out of a fallen down pine tree with 12lb. InvizX leader. Won't be switching anytime soon or ever.
From: Rob: Peachtree City, GA 1/4/16

Comments: been using this line for 3 years. Primarily #15. I use it for jigs, pitching, blades, square bills and swimbaits. I give this line two thumbs up. Handles very well on casting gear. Great knot strength and abrasion resistance. Trie d #8 and #10 for spinning gear and dealt with normal fluorocarbon issues.
From: Butch: Warren, OH 11/18/15
Comments: This is the only fluorocarbon line I will use, this stuff casts phenomenal, I love how the diameter is smaller so you can go to 17lb if you want diameter of most brand's 15lb, their 12lb is like others 10. As always use line conditioner, it works wonders. Best Fluoro value out there IMO.
From: Jeremy: MN 12/4/15

Comments: I use 17lb for jigs, creature baits and flipping applications in clear water. I stick to 12lb for cranks and 8lb for dropshotting. InvizX is strong, supple and have enjoyed fishing it over the past year.
From: Dan: Spokane, WA 5/25/15

Comments: I have tried many different brands & none of them even compare to Seaguar InvizX. I use it throwing crankbaits & pitching in heavy cover & this stuff is as tough as line comes. Do yourself a favor & stop buying inferior line.
From: Bob: Falls City, NE 2/22/15

Comments: Awesome line. I've used 20 lb on my primary pitching rod for 2 years, and can count on zero hands the number of fish that have broken me off. Hauled 5-7 lb fish up through the thickest of trees with the fish bouncing off limbs the whole way and the isn't even roughed up. Great knot strength, and not as brittle as other fluoros
From: Steve: MD 2/6/15

Comments: Best flouro I've used! Used to fish Berkley Vanish, but a coworker told me to try this and I'm sure glad he did! I've used 10 and 12 lb and it did great for just about every work/jig application. Had especially good luck with it as my drop shot line.
From: MP3: Cleveland, OH 1/19/15

Comments: InvizX is great fishing line. I use 12lb line on a very soft flex rod for cranks and it's rare to lose a fish. If you put this on a spinning reel be prepared to spend some time conditioning the line as it has a lot of memory. I put a new spool of 15lb InvizX on a jig rod. First hookset, line broke at reel. Second hookset, line broke halfway between rod and fish. Shortly after, the line broke on a cast. Third hookset, line broke at reel again. After that there wasn't much line left so the rest was thrown out. My rod eyes weren't cracked. Other than this rare problem, the line is flawless.
From: Barry: GA 12/23/14

Comments: This is the best Floro on the market bar non. Some say Gama is better and maybe it is but for my money I would rather get 200 yards for about 20 bucks than 100 yards for 20 bucks with Gama. The InvizX is soft and casts like a charm. I put it on a spinner and have no issues. I have used Bass Pro on a spinner and it is way to springy and twists like crazy. If you never tried it on a spinner before give it a try. You will be happy.

From: Bruce: Sparta, NJ 10/26/24

Comments: Read a couple reviews and decided to try this line. Some people complain about having bad boxes. I never have had any problems with it. I tie another Eugene Bend knot after I catch a bunch of fish or the first 10 inches feel frayed. Never had any break-offs. I recommend this line!
From: Brian: NY 8/6/14

Comments: this line is great. I use the 15 lb on my jig rod and have 0 problems in the last year since I switched to invis x. Great sensitivity. To those who break off all the time and breakin fish off that's 2.5 to 3lbs it's not the lines problem. You have to check your line while your fishing it will fray around rocks, all of it will unless your using braid. Tie a polamar knot, make sure to wet the line while tightening and check for frays every now and then. And if you still have 2.5 lb bass break or fray your line maybe you should go to a steel leader.
From: Brandon: KY 7/3/14

Comments: Tried a lot of other brands and based on the other they do not compare to Seaguar. This line is super smooth, cast a freakin mile and will not snap. Not cheap, but will last if you take care of it. Def worth the money.
From: Jamie: Irmo, SC 6/9/14

Comments: Been using the 15lb on all my worm/jig/carolina rig rods for 3 years and probably only had 5 breakoffs during that time. I bought a 1000yd spool during the Days of Christmas sale and I have broken off at least 10 times in my last two trips. Bad lot? I don't know. Gonna give it another try.
From: Brannon: Collierville, TN 5/18/14

Comments: I really like this line, diameter, strength and value. It casts really well and has lasted well. Never had a bad spool and never experienced unexplained breaks. I have a few favorite flouros and this is definitely one. I enthusiastically recommend.
From: Gumwad: USA 4/27/14
Comments: Bought this before going on a fishing trip and didn't have time to order different line. It has substantial memory and is difficult to manage when compared to Red Label. Stretching it or spraying conditioner on it should help but that shouldn't need to be done in the first place. First chance I get I'm swapping for tatsu or sunline.
From: Kyle: WV 4/8/14
Comments: good stuff, i have this line in 8lb on my spinning combo nrx/sustain and boy did this line deliver. i was drop shotting for bass and hooked up onto a muskie. long story short, the fight lasted a good 5mins and the muskie got away but didnt break the line, the hook just came loose. the line performedn greatly.

From: T: Green Bay WI

Comments: new 12lb on crankbait rod after few cast broke 20 yards up the spool fishing weeds anyone else have this problem

From: Tim: MI

Comments: Have tried several different fluorocarbon line over the past year and this is about as good as your going to find!

From: Michael: NW Florida

Comments: It keeps breaking - I have three pounds of drag set on my casting reel with ten pound InvizX and just lost a very nice bass when the line broke on a straight pull. I've had it with this crap!

From: Steve: Sacramento, CA

Comments: This line seems to have a lot of memory after putting on to my reel. Can anyone tell me if im doing something wrong or anything to prevent memory?

From: Cole: Nebraska

Comments: I was starting to hate flurocarbon until I started using this line it's really amazing stuff. I tried Berkeley 100% and Vicicous and that stuff doesn't even compare. I like this line because its super manageable, low stretch, smooth as silk. I would compare this line to sunline sniper both are great lines. Good luck

From: CJ: PA

Comments: I for one did not have the same sucess as the others with this line, I found it really lacked abrasion resistance and one little rock interaction and you better retie

From: David: Moore, SC

Comments: I love this line. I have only used this line as a leader at the end of my Power Pro braid. I've been very impressed with its strength, durability in heavy cover, and its ability to help me catch practically all my fish. It's pricey, but it's given me no reason not to use it, and every reason to keep using it.

From: Adam: Orange County, CA

Comments: Fantastic line. For all the negative reviews you might have gotten a bad spool. It happened to me. But give it another try i promise it wont be bad twice in a row. And dont tie palomar nots with floro line it heats the line up to much and weakends it bad. Good luck!

From: Kyle: Ohio

Comments: Great line. Gets bit well and you`ll get more strikes fishing jigs, plastics, crankbaits compared to momo. Just impossible to fish topwaters becuase all the line between your rod tip and topwater sinks below surfuce and kills your Zara Spook,Sammy,Pop R`s action. Other than this, an awesome product.

From: Seiko Tuna Can: Hemet, CA

Comments: I love this line. I use either the palomar or San Diego Jam knot and I have no issues with knot strength or line breakage. I use the 10lb for plastics in general and the 12 or 15lb on jigs. This stuff is unbelievably strong and it is so soft. I'd recommend to anyone!

From: Steve: Sylmar, CA

Comments: Great line! Previously the only fluro that i had used was viscous whick had alot of memory. Seaguar casts so easily! I was flipping with 12lb (crazy right?) and had no problems with abrasion or knots coming undone

From: Adam: Nassau County, NY

Comments: this line is crap it has way to much stretch. It isnt stiff and it is easy to handle, but it stretches more than berkley big game mono. Will not buy again.

From: Micah: Dawsonville, GA

Comments: Worth noting that 12lb Invizx has the same diameter as 8lb Trilene 100% fluoro. You'll get more bites with the same lb test Invizx, or you can get away with fishing two lb tests higher. Either way a big advantage.

From: Chris: WY

Comments: There may be better line out there but if thats the case I haven't used it yet. I got hung up and couldn't get it out. Couldn't break it until I wrapped it around my reel and pulled extremely hard. Ridiculously strong line.

From: G: VA

Comments: Bottom line, Never will I use another brand of fluorocarbon. This stuff is the best. Diameter, strength, sensitivity..everything!

From: Michael: GA

Comments: Awesome line, don't even need to spray it. Has the perfect stretch for hard hitting fish on crankbaits and casts a mile with almost no memory. Overall great line.

From: Ian: CO