Pro Spotlight: Brent Ehrler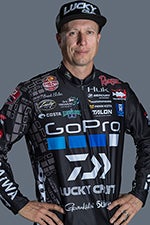 Photo courtesy of BASS
Name: Brent Ehrler
Age: 39
Hometown: Newport Beach, California
Tour: Elite Series & Major League Fishing
Years Pro: 11
Career Earnings: $1.85 Million
Current World Rank: 18
Favorite Lake: Clear Lake (CA) and Guntersville
Favorite Technique: Topwater
Boat: Ranger
Motor: Mercury
Tow Vehicle: Ford F250
Fishing Sponsors: Lucky Craft, Tackle Warehouse, Daiwa, Oakley, Sunline, Humminbird, Gamakatsu Hooks, Reins Tungsten, Gary Yamamoto Custom Baits, Minn Kota, Talon, The Rod Glove, Plano, Boss Fishing Skirts, Wave Away &
Non-Fishing Sponsors: GoPro, Huk Performance Apparel & Angler's Marine
Brent Ehrler's Gear
Rods
Offering advanced, tournament-caliber performance, the new Daiwa Cronos Series Casting Rods are the same rods Randy Howell and Brent Ehrler use at every tournament.
Offering an an unprecedented level of sensitivity and power, the Daiwa Steez SVF AGS Spinning Rods are loaded with Daiwa's most advanced features and technologies.
Reels
The top-of-the-line reels in Daiwa's new SV Stress-Free Versatile Concept, the new Daiwa Steez SV Casting Reels are the best casting baitcasters Daiwa has ever created.

One of the best-casting baitcasting reels to ever hit the market, the Daiwa Zillion SV TW Casting Reel combines Daiwa's TWS T-Wing System and SV Concept technologies.
Packed full of Daiwa's latest technologies and features, the new Daiwa EXIST Spinning Reel is the new flagship reel in Daiwa's award-winning lineup of spinning reels.
Tackle